John Bissell and Rich Riley, co-CEOs of Origin Materials (ORGN), on the future of bioplastics
With the movement toward net zero emissions well underway, we continue to take a closer look at the companies that are at the center of this sea change. Our exploration into bioplastics technology continues with our latest podcast. Boardroom Alpha sat down with John Bissell and Rich Riley, co-CEOs of Origin Materials (ORGN).
Origin deSPAC'd from sponsor Artius Acquisition in June 2021. In what's now a fairly predictable rise-and-fall pattern among most SPACs, high redemptions, coupled with a challenging macro for emerging growth stocks, have pressured ORGN stock. After bottoming just below $5 in February, ORGN shares have started to recover and trade at ~$6 as of this writing.
ORGN: Shares have bottomed and look poised for rebound


The trajectory toward reducing our reliance on fossil fuels is clear. And as we've talked about in the past, an increasing number of companies are pushing to lower their greenhouse gas emissions. That's where Origin comes in. Origin's technology converts plant-based material– cellulose — into a wide variety of carbon negative materials. The big picture goal here is to replace oil feedstocks currently used to manufacture a variety of materials with renewable and sustainable cellulose-based feedstocks. Not only does the company's technology replace petroleum-based plastics, Origin says that its production process actually removes atmospheric carbon.
The science is complicated, but, simply put– Origin produces chemical intermediates that are used in a wide range of consumer goods while avoiding oil extraction and refining processes that release greenhouse gasses (CO2 and CH4). Instead, Origin uses plant-based feedstocks that photosynthetically consume CO2 during growth.
A lot of investor attention on renewables has been focused on PET (polyethylene terephthalate). The PET produced by Origin technology is functionally identical to petroleum-based PET, but with a much lower carbon footprint because Origin's technology enables the production of para-xylene from biomass instead of oil. The primary application for PET is plastics (e.g.  water bottles) and food packaging. Notable Origin customers in this segment include food and beverage giants like Pepsi (PEP), Nestle (NSRGY), and Danone (DANOY).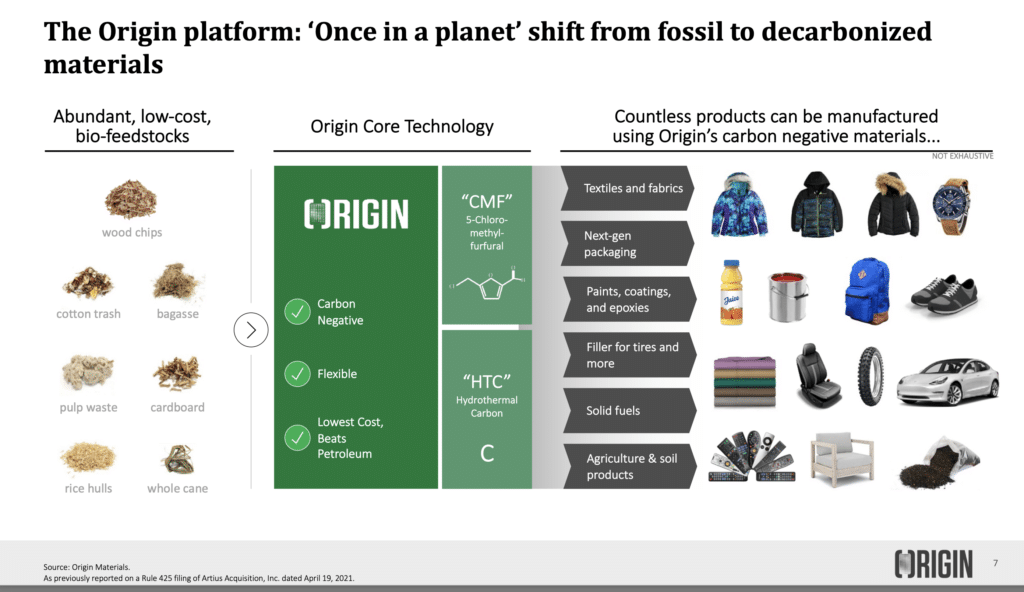 But PET can be used for much more. In fact, it's a $100B+ market that also includes recyclable components in textiles, automobiles and more. In particular, Origin has been concentrating on the apparel space with technical fibers and has partnerships in place with outdoor apparel maker Patagonia and synthetic microfiber manufacturer Primaloft. In the automotive segment, Origin has a partnership in place with Ford (F) to explore making things like car bumpers, paint pigment, door panels, tire filler, head rests, seat cushions and arm rests. The partnership is part of Origin's bigger sustainable automotive supply chain initiative, the Net Zero Automotive Program. Finally, Origin is also being very strategic in developing partnerships with chemical companies (eg. Minafin) as their customers are pushing for sustainably-sourced materials. These companies can then further engineer Origin's products to their end market needs.
As you'd expect, a lot of the conversation around emerging bioplastics is around cost. Skeptics say that other biodegradables such as PBS and PBAT plastics are currently cheaper to produce. Origin believes it's leading the cost curve, noting its process provides "stable pricing largely decoupled from the petroleum supply chain," which is exposed to more volatility than supply chains based on sustainable wood residues. For the most part, wood residues are in abundant supply and the company isn't subject to any supply chain shortages found in other manufacturing-intensive industries. The cost per ton is very low for wood residues– and relatively fixed. As a comparison, Origin's primary competitor, Danimer Scientific (DNMR), leverages a technology that uses canola oil as its feedstock, which exposes the company to the cost of soybeans and potential commodity pressure.
As with any technology, the proof is in the pudding. And so the race is on to scale manufacturing and ramp into volume commercial production. Origin's first manufacturing facility, Origin 1 (based in Sarnia, Ontario), is expected to be complete by end of 2023. Origin 1 is expected to be capable of processing 49 million pounds of biomass per year at scale. The company also announced a $750 million investment in a second manufacturing facility in Geismar, Louisiana — Origin 2, which will be complete in 2025. This plant will be significantly larger than Origin 1 and will source materials from Louisiana's timber mills and managed forests. Origin 2 will produce plant-derived PET for packaging, textiles, and apparel applications as well as HTC fuel as a side-product. The biomass input of Origin 2 is expected to be about 2.2 billion pounds per year, and the plant's production capacity is estimated to be 2.4 billion pounds per year.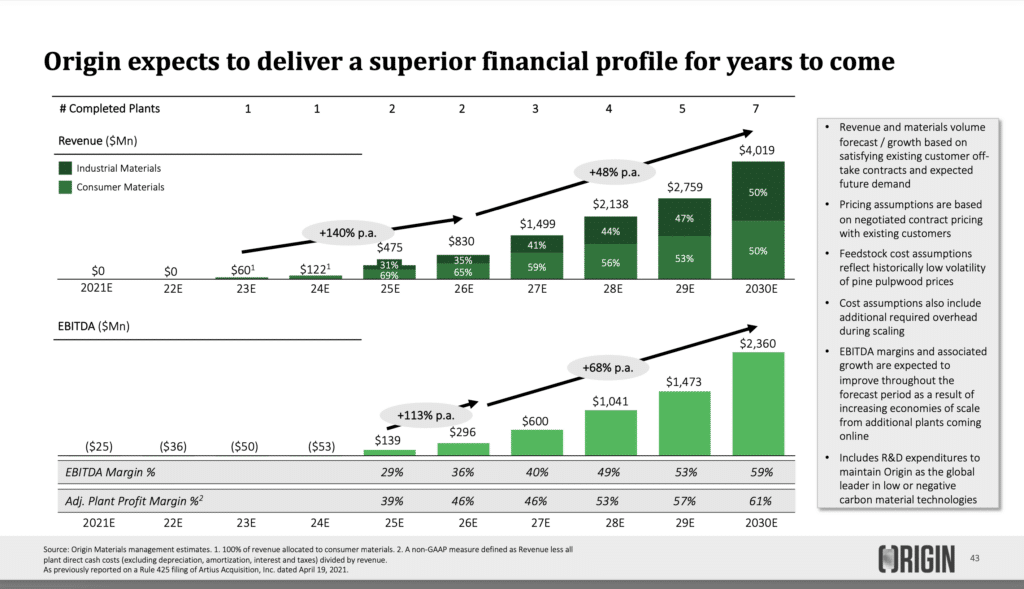 From a stock perspective, the main red flag on ORGN stock has been its price performance since deSPAC. Shares have significantly underperformed the S&P500– a reflection of the early stage nature of the company's revenue and earnings profile. That said, insiders bought $8.5M of ORGN shares over the last 12 months.
ORGN: Potential Red Flags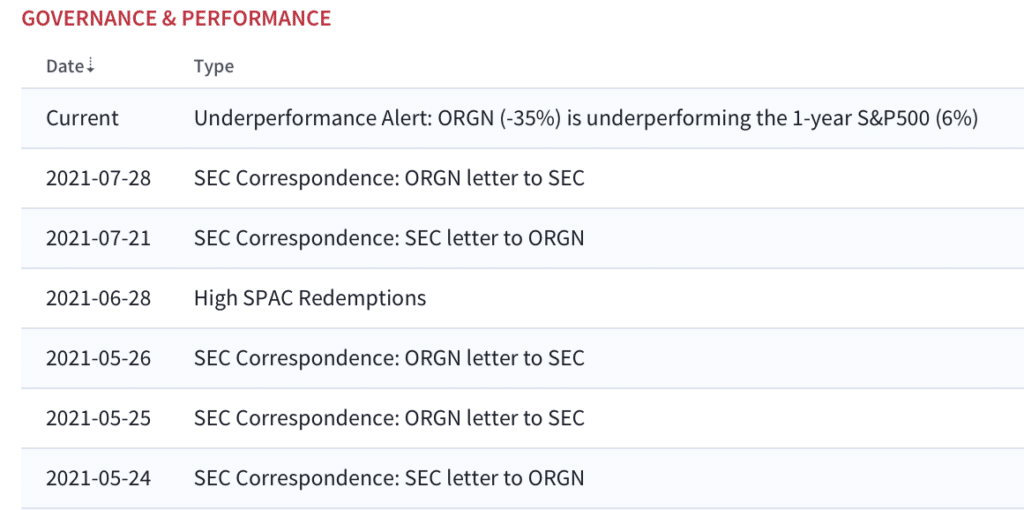 ORGN: Insider Buying Activity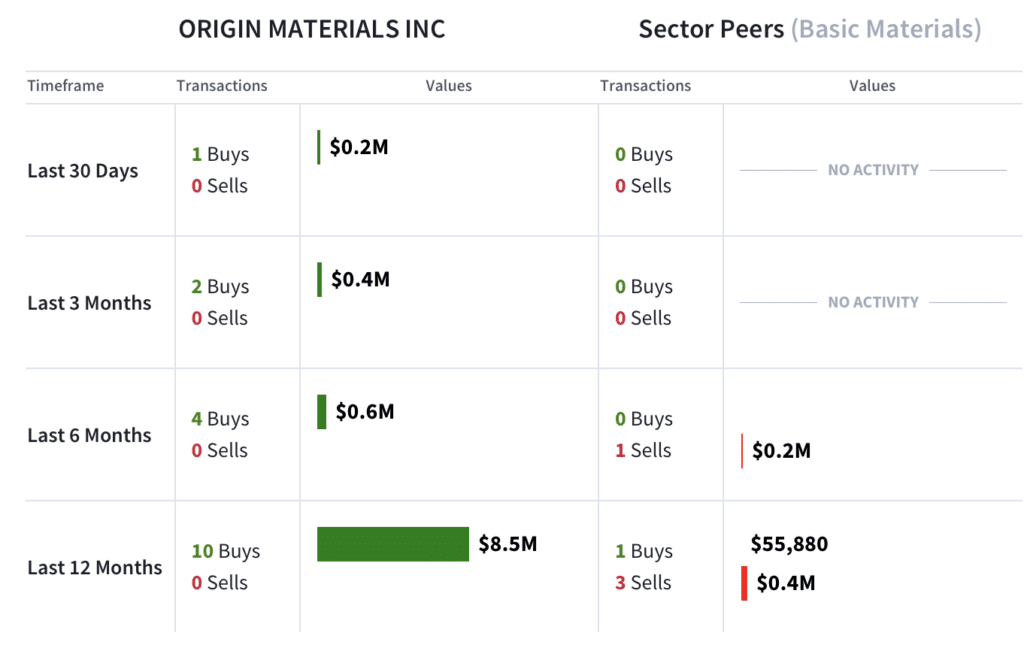 Origin has offtake and capacity reservation agreements totalling $5.6 billion. The big question is how these translate into revenue. Execution is the primary risk here with a big capital-intensive project like this one, and the potential for delays. That said, the big picture outlook is clear. Companies will continue to demand carbon-negative materials to reach their sustainability goals. The pricing landscape for cellulosic feedstocks and PET products also looks very good. While we recognize this is an early-stage technology with considerable execution risk, we like the risk/reward here and view ORGN stock as an attractive pure-play ESG investment.
Listen to the podcast for more. To dive deeper into bioplastics, check out our recent podcast with Danimer Scientific (DNMR).
Your comments and feedback are always welcome. Let's continue the discussion. Email me at joanna@boardroomalpha.com.