While tech valuations tumble, demand for enterprise software solutions continues to grow. MAPS has a shot at becoming the defacto software platform for cannabis commerce.
With tech valuations hammered by rising internet rates, stepping inflation and of course recession fears, we continue to sift through the wreckage for stocks that offer a combination of value and growth. One area that's proven to be a safe haven in the storm: enterprise software. But, for investors who balk at stocks like IBM and HPE, there are plenty of small cap plays. Playing on the theme of cloud computing and data, there's one battered deSPAC on our list that's been largely overlooked: WM Technology (MAPS), the parent company of Weedmaps. On the heels of a strong Q1 earnings report, Boardroom Alpha sat down with Weedmaps CEO Chris Beals to discuss the company's strategy for building a SaaS platform for cannabis commerce.
Subscription-based software solutions for cannabis retailers. Founded in 2008 by Doug Francis and Justin Hartfield, WM Technology began as a listings marketplace for cannabis dispensaries, and over time evolved into a cloud-based operating system for cannabis retailers, which includes a suite of CRM, loyalty and analytics solutions.
Life as a early stage growth tech company. MAPS deSPAC'd in June 2021 via parent Silver Spike Acquisition Corp. in a $1.5B transaction. The company is a rare example of a business focused on the cannabis sector listing on a U.S. stock exchange. Shares have declined 79% from peak levels of ~$28 in February 2021.
MAPS: Market Snapshot


Pot stocks have underperformed the broader market…but note that MAPS is an ancillary provider. Marijuana stocks have significantly underperformed the broader market. MSOS has provided a total return of -66% over the past 12 months, well below the benchmark Russell 1000 Index's total return of -5%. It's important to note that most of the larger marijuana companies are agricultural producers and have continued to post sizable net losses as they focus on investing in equipment to accelerate revenue growth. In contrast, MAPS is an ancillary provider in the cannabis space– essentially an e-commerce and compliance software company that has been profitable for its entire 12-year history.
AdvisorShares Pure US Cannabis ETF (MSOS): 1-Year Performance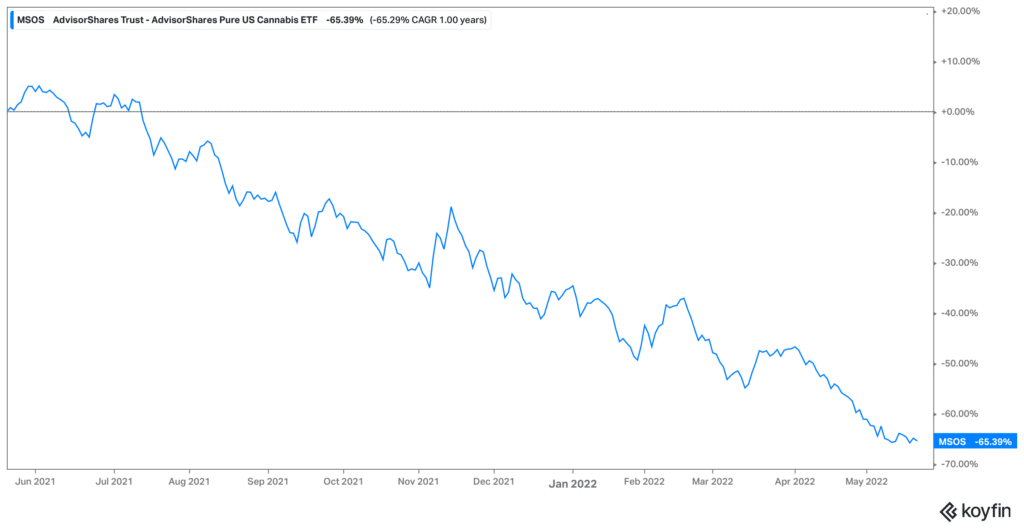 Yelp! for Cannabis. Weedmaps is one of the two most popular online portals for cannabis retailers and users. The other is Leafly Holdings (LFLY), which deSPAC'd in February of this year from SPAC merger via Merida Merger Corp. WeedMaps' primary business is its listings service, which connects 10 million monthly active users with over 4,000 paying merchants through its portal. MAPS also hosts a review and ratings platform for cannabis sellers. MAPS created this listings business prior to the wave of state legalization that began in 2012 in states like Colorado and Washington. Cannabis users often had difficulty finding retailers in their local area. Today, visitors to the site can listings of local dispensaries and educational materials on different cannabis strains. Users can then order products from the dispensaries displayed.
MAPS is dramatically outperforming industry growth. Since its deSPAC, MAPS has leveraged its capital advantage to expand the platform's reach and evolve into a more comprehensive SaaS offering for cannabis operators. As a result, MAPS has dramatically outperformed industry growth. North American regulated cannabis sales grew approximately 10% YoY in 1Q22, by most estimates (as Beals discusses in the podcast, the vast majority of cannabis sales still take place in the illicit market). In contrast, MAPS reported $57.5M in 1Q revenues (+40% YoY), and is guiding to 30% growth for the year. In many ways, MAPS is an enterprise software company with multiple growth levers:
Growth in six recently legalized U.S. markets. Connecticut, New Jersey, New Mexico, New York, and Virginia all enacted legalization efforts in the past year. Marijuana is currently legal in 19 states and Washington, DC)
Industry sales development and new stores openings
Weedmaps raising penetration of licensed operators
Retailers spending more on marketing, helping the company attain a larger share of advertising dollars
Weedmaps extending its suite of services, including CRM and marketing, third party integrations, targeted messaging system across text, email and in-app, loyalty program, and analytics
WM Technology: Current Board


Recent acquisitions build a robust suite of value-added features. WM Technology has been making acquisitions to extend features and functionality. In May, MAPS acquired Enlighten, which makes a subscription service that powers in-store digital menus and kiosks. In September 2021, WM Technology acquired Sprout, a cloud-based CRM & cannabis marketing platform.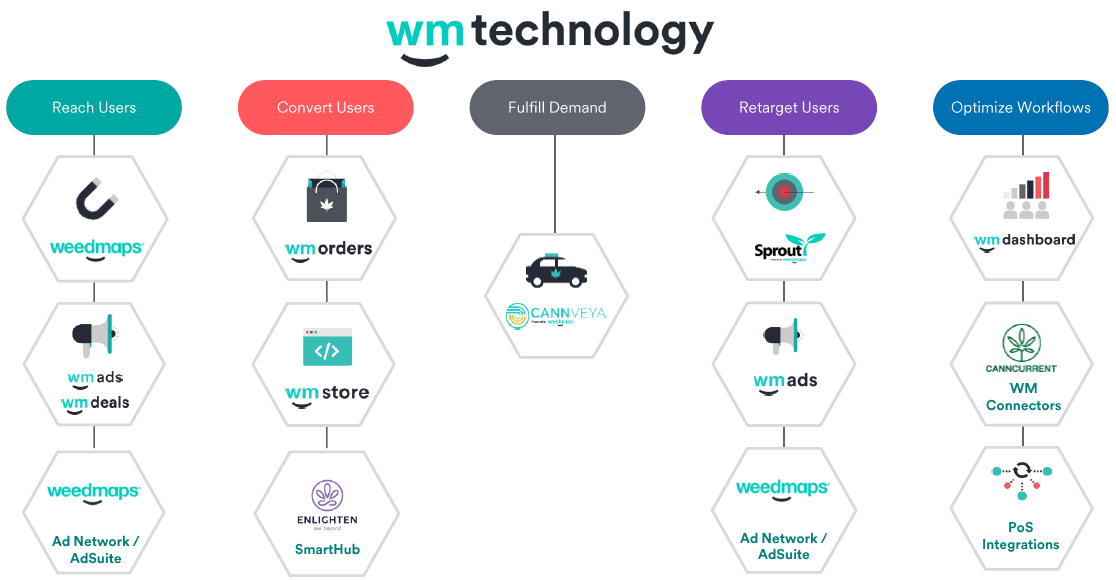 MAPS: Gender diversity & inclusion snapshot


Shares trade at a discount to 30% growth rate. While critics have focussed on the still dominant illicit market, we see several levers for growth– including increasing penetration, growing wallet share, and participation in the growth of six key U.S. markets. MAPS is building out its platform and entrenched customer base without competition from larger or more capitalized technology companies. Continued legalization is a strong tailwind. Shares trade at 22x forward EV/EBITDA– a reasonable valuation for a company growing ~30% YoY.
Listen to the podcast for more.
Want to dive deeper into the SPAC market? Check out our update for May.
Get in Touch
Your comments and feedback are always welcome. Let's continue the discussion. Email me at joanna@boardroomalpha.com.
More from Boardroom Alpha
Check out our latest podcasts here.