Don't hate on HD into the Q1 print: the bar is set low, and long-term fundamentals are good
Near-term headwinds are apparent, but mostly baked-in with shares trading below their 5-year P/E. Home improvement retailer Home Depot (HD) reports Q1 earnings tomorrow pre-market. This week is a big one for retail investor sentiment, with Lowe's (LOW), Walmart (WMT) and Target (TGT) also reporting eatings. For Home Depot, going into the print, we already know that tougher YoY comparisons and macro headwinds are expected to produce lower revenue and operating margins on a YoY basis. Consensus estimates call for EPS of $3.69 on $36.7 billion — representing YoY EPS and revenue declines of ~5% and 2%, respectively. No doubt about it: lots of near-term headwinds, including tough comps, inflation, and supply chain disruptions. That said, we argue that consensus estimates look reasonable and that the longer-term story remains intact. Moreover, with HD shares having declined 26% YTD and trading at 18x forward EPS — a discount to their 5-year historical average– we think we're close to a bottom at these levels.
HD has edged out the S&P500 slightly over the past 1, 2 and 5-year periods. HD shares delivered TSR of +19% over the past 3 years, versus +13% for the S&P 500- over the same period.
HD: Market Snapshot


Guidance: Price increases should help offset tough comps; margins a bit of a (short-term) worry. Don't get us wrong– guidance will matter, but judging from the mild reaction to the earnings miss at Warby Parker (WRBY), we think there is some forgiveness built-in at these levels. Consensus estimates are calling for HD to return to growth in Q2. Commentary from smaller retailers has been encouraging and suggests that the underlying demand in the remodeling industry remains healthy. Many companies– e.g. Floor & Decor (FND) and Masco (MAS) — were able to raise prices in the quarter– resulting in revenue growth. That said, margins are a bit of a (short-term) worry — consistent with the rest of the sector– as we expect supply chain disruption worsened in the quarter owing to the Russia-Ukraine war and lockdowns in China.
In a duopoly with Lowe's — with a few key advantages. Home Depot essentially operates in a duopoly with Lowe's. Professionals constitute ~45% of sales, well above Lowe's at 25%. is a key advantage, with HD generating operating margin of ~11% versus Lowe's at ~9%. In an e-commerce world that has negatively impacted many retailers who failed to pivot early enough [e.g. Bed Bath & Beyond (BBBY)], Home Depot doesn't have this problem (and probably won't — ever). Bricks, lumber and other heavy objects aren't likely to be threatened by online competition.
We know what happens to non-discretionary spend in an inflationary environment– but comps could still be positive this year. The big concern on home improvement retailer stocks is the high mix of non- discretionary items. Lowe's has indicated that two-thirds of its products are non-discretionary. That said, we still think HD's sales growth and comp sales growth could be slightly positive for the fiscal year– in line with prior guidance. HD expects operating margin to be flat and "low single-digit" percentage growth in EPS YoY. Importantly, remodeling activity is more closely correlated with home equity and housing prices than it is to interest rates.
Earnings are flattening, but HD should still be able to eek out positive YoY growth


Red flag: Governance. Home Depot's board consists of 14 members– much larger than peers. Becker Caryn Seidman is at risk of being overboarded; Seidman already serves as CEO of Clear Secure and a director at Lemonade. Particularly given the company's size, at just under a $300B market capitalization we'd also like to see greater diversity on the board: only 3 female board members, currently.
HD Diversity and Inclusion Snapshot: Could use a few more women here


Red flag: insider selling. Insiders sold $93.7 million worth of stock over the past 12 months, well above sector norms. Most board members have been strong sellers, with Board Chair Craig Menear having been a consistent seller of stock. Menear has sold $167.8M worth of stock over his tenure.
HD: Heavy insider trading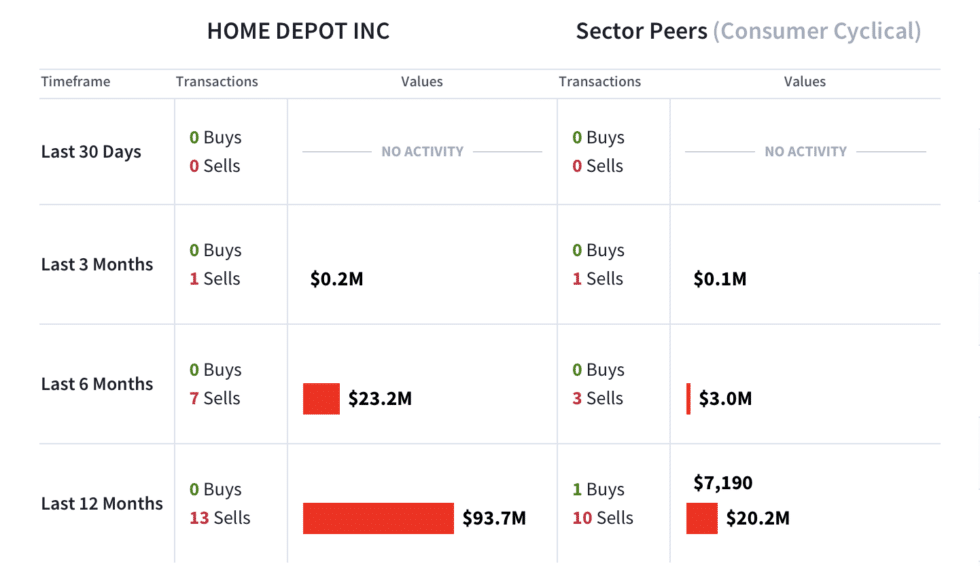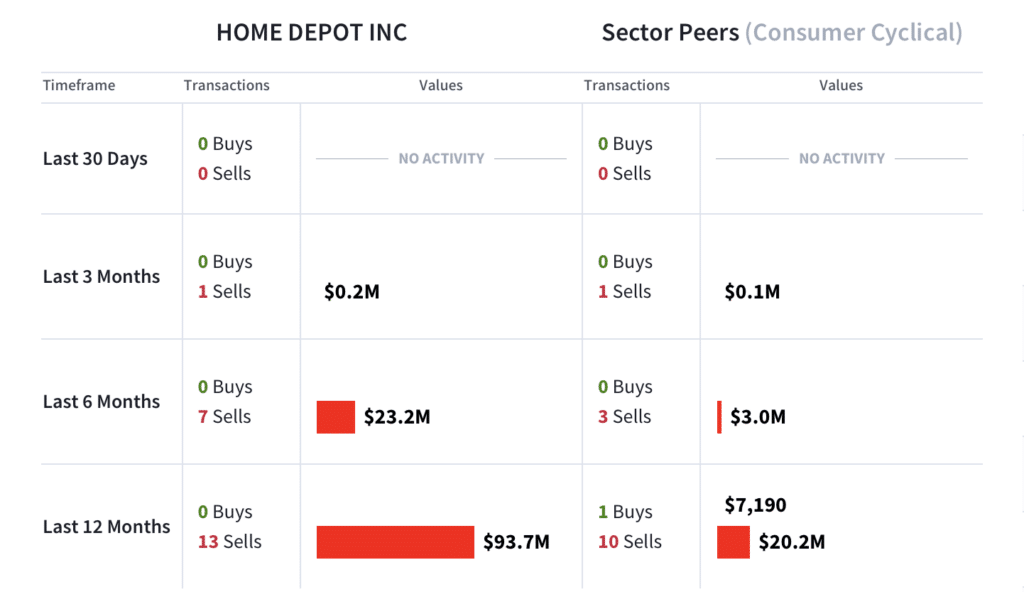 Board Chair Craig Menear has been a strong seller


Buybacks and dividends have been a support for the stock. Home Depot has a 5-year dividend growth rate of ~18% and a long history of buybacks. The company purchased $4.3B of stock in Q4 2021 and has $9.5B remaining in its current share authorization program. We expect HD to pull the buyback trigger on further weakness, lending support for the stock.


Bottom line on HD stock: long term tailwinds and attractive valuation make this a buy. Shares trade at a very reasonable 13x forward EBITDA. At 18x forward EPS, shares trade below their 5-year historical average of 22x. At the end of the day, HD holds only a high teens percentage of the total US gone improvement market, leaving considerable runway for growth. While Costco (COST) has outperformed HD over the past 12 months, we prefer HD at these levels.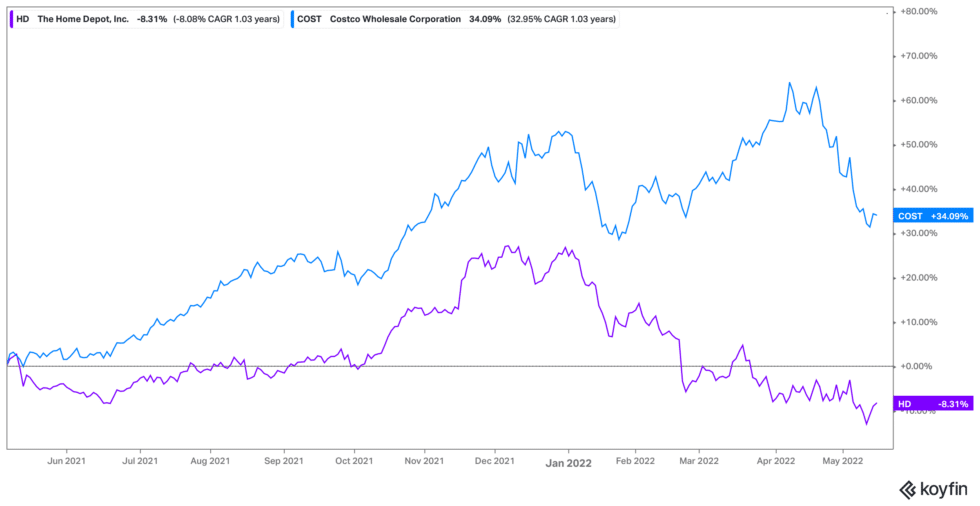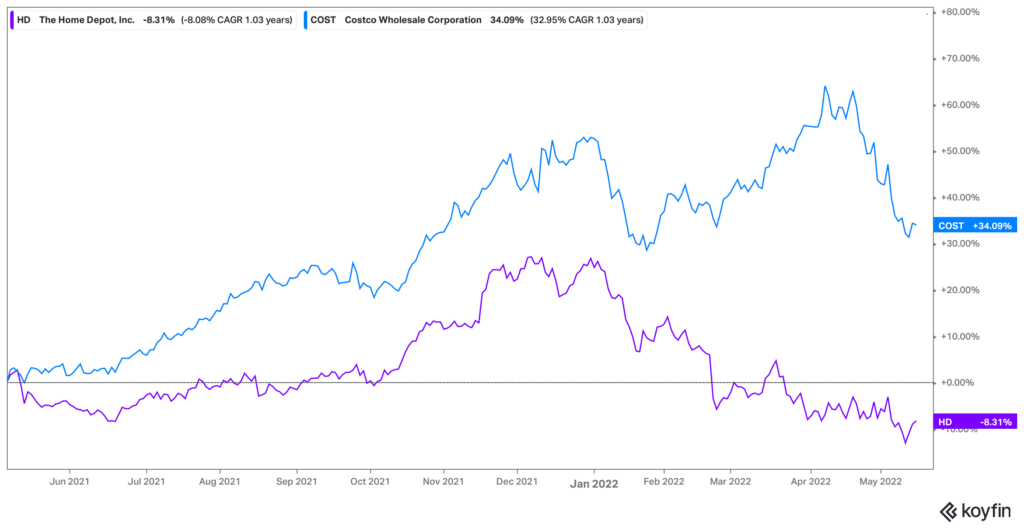 Latest Podcast: NYC Pension Funds Want Amazon Accountable for Human Capital
Our latest podcast explores the ESG situation at Amazon (AMZN), which is facing activist pressure as employees demand better working conditions. The tech giant has drawn increasing criticism for its treatment of workers, including claims of poor working conditions at its warehouses and attempts to block unionization. To dive into the details on why Amazon is failing in human capital management, Boardroom Alpha sat down with Michael Garland, Assistant Comptroller for Corporate Governance and Responsible Investment at the New York City Office of the Comptroller. Garland details the NYC Pension Funds' campaign– along with New York State Comptroller Thomas DiNapoli and trustees of all five of the New York City Retirement Systems– to unseat two Amazon board members responsible for human capital management– Daniel Huttenlocher and Judith McGrath. Amazon's annual shareholder meeting is coming up on May 25th.
Want to see more interesting growth companies up-close, hear from industry leaders and learn about the ESG trends driving the markets? Check out our latest Boardroom Alpha podcasts here.
Get in Touch
Your comments and feedback are always welcome. Let's continue the discussion. Email me at joanna@boardroomalpha.com.