We continue to view GGPI shares as undervalued heading into the merger
Polestar / Gores Guggenheim Inc. (GGPI) made a splash this morning, announcing a partnership with Hertz (HTZ) that includes purchasing up to 65,000 electric vehicles (EVs) over five years. Availability is expected to begin in Spring 2022 in Europe and late 2022 in North America and Australia. Initial orders are for the Polestar 2 sedan. Based on a $49K starting price, the deal is valued at ~$3.2B.
Hertz pushing to be the largest EV rental fleet, adding zero emission models. For Hertz, the partnership builds on the company's ongoing commitment to lead in electrification and shared mobility. The partnership with Polestar builds on Hertz's announcement last October to offer its customers the largest EV rental fleet in North America and one of the largest in the world.
An alternative to Tesla. The five-year agreement gives renters an alternative to Tesla (TSLA), which announced a relationship with Hertz in November 2021. This deal received tremendous fanfare as the single-largest ever purchase for electric cars for 100,000 vehicles as well as a partnership with Uber (UBER) to provide 50,000 of those vehicles to its delivery drivers. The deal relates primarily to the EV maker's Model 3. Last month, Hertz added Tesla's mid-size SUV Model Y to its electric vehicle fleet.
Amidst production hiccups at rivals, Polestar is delivering. A key advantage we have highlighted repeatedly is Polestar's existing partnerships / manufacturing relationships. Most important, the company is well underway with production and revenue generation ($1.6B in 2021 sales). As background, Polestar is jointly owned by Volvo and its parent company Chinese OEM Geely (GELYY). This relationship gives Polestar access to manufacturing in Chinas as well as facilities in Europe and the U.S. Geely has a 2022 target of 1.65 million vehicles. While the vast majority of these vehicles will be sold in China, the company is also making a push into other Asian markets. In addition to the Geely relationship, Polestar has access to Volvo's manufacturing infrastructure.
Anticipation on GGPI/Polestar merger. GGPI shares have been trading in a steady ~$11 range prior to day's announcement (shares are up 8% intraday). Today's announcement is a significant catalyst as investor anticipation intensifies toward an announced merger vote date. The transaction is expected to close in the first half of the year.
GGPI shares starting to regain momentum ahead of merger vote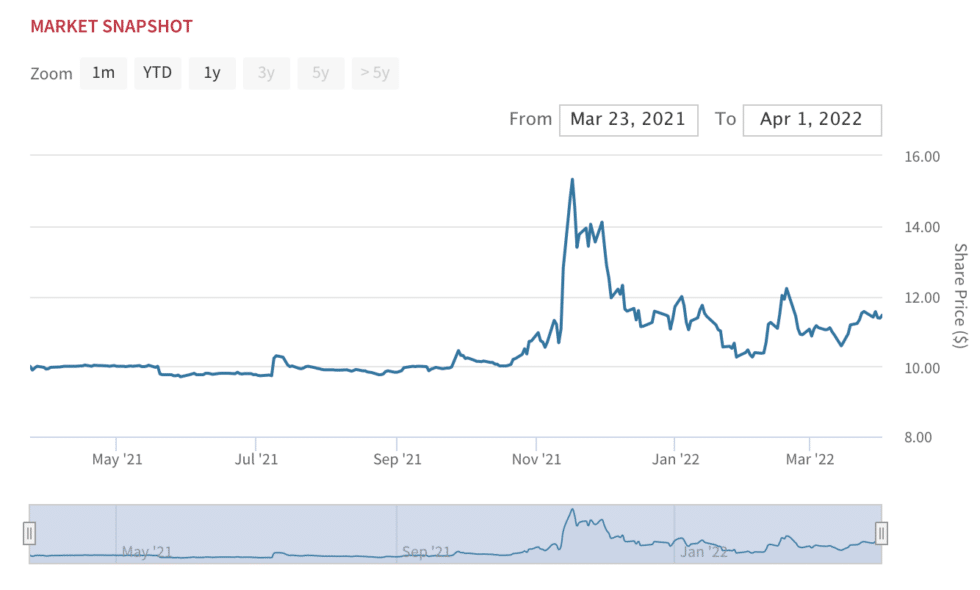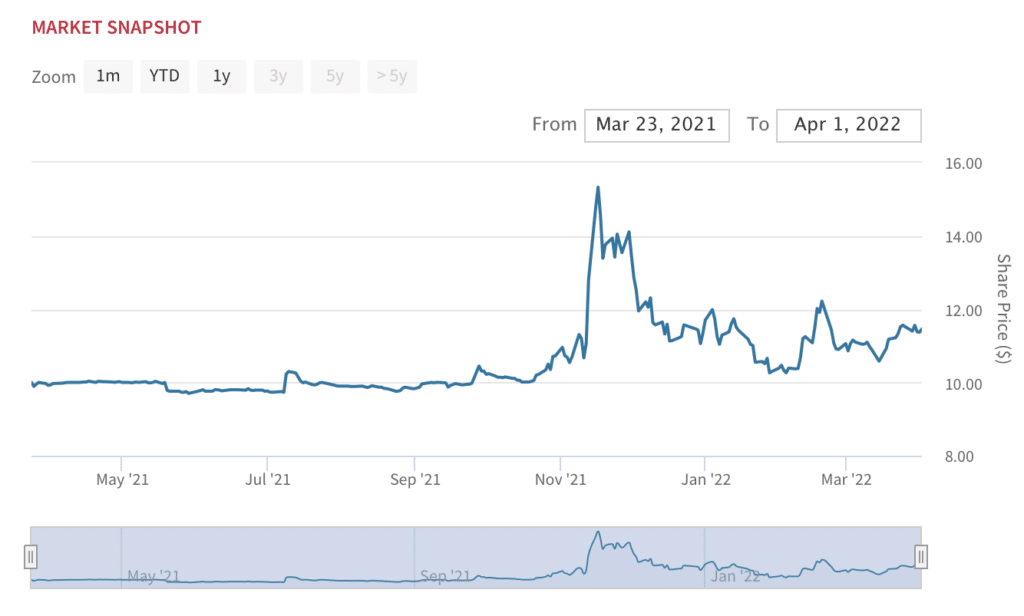 Market is a lot different now versus CCIV/LCID times. The contrast between the stock buildup of CCIV/LCID versus GGPI/PSNY is readily apparent. But it's a very different market now, amidst a more tepid outlook for growth stocks. That said, unlike LCID, which was a pre-revenue, pre-production company, Polestar is very much established, having met its production target of 29,000 cars in 2021. For 2022 and 2023, Polestar has guided to $3.2 B and $6.7B in sales, respectively.
Illusion versus reality. Polestar is unique in that while it's not the flashiest vehicle, the company's main selling proposition is to make reliable cars without gimmicks. While retail investors on social media tend to focus on powertrain modes and the time from 0-60mph, Polestar management is focused on building a sustainable, dependable car.
Polestar Superbowl Ad
Still think GGPI is undervalued. As the deal approaches a close, GGPI shares have formed a solid base of support. While its debatable how much of a deal pop we'll see on close, the fundamentals here are what's most important. We continue to like Polestar's long term outlook and view the company as an emerging contender in the EV space. Valuation remains discounted, in our view, at an implied market cap of $26.1 billion ($12.40 and 2.125B shares outstanding), which implies 3.9x 2023E sales. As reference, LCID, which is still in early production, trades at ~10x 2023E sales. As we move into the merger vote, we think GGPI should be trading closer to $20.
Check out our February podcast with CEO Thomas Ingenlath, and detailed analysis of GGPI here.