Shareholder vote: February 3, 2022 for SBEA shareholders as of record January 3, 2022
Evan Hafer founded Black Rifle Coffee in 2014 following a military career during which he and his fellow servicemen bonded and obsessed over coffee. Black Rifle has since grown into a mission-driven coffee brand with a fiercely loyal fanbase and $230M in 2021 sales.
Tom Davin, Co-CEO who joined in 2018, and Joe Reece, the executive chairman of the SilverBox Engaged SPAC joined Know Who Drives Return to discuss Black Rifle Coffee, the merger, and their vision for the company.
Key Points
Mission-driven with extremely loyal customer base, low churn and high net promoter scores
Plans to expand beyond subscription coffee with expansion of physical stores, ready to drink (RTD) product, and wholesale
Strong branding and recognition, supplementing core business with merchandising
History of operations and growth in restaurants from Tom Davin, and a leadership team built of Veterans
Significant competition in the beverage space, capital intensive to build physical outposts
Low growth projections for subscription part of the business
$300M of guaranteed financing consisting of $100M PIPE, $100M FPA, and $100M share backstop to meet min cash conditions
Black Rifle Overview
Latest Investor Presentation – January 2022
Black Rifle Coffee, founded by Veteran Evan Hafer, is a coffee company that prides itself on being mission-driven in support of the Veteran community. About half of the company's employees are Veterans of the United States Military, and the company participates in philanthropic endeavors supporting the community.
The company runs an omni-channel model, though the core of the business is as a DTC subscription-based coffee service that has been growing steadily for years. As that growth in DTC is leveling off (albeit it is sticky) the company is gearing up for a push into newer verticals including:
Physical coffee shops, or as the company calls them, "Outposts"
Wholesale
Ready to Drink (RTD)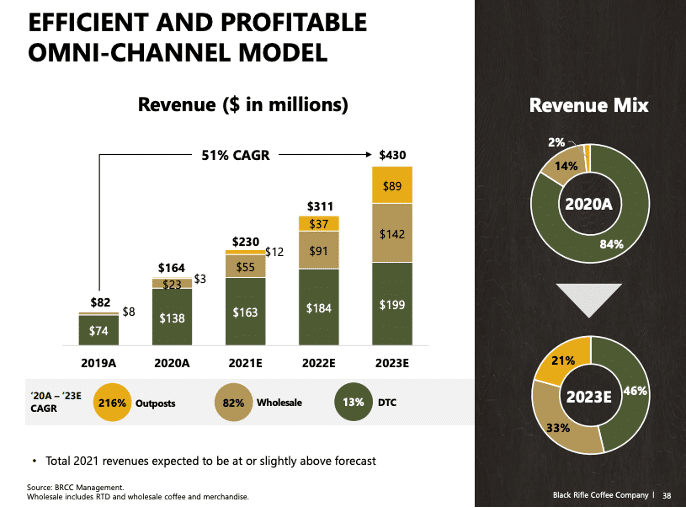 As for the Outposts themselves, according to the company, they have a higher average check size (~$12-13) than a typical coffee shop given almost half of the sales are merchandise based. There are currently 16 stores with a plan to grow to over 75 by 2023. The company is planning for ~80% corporate owned vs. franchised for the outpost locations. It costs ~$1.4M to build a store and company expects ~45% cash on cash returns.
While the Outposts represent a significant component of the company's growth plan, it will also require a hike in CapEx, growing from $20M this year to over $50M in 2023.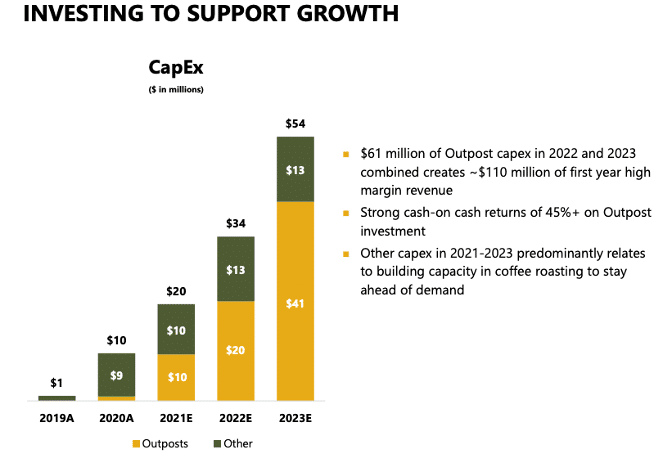 Competitive Landscape and Valuation
The SPAC transaction values Black Rifle at a $1.7B enterprise value. Given it doesn't make much sense to compare to the behemoth, Starbucks, the company is marketing the deal vs. High-Growth F+B cos like Dutch Bros (BROS) and Monster Energy (MNST) and DTC Lifestyle brands such as Warby Parker (WRBY) and Yeti Holdings (YETI), with BROS probably the most direct comp.
The 4.0x 2023E revenue would price Black Rifle at a discount to most comps assuming, of course, they hit their +50% revenue CAGR predictions out to 2023.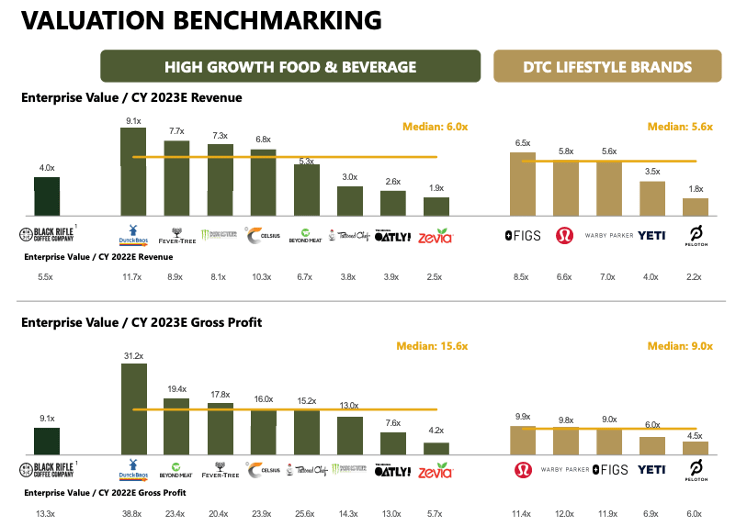 SPAC Sponsor: SilverBox Engaged Merger Corp I (SBEA)
SilverBox Engaged Merger Corp. is what it sounds like, a co-sponsored vehicle from both 1) SilverBox Capital, itself a JV with Boxwood Capital, Helena Capital, and Silver Rock and 2) Engaged Capital.
The SilverBox PE team have previously completed a SPAC transaction when Boxwood Merger Corp. took Atlas Technical Consultants (ATCX) public in a deal that closed in Feb-2020.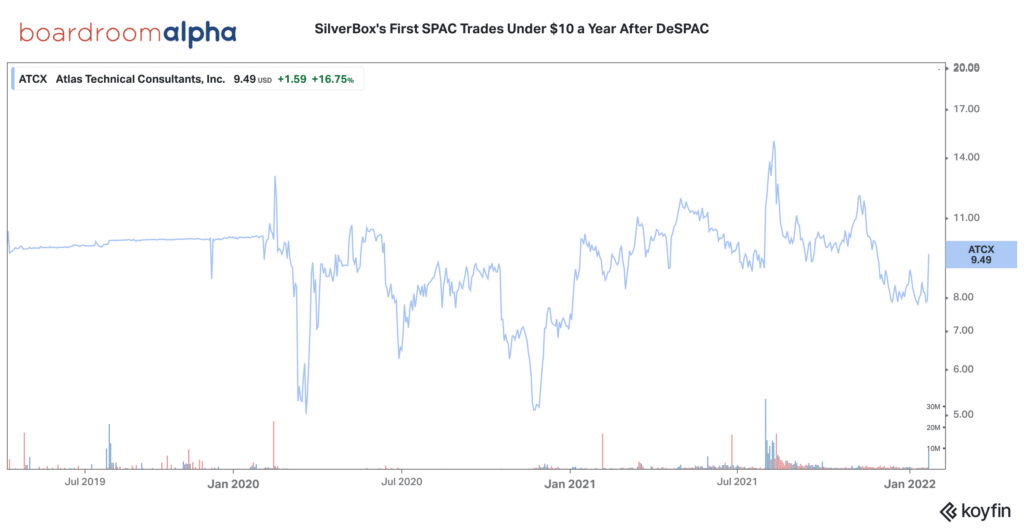 The SilverBox Engaged Merger Corp I (SBEA) Team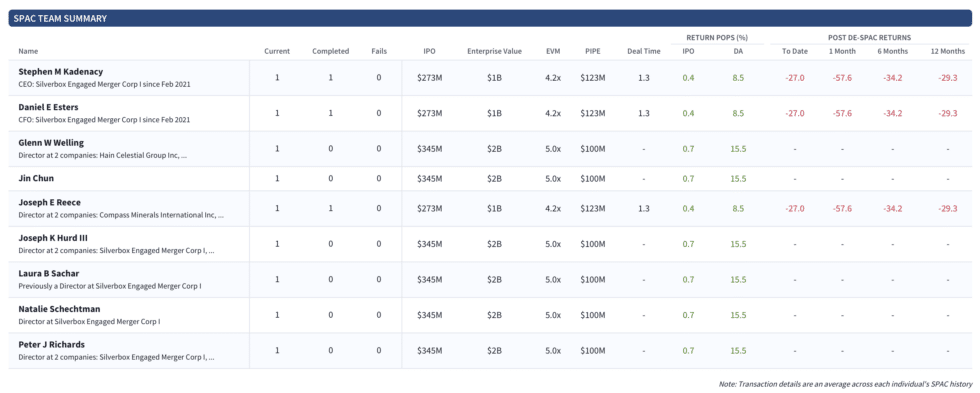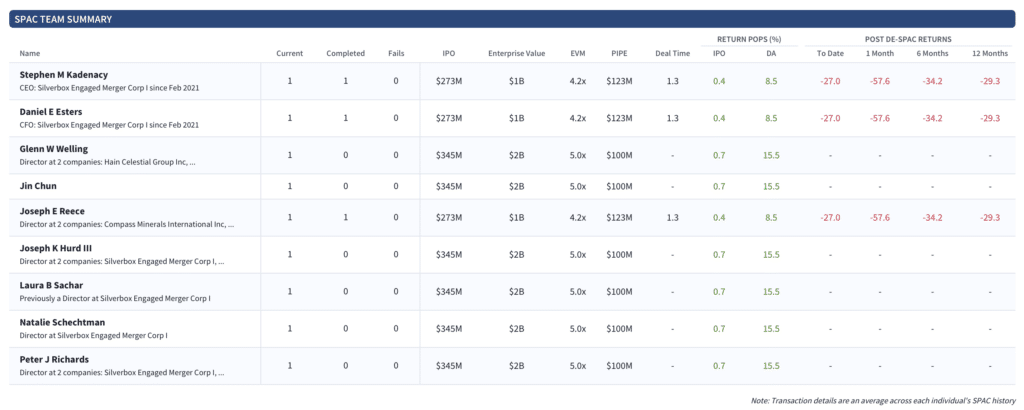 Learn More About Tom Davin and Joe Reece
Capital Structure & Financing
The transaction is expected to fetch up to $545M in cash proceeds, assuming (unlikely) no shares are redeemed from SBEA's $345M in trust. However, the company does have $300M in equity commitments (enough to meet its minimum cash requirements) in the form of:
$100M common equity PIPE
$100M Forward Purchase Agreement (FPA) from Engaged Capital
$100M in share backstops
Use of proceeds, besides the mentioned growth plans, include $161M of debt repayment and $118M of secondary sale proceeds. In addition the SPAC founders will forfeit ~1.2M shares with another 530k shares donated to the BRCC Foundation.
Podcast Topics
Intro + background on Tom Davin
Veteran history and mission at Black Rifle
Lifestyle brand and loyalty
Business segments + subscription business
Plans for Outposts (physical stores)
Merchandise and the value of brand
Intro to Joe and SilverBox Engaged (SBEA)
Valuation, competition, and positioning
NFTs or Metaverse?
About Black Rifle Coffee Company
Black Rifle Coffee Company (BRCC) is a Veteran-founded coffee company serving premium coffee to people who love America. Founded in 2014 by Green Beret Evan Hafer, Black Rifle develops their explosive roast profiles with the same mission focus they learned while serving in the military. BRCC is committed to supporting Veterans, active-duty military, first responders and the American way of life. With every purchase made, they give back. To learn more about BRCC, visit www.blackriflecoffee.com, follow BRCC on social media, or subscribe to Coffee or Die Magazine's daily newsletter at https://coffeeordie.com/presscheck-signup.