Troubled video game rental player Redbox is acquired. And the rest of the day's news in SPACs.
————————————————-
Free Investor Resources from Boardroom Alpha
—————————————————-
** Podcast: Know Who Drives Return
** Daily SPAC Newsletter
** Full SPAC Listing
Chicken Soup to Acquire Redbox
Chicken Soup for the Soul Entertainment (CSSE) is acquiring video games rental player Redbox Entertainment (RDBX) for $375M. The consideration includes assumption of $325M debt and $50M in stock. Notably, RDBX just deSPAC'ed in October with a ~$700M EV, although 89% redemptions and bad performance pummeled the stock, which is down ~60% since deSPAC. Chicken Soup, one of the largest players in the advertising-supported video-on-demand (AVOD) streaming services industry, intends to create an ad-supported media platform. The acquisition comes at a time when competition is heating up in the streaming service sector, as evidenced by the recent struggles at Netflix (NFLX). The transaction is expected to close in the second half of 2022.
SPAC Deal: IPVA + Getaround
InterPrivate II Acquisition Corp (IPVA) announces a DA with Getaround, "the world's leading fully digital and global carsharing marketplace." The transaction values the carsharing company at an enterprise value of $1.2B. $259M in trust. No PIPE.
SPAC IPO: MCACU
Monterey Capital Acquisition Corp. (MCACU) prices $80M IPO. Unit = Share + Warrant + 1/10 Right. $10.10 cash in trust. Monterey Capital is led by CEO and Chairman of the Board Bala Padmakumar, EVP Vivek Soni, and CFO Daniel Davis. The SPAC has an energy focus.
OACB / Alvotech merger vote set
Oaktree Acquisition Corp. II (OACB) sets merger vote date of 6/7 for specialty biopharma Alvotech.
AGBA Extends Deadline to August, Adds to Trust
AGBA Acquisition Limited (AGBA) confirms its $0.15 trust contribution for August extension. The SPAC has another $0.15 option from August – November.
Elsewhere in SPACs
Americas Technology Acquisition Corp. (ATA) gets an extension from June to September. No vote date set. No incremental trust contribution.
Boardroom Alpha SPAC market review for April.
Upcoming Events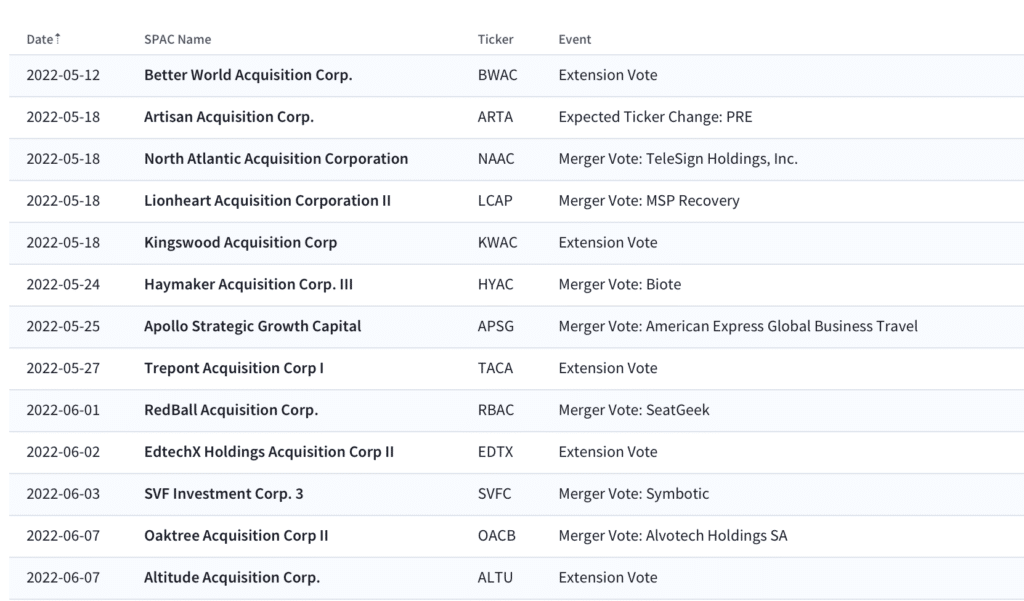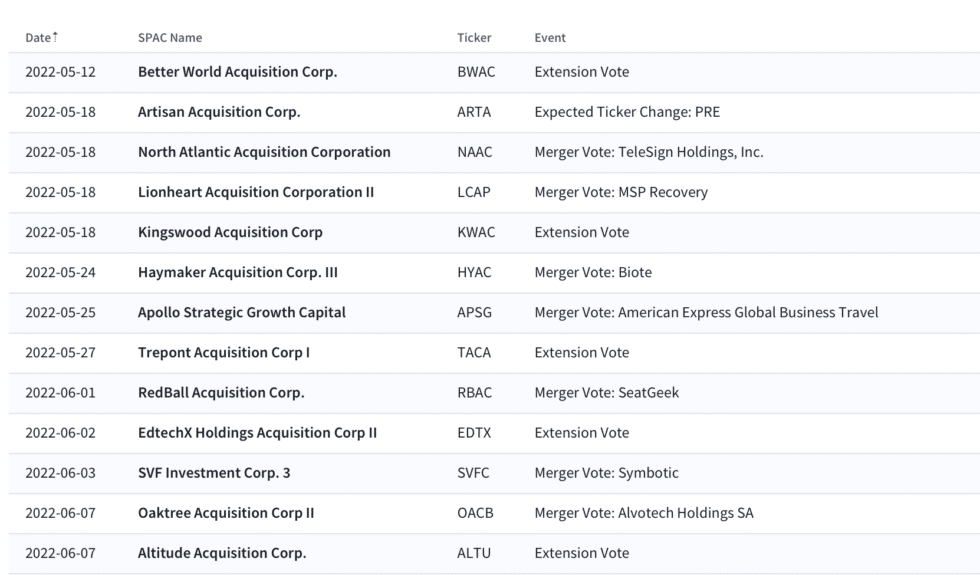 More from Boardroom Alpha
For ongoing tracking, analytics, and data on SPACs checkout Boardroom Alpha's SPAC Data and Analytics service.