————————————————-
Free Investor Resources from Boardroom Alpha
—————————————————-
** Podcast: Know Who Drives Return
** Daily SPAC Newsletter
** Full SPAC Listing
Board Blow-Up at Redbox Entertainment (RDBX)
Redbox Entertainment (RDBX) announced a major board shakeup. The company reduced the size of its board of directors from nine to five members as the legacy kiosk movie rental company restructures management in an effort to stabilize the business.
Redbox has been on a steady downhill slope since its deSPAC last October. The transaction originally valued the combined company at $693 million. Shares peaked at almost $16 before falling sharply, to ~$3 currently (~$114 million market cap). Although the company is trying to transition its revenue base to ad-supported streaming, the business is largely comprised of ~40,000 DVD and Blu-ray rental kiosks across the U.S. As we've seen among media giants like Disney (DIS), the transition to digital won't be an easy one.
RDBX: It's not easy being a legacy movie rental company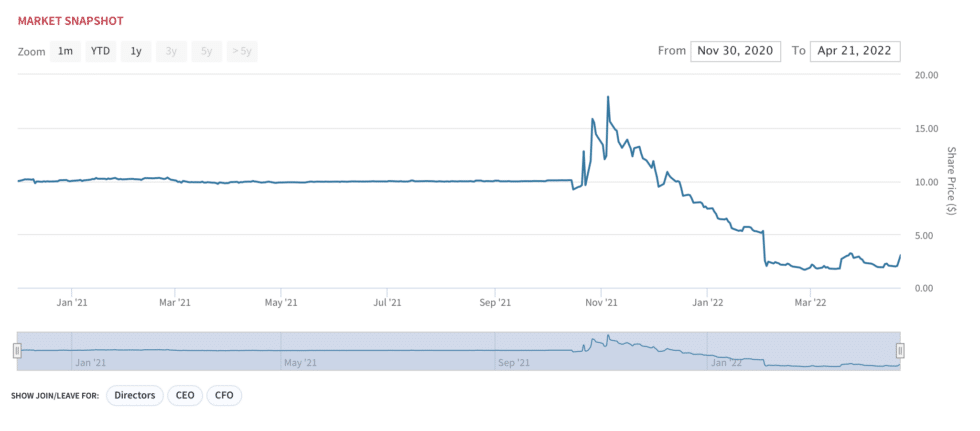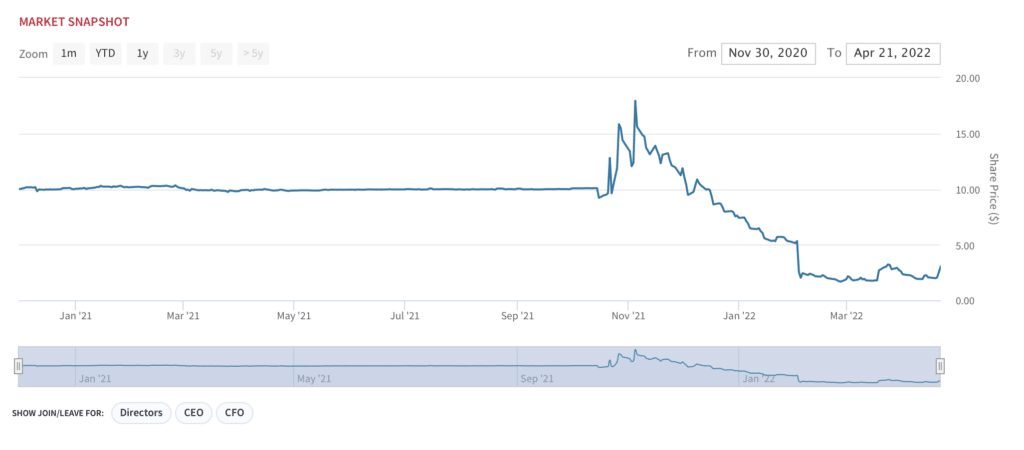 Among the departing board members include representatives from parent Apollo Capital and Seaport Global, the company's SPAC sponsor.Remaining board members include Kimberly Kelleher, president commercial revenue & partnerships at AMC Networks, and Galen Smith, CEO of Redbox. Joining the board are independent directors Gregory W. Frenzel, Neal P. Goldman and Robert H. Warshauer.
The board changes follow on the heels of the company's issuance of stock warrants to HPS Lenders to purchase more than 11.4 million shares of stock, representing almost 20% of shares outstanding.
Mill Road Capital Pushing for a Sale of Big Lots
Mill Road Capital thinks Big Lots should be taken private. Mill Road Capital is pushing retailer Big Lots (BIG) to pursue a sale. Mill Road, which owns a 5.1% stake (average cost ~$20.10), as of the latest 13F filing, has made 30 previous 13D filings and took Item 4 action in 14 of those situations. We "believe there is a significant disconnect between the company's current market valuation and the price a well capitalized buyer could pay to take the company private in a formal sales process," Mill Road wrote in a letter to BIG shareholders earlier this week. The firm thinks the retailer could be worth $55 to $70 per share in a potential sale. The low end of this target represents 49% upside to BIG's current stock price (~$37 as of this writing).
Failed takeout back in 2020. The Mill Road push comes after Apollo Global (APO) reportedly attempted to buy Big Lots in 2020. That deal fell apart due to a sale-leaseback deal between Big Lots and Oak Street Real Estate Capital. Many retail companies have leveraged sale-leaseback transactions as part of asset-light strategies designed to monetize their physical assets and increase liquidity– i.e. pay down debt, invest in growth initiatives and repurchase stock.
Like most retailers, Omicron variant and higher costs have hurt margins. Big Lots is a U.S. retailer with products across several merchandising categories– including furniture, seasonal, soft home, consumables and food. As of March 15, 2021, the company operated 1,410 stores in 47 states and an e-commerce platform. BIG shares have declined 22% year-to-date, versus 9% for the S&P 500 over the same period. The spread of the Omicron coronavirus variant has reduced customer traffic while increased transportation costs have negatively impacted margins. Q4 EPS of $1.75 was well below consensus of $1.89, although sales of $1.73B were essentially in-line (+7.8% QoQ, -0.3% YoY). Recent results reflect supply chain disruptions and increased freight and labor costs.
BIG: Fading consumer sentiment, inflation and higher costs have hurt the stock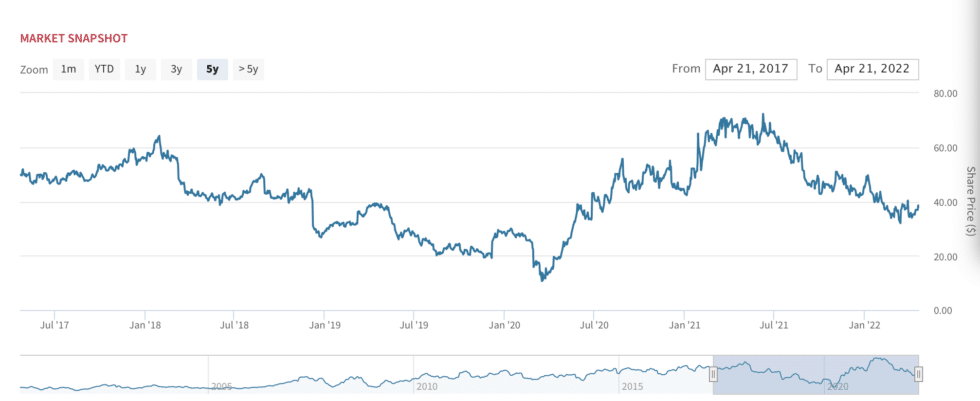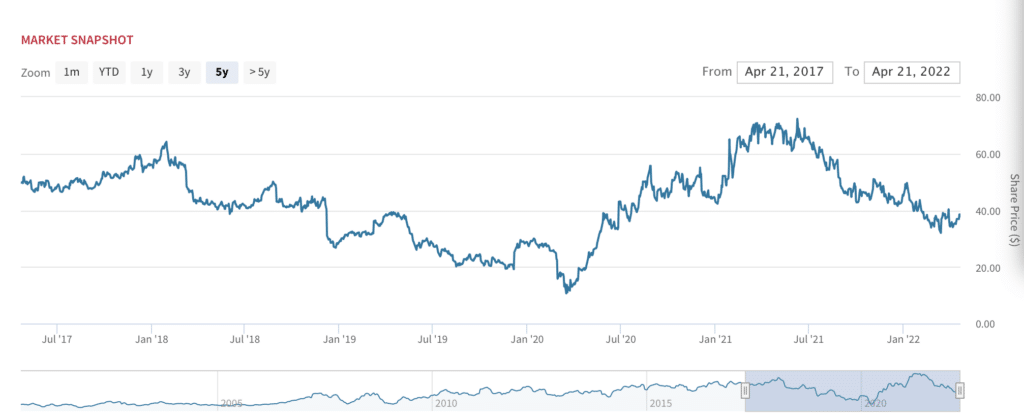 Who's side are you on, exactly? Mill Road urging the board to do a sale-leaseback. Mill Road, founded in 2004 by Thomas Lynch, is focused on investing in and partnering with publicly traded micro-cap companies in the U.S. and Canada. The firm wants BIG to pursue a sale-leaseback which would monetize the company's real estate assets and bolster the stock price ahead of a potential sale. The firm says this will make "full use of the company's existing debt facility" to generate low-cost financing that can be used to finance an acquisition of the company.
Track record of acquiring portfolio companies. Mill Road has a history of offering to acquire portfolio companies: Rubio's Restaurants (2010), PRT Growing Services, Ltd (2012), RG Barry Corp (2014), Skullcandy (2016), and Mother's Market & Kitchen (2016).
Shares trade at a significant discount to earnings growth. BIG is running at a 3-year EPSP CAGR of ~20%– ahead of peers Dollar General Corp. (DG), Costco (COST) and Walmart (WMT), which are growing EPS in the mid-to-high teens. BIG shares trade at ~7.5x 2023E EPS versus 22x, 40x and 23x for DG, WMT and COST respectively. By no means do we think BIG deserves a re-rating– there are too many potentially negative moving parts (e.g. continued margin pressure) to justify a buy recommendation. At Mill Road's $55-$70 price target BIG would implicitly trade at a 2023E EPS multiple of 11x-15x. We think this is a stretch without demonstrable evidence of continued top-line growth. That said, we do think the worst is behind the company. For the full year, BIG targets comparable sales and gross margin to be essential flat, with operating expenses deleveraging modestly (no formal full -year guidance). The valuation doesn't reflect any upside from the company's operational improvements, new store growth, and improved balance sheet.
See the full report here.
Your comments and feedback are always welcome. Let's continue the discussion. Email me at joanna@boardroomalpha.com.
Best of the Rest
Boardroom Alpha Podcast
Earth Day is the perfect day to tune into our latest podcast. We talk to Andrew Behar, CEO of non-profit shareholder advocacy group As You Sow, on how investors are moving the needle toward corporate transparency and accountability. Want to know which company scored the worst in the firm's Net Zero progress report? The answer will surprise you. Hint: it makes electric vehicles!
Check out our latest Boardroom Alpha podcasts here.
More from Boardroom Alpha
For ongoing tracking, analytics, and data on SPACs checkout Boardroom Alpha's SPAC Data and Analytics service.