————————————————-
Free Investor Resources from Boardroom Alpha
—————————————————-
** Podcast: Know Who Drives Return
** Daily SPAC Newsletter
** Full SPAC Listing
NY Pension Funds Wage Proxy Battle against Amazon
2 Amazon (AMZN) Directors under fire for underperforming human capital management
NY Pension funds holding $5B of AMZN stock want shareholders to vote against re-election of 2 board members. New York City Comptroller Brad Lander, New York State Comptroller Thomas P. DiNapoli, and trustees of all five of the New York City Retirement Systems launched a campaign against Amazon. The New York City Retirement System and New York State Common Retirement Fund are leading a group of investors holding ~1.7 million AMZN shares — currently valued at ~$5B.
Group wants to dislodge 2 AMZN directors. The group wants shareholders to vote against the re-election of two Amazon board directors responsible for human capital management: Daniel Huttenlocher, dean of the MIT Schwarzman College of Computing, and Judith McGrath, former chair and CEO of MTV Networks Entertainment Group, a unit of Viacom/Paramount (PARA). Both are longstanding members of Amazon's Leadership Development and Compensation Committee and have been on the Amazon board since 2016 and 2014, respectively.
Human capital challenges. In a letter to shareholders filed last week with the SEC, Comptrollers Lander and DiNapoli detailed concerns regarding the unresponsiveness and insufficient oversight by the board of Amazon's human capital management challenges. The letter highlighted Amazon's high injury rate relative to peers, unsustainable turnover, labor rights violations, and excessive executive compensation.
On unsafe working conditions:
"We have continuously seen significant concerns about how Amazon protects its workers health and safety, and upholds its own policies on human rights and freedom of association." — New York State Comptroller Thomas P. DiNapoli.
"The conditions in Amazon warehouses are unsafe, inhumane, and unsustainable for Amazon's workers and cannot be tolerated by its shareholders. "Coupled with Amazon's hostile relationship with its workforce and unethical anti-union activity, it's clear that something needs to change operationally, culturally, and in senior management." — Public Advocate Jumaane D. Williams
Red flags. Notably, the board members in question– Huttenlocher and McGrath– been strong sellers of AMZN stock, having sold $1.1M and $3.6M worth of stock across their respective Board tenures.
AMZN: Board Overview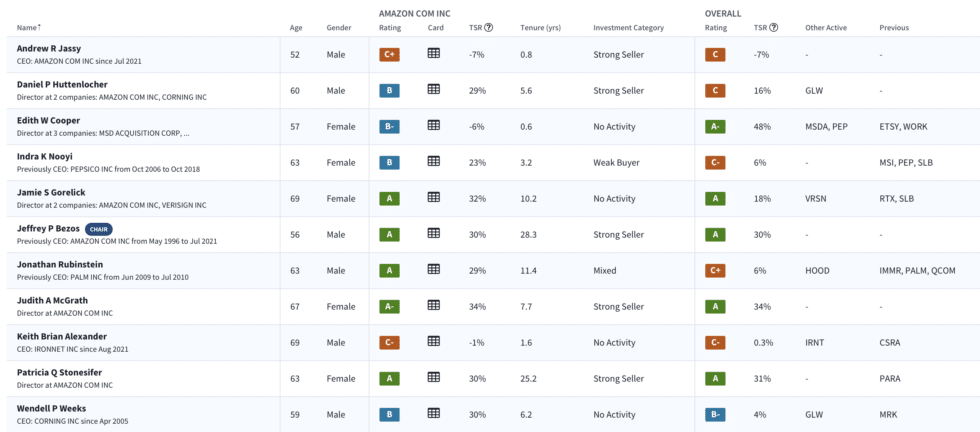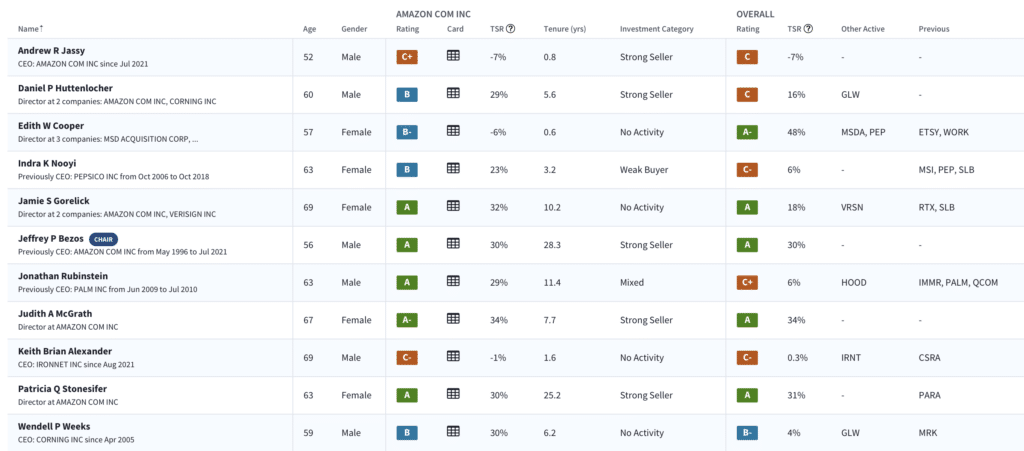 Daniel Huttenlocher: Selling Activity


Judith McGrath: Selling Activity


Because history rhymes. The New York proxy campaign reminds us of last year's successful proxy campaign at Exxon Mobil (XOM), where 3 directors were dislodged from the Exxon Mobil board. Led by activist investor Engine No. 1, New York State Common, the California Public Employees' Retirement System, and the California State Teachers' Retirement System, the campaign was a victory for climate change activists.
Latest Podcast: Why Activision Blizzard's Board is Still Failing at Governance with Richard Clayton
Shareholders vote this Thursday on the $68.7 billion proposed acquisition of Activision Blizzard (ATVI) by software giant Microsoft (MSFT). Amidst both a "sexual harassment crisis" and regulatory review, will the company's recent Board refresh be enough to assuage shareholders and move the deal forward? To help answer that question, Boardroom Alpha sat down with Richard Clayton, Director of Research at the Strategic Organizing Center (SOC) Investment Group. Founded in 2006, the SOC Investment Group works with pension funds sponsored by unions affiliated with the Strategic Organizing Center, a coalition of unions representing more than four million members. Clayton shares his take on Activision's recent governance moves and why the proposed takeover by Microsoft isn't in the best interest of shareholders. Listen to the podcast and read our overview here.
To dive deeper into the Activision Blizzard story, check out our analysis "Tidying Up: Activision Blizzard Refreshes Board Ahead of Microsoft Deal."
More ESG on the Boardroom Alpha Podcast
Want to know how shareholders are pushing for more transparency and accountability on key issues such as climate change, executive compensation, governance and human rights policy? Check out our recent podcast with Andrew Behar, CEO of non profit shareholder advocacy group As You Sow, to learn why now is a watershed moment for ESG investing.
Want to see more interesting growth companies up-close, hear from industry leaders and learn about the ESG trends driving the markets? Check out our latest Boardroom Alpha podcasts here.
More from Boardroom Alpha
For ongoing tracking, analytics, and data on SPACs checkout Boardroom Alpha's SPAC Data and Analytics service.

Get in Touch
Your comments and feedback are always welcome. Let's continue the discussion. Email me at joanna@boardroomalpha.com.