Shutterstock CEO abruptly departs, insiders are dumping stock. Does this board have any new ideas or is everyone abandoning ship?
SSTK CEO departs abruptly. Stan Pavlovsky, CEO of licensed content provider Shutterstock (SSTK) has resigned, effective May 3, to pursue other business opportunities. He has also stepped down from the company's board. Jonathan Oringer has been named the Interim CEO. Oringer has been the Executive Chairman of Shutterstock's board since April 2020. Before becoming the Executive Chairman, he was the company's CEO. Shares have declined ~12% since the resignation announcement.
SSTK in brief. Shutterstock is a leading provider of stock photography, footage, music and illustrations. The company, founded by Oringer in 2003, has a library of over 200 million royalty-free stock photos, vector graphics, and illustrations, with around 10 million video clips and music tracks available for licensing. Headquartered in New York City, Shutterstock has grown largely through acquisitions and owns several content assets: PicMonkey, a leading online graphic design and image editing platform; Offset, a high-end image collection; Shutterstock Studios, a custom creative shop; PremiumBeat, a curated royalty-free music library; Shutterstock Editorial, a source of editorial images and videos for media; TurboSquid, a leading 3D content marketplace; Amper Music, an AI-driven music platform; and Bigstock, a value-oriented stock media offering.
SSTK shares have underperformed the market and peers as competition intensifies. SSTK shares performed well throughout the COVID-19 pandemic, essentially doubling from the low $30's as the company benefitted from the new creator economy. SSTK shares have outperformed the S&P 500 over the past three years (+28% vs. +15% for the S&P500 over the same period). However, a reversal has since taken place. Since peaking in October 2021 at ~$126, SSTK shares have declined sharply.
SSTK stock: A troubling few months, with no bottom in sight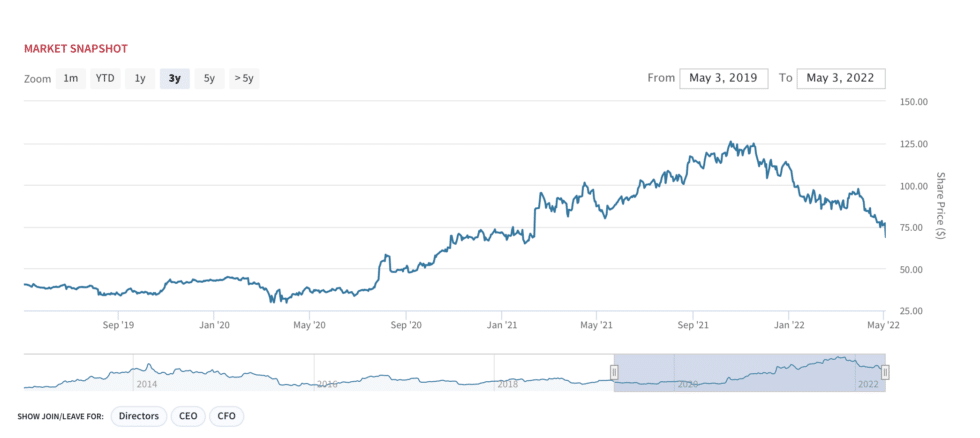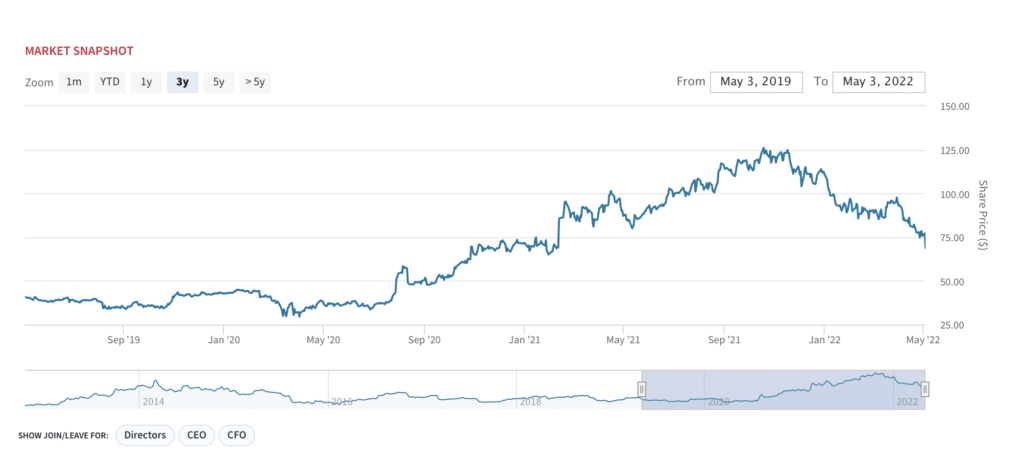 Slowing revenue growth. Q1 results, reported in late April, beat on revenues but were light on the bottom line. Importantly, SSTK's reported 15% revenue growth in Q1 is well below peer median of 37%, suggesting likely share loss. Management expects subscriber growth and subscriber revenue growth to decline from current levels, owing to more difficult comparisons relative to new video and music subscription products launched over the past 12-18 months. Critics often cite the company's pricing model changes which took effect in 2020 — a tiered plan based on the number of licensed images by contributors which squeezed out many smaller content creators. Customers are also increasingly turning to alternatives such as Getty Images, Pond5 & Canva. For the full-year, SSTK has guided to $3.65 – $3.80 on revenues of $835 million to $850 million, representing 8% YoY revenue growth at the low end of the guided range. EBITDA margins have declined slightly to 23% in the most recent quarter, reflecting increased marketing spend. Shutterstock hired Jason McClelland as Chief Marketing Officer last month as part of this growth initiative.
Can new leadership re-ignite top line growth?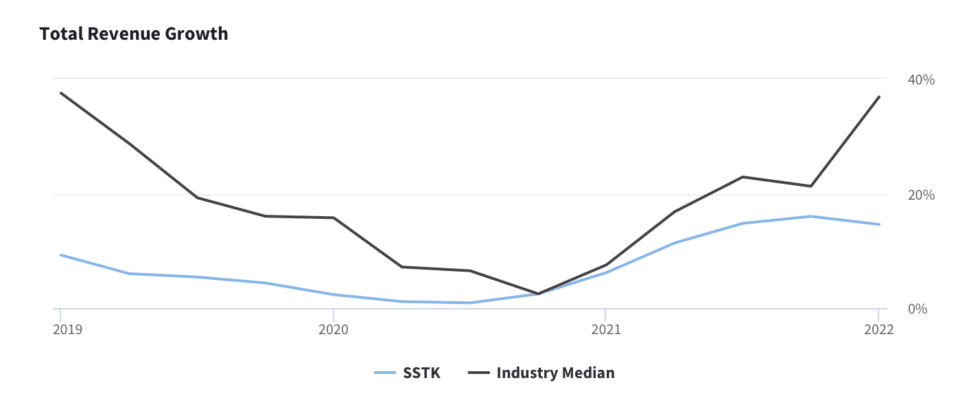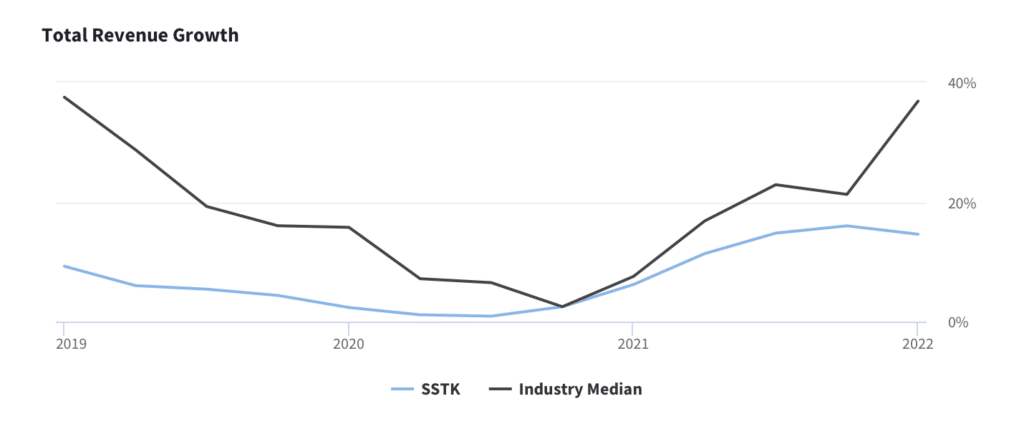 Board composition: Chair is not independent, no lead independent director. Shutterstock's board scores a B on the Boardroom Alpha scorecard, owing largely to the company's strong 3-year performance. Diversity and Inclusion metrics look good, albeit we have some concerns relating to the board's independence. Oringer, current interim CEO, is also chairman of the board. Shutterstock lacks an independent lead director. Given the operational overhaul necessary here, we think the company could benefit from some independent leadership.
SSTK current board


Governance alert: Interim CEO Oringer is also Board Chair; no lead independent director


Red flag: insider selling. Insiders have sold $150.6M of stock over the past 12 months, well above sector peer norms. Selling pattern has been fairly consistent historically. Over the past 12 months, there has been no insider buying. Over the past six months SSTK shares declined 45% while insiders sold $74.5M worth of stock. With the company clearly at a crossroads, we think insider trading activities reflect poorly and would like to see evidence of some alignment here. Looking more closely at the trading activities of the board, Thomas Evans and Deirdre Bigley have been heavy sellers, with the remainder of the board inactive.
SSTK stock: Heavy insider selling


SSTK: No insider buying over the past 12 months


SSTK: Board Diversity & Inclusion Snapshot


Buyback could offer some support for the shares. Management indicated plans to buy $75M of stock over the next 12-month period. Quarterly repurchase activity has picked up, with Shutterstock having purchased $38.4M of stock in Q1. We'd like to see more activity here. Dividend payout increased last quarter to $8.7M, up from $7.7M in Q4.
Capital Return: Buyback and dividend summary


Bottom line on SSTK stock. While the shares trade at a discount to peers across all metrics, there appears to be no stabilizing catalyst for the stock. We'd like to see evidence that acquisitions can accelerate revenue growth. This is a situation in need of refreshed leadership as Shutterstock navigates customer relationships and a more challenging competitive environment.
Latest Podcast: The Green Energy Movement will be Digitized, says Voltus CEO Gregg Dixon
Our latest podcast gets an up close look at a company that's at the center of the green energy movement and an interesting name on our radar as a pure-play ESG investment. Boardroom Alpha sat down with Gregg Dixon, CEO of Voltus.
Voltus recently announced it will go public via a SPAC merger with Broadscale Acquisition Corp (SCLE). The transaction, which is expected to close 1H 2022, values Voltus at an equity value of $1.3B.
Listen to the podcast and read our overview on the Voltus story here.
Want to see more interesting growth companies up-close, hear from industry leaders and learn about the ESG trends driving the markets? Check out our latest Boardroom Alpha podcasts here.
Get in Touch
Your comments and feedback are always welcome. Let's continue the discussion. Email me at joanna@boardroomalpha.com.