Adding to the wave of deal terminations, ALAC calls it quits with SolarMax. A potential extension for KWAC. And the rest of the day's news in SPACs.
————————————————-
Free Investor Resources from Boardroom Alpha
—————————————————-
** Podcast: Know Who Drives Return
** Daily SPAC Newsletter
** Full SPAC Listing
ALAC Intends to Terminate Merger with SolarMax
Time is running out for Alberton Acquisition Corp. (ALAC), which indicated it intends to terminate its merger with SolarMax Technology. The SPAC's charter specified merger completion on or before April 26, 2022.
ATSPT Extends Lockup for SoundHound CEO
Archimedes Tech SPAC Partners Co. (ATSPT) extends lockup for SoundHound CEO Keyvan Mohajer from 6 months to 1 year. Merger vote scheduled for 4/26. SoundHound makes a voice artificial-intelligence platform used by global corporations including Mercedes-Benz (DMLRY), Snap (SNAP) and Mastercard (MA).
Kingswood Acquisition Corp. (KWAC) Looking to Extend Deadline
Kingswood Acquisition Corp. (KWAC) looking to extend from May-24 to Nov-24. Vote set for May-18. The SPAC was reportedly looking at Blackstone's U.K. Wealth Management firm Lombard International.
Bowlero (BOWL) Warrant Redemption
Bowlero (BOWL) announced it will redeem all of its publicly traded and privately held warrants to purchase shares of Bowlero's Class A common stock. Redemption is in cash, at an exercise price of $11.50 per share of Common Stock or on a "cashless" basis in which the exercising holder will receive shares of Common Stock. Redemption deadline is May 16th.
Elsewhere in SPACs
New podcast: Boardroom Alpha talks to Steve Croskrey, CEO of Danimer Scientific (DNMR) on the latest in bioplastics technology. Danimer deSPAC'd from sponsor Live Oak Acquisition Corp. in December 2020. Watch and see our overview on the story here.
Upcoming Merger and Extension Votes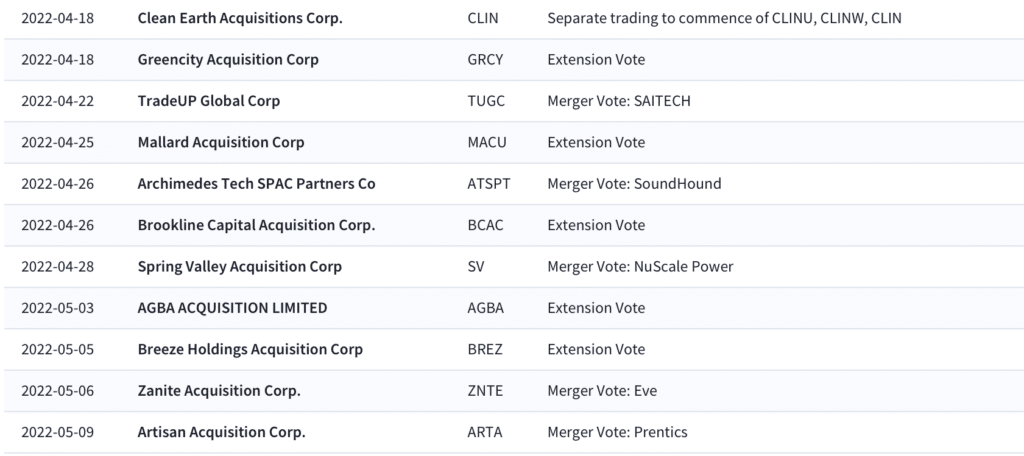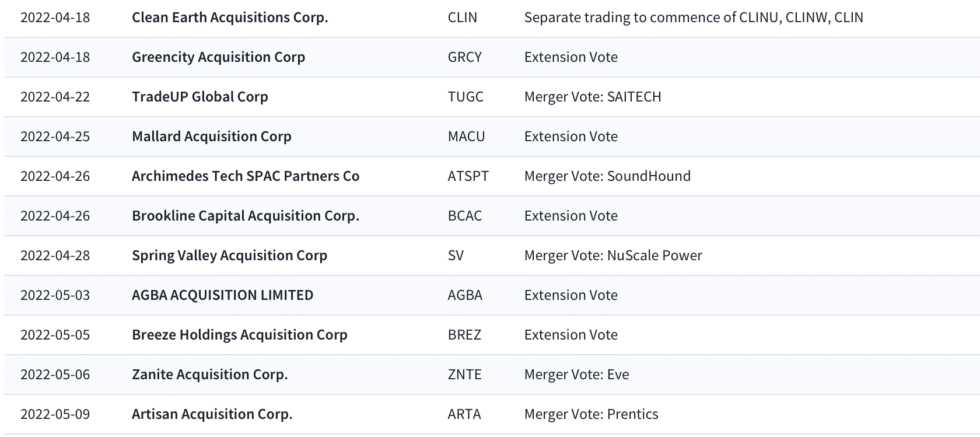 More from Boardroom Alpha
For ongoing tracking, analytics, and data on SPACs checkout Boardroom Alpha's SPAC Data and Analytics service.