Shareholder activism doesn't have to be limited to economic returns
Icahn seeks two board seats at KR. Activist investor Carl Icahn is seeking two board seats at Kroger Co (KR), pushing the U.S. supermarket giant to make changes among its pork suppliers and to address a widening gap between worker and executive pay. Kroger has not yet set a date for its annual shareholder meeting.
Second company to be admonished for animal welfare practices. Recall that last month, Icahn launched a proxy fight at McDonald's (MCD), seeking two board seats and challenging the practice used by some of McDonald's pork suppliers of confining pregnant pigs in gestational crates as opposed to group housing. Currently, MCD's practice is to move cows from crates only after they are confirmed pregnant four to six weeks into their 16-week term. Icahn and other animal activists would like to see use of these gestational crates banned altogether. 
Executive pay is cause for concern. In its May 2021 proxy statement, Kroger reported that CEO Rodney McMullen had an annual compensation of more than $22 million, while the median employee earned $24,617 in 2020. As Icahn states in his letter to the company, "even in a hard-nosed capitalistic system like ours, it is obscene that a CEO makes 900 times what workers earn. It is truly difficult to point to anything comparable, even when considering the grave injustices in the early days of the Industrial Revolution. At Kroger, amazingly, it will take an average worker 20 years to make what the CEO earns in one week." Kroger says its executive compensation is aligned with shareholders' interests and mostly based on performance. Kroger says it has raised the average employee wage by 25% to $17 an hour over the past four years.
Kroger has delivered solid returns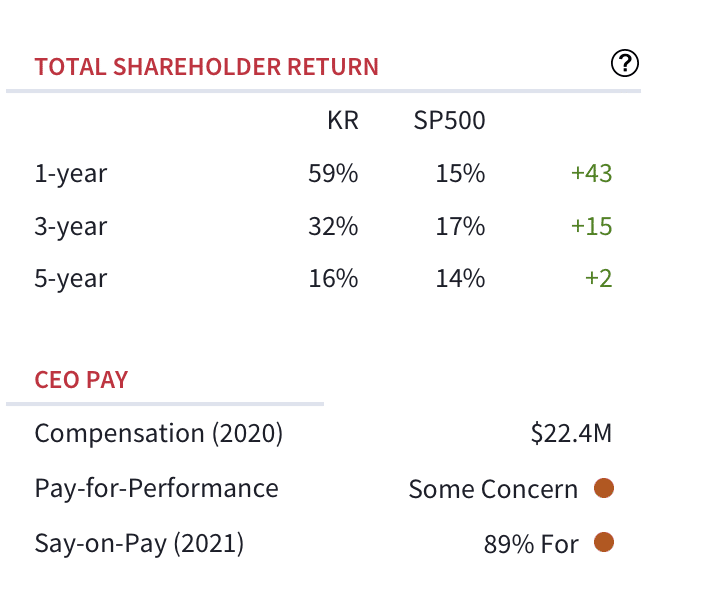 Despite inflation fears, KR stock has performed well. Unlike many other underperforming activist targets, KR shares are performing well—up 24% YTD, versus a 4% decline for the S&P500 over the same period. Kroger delivered a beat-and-raise Q4. Despite inflation concerns and increased competition from big-box retailers pushing into the grocery space, the company has consistently reported better-than-expected earnings throughout the pandemic. Same-store sales, excluding fuel were up 4% in Q4, and up 14.6% versus pre-pandemic Q4 2019. For the 2022, management expects same-store sales growth of 2% to 3%.
KR: Not performing better than most

Icahn's nominees. Icahn is nominating Alexis C. Fox and Margarita Paláu-Hernández to Kroger's board, the company said in a statement. Fox is the co-founder of Lighter, a startup that focuses on plant-based diet. Paláu-Hernández is the founder and chief executive at Hernandez Ventures, a private firm involved in Spanish-language media, business and real estate ventures. Kroger's existing board reflects a fairly good mix across most diversity metrics as well as C-suite expertise.
Kroger: Board Diversity & Inclusion Snapshot


Other red flags: insider selling. Notably, insiders sold $42M worth of stock in the past 12 months.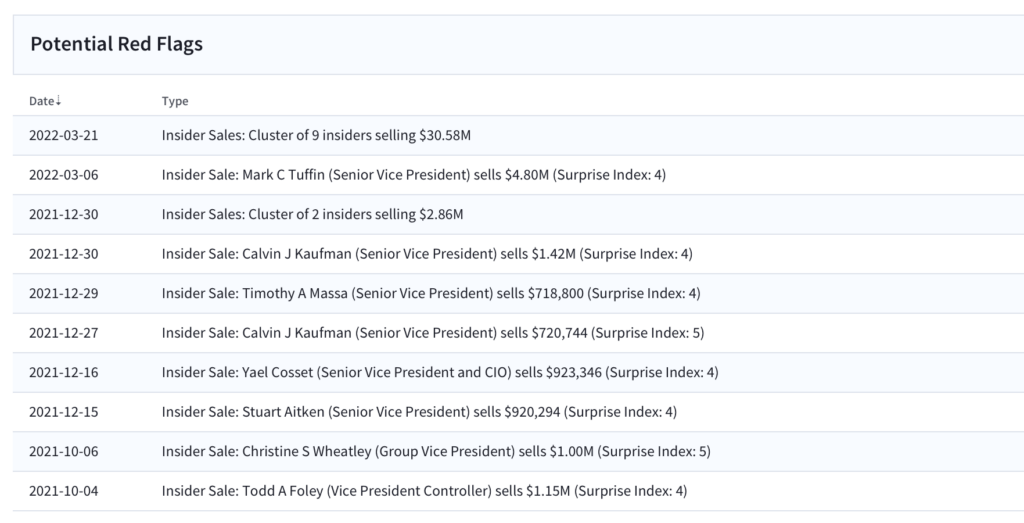 Food giants are prioritizing profits as prices spike. With inflation hovering near multi-decade highs, it's no secret that more retailers are passing increased costs to consumers. Even before the pandemic, global food prices had been trending upward as disease destroyed much of China's pig herd. I.M.F. data indicates average food inflation across the world reached 6.85 percent on an annualized basis in December, the highest level since 2014.
It's a tough time for retail stocks…but KR has more growth levers than most. The macro isn't great: oil and food prices surging, making it more difficult for companies to demonstrate year-over-year earnings growth. While the labor market remains fairly strong, wages are not quite increasing as fast as inflation. That said, Kroger has some impressive growth initiatives in place. The company is expanding online through partnerships with Instacart and Bed Bath & Beyond (BBBY), and projects $20 billion in digital sales. EPS should improve as these partnerships scale. The company's paid loyalty program Kroger Boost, which provides free delivery, is also rolling out in more markets.
Icahn's campaign unlikely to move the needle on the stock in the near term….but that's not what this is about. At 8x EBITDA, and 0.3x forward sales, we don't think KR stock adequately reflects the growth potential associated with the company's digital business. We continue to like this name as a core defensive holding. While Icahn's campaign won't reflect itself in forward sales or earnings, we are encouraged to see more activism around social causes and ESG weaknesses.