Activist Quick Brief – Icahn vs MCD
Icahn Leading Pushing for Animal Welfare at McDonald's: Activist investor Carl Icahn has started a proxy fight with McDonald's (MCD) over its treatment of pigs.

Push for "crate free" pork: Icahn plans to challenge the practice used by some of McDonald's pork suppliers of confining pregnant pigs in small gestational crates and not in group housing. Icahn, who became involved in the issue at the behest of his daughter, Michelle Icahn Nevin, says he'd like to see use of these gestational crates banned altogether.

MCD hasn't lived up to its animal welfare pledge: In 2012, after mounting pressure from animal rights advocates, McDonald's pledged to phase out gestational crates within a decade. Currently, MCD's practice is to move sows from crates only after they are confirmed pregnant four to six weeks into their 16-week term.

Small position, big cause: Icahn owns just 200 shares in McDonalds, valued at approximately $50,000. While Icahn's stake in the company is small, it's worth noting that investors with social causes have had recent success on small stakes– e.g. Engine Capital's board victory at Exxon Mobil (XOM) last year over its climate strategy.

Icahn's Board nominees have ESG/sustainability credibility: Icahn nominates two new board members for election at the company's 2022 annual shareholder meeting: Leslie Samuelrich, a sustainability-focused investor and president of Green Century Capital Management, and Maisie Ganzler, Chief Strategy and Brand officer at restaurant management company Bon Appétit.

Samuelrich brings over 25 years of experience in ESG investing, corporate engagement, and environmental and public health advocacy.

Ganzler helped develop Bon Appétit's Farm to Fork program, a companywide initiative to buy locally. She has also led the teams that launched several of Bon Appétit's progressive sustainable initiatives.
MCD Board Composition, Diversity & Inclusion Snapshot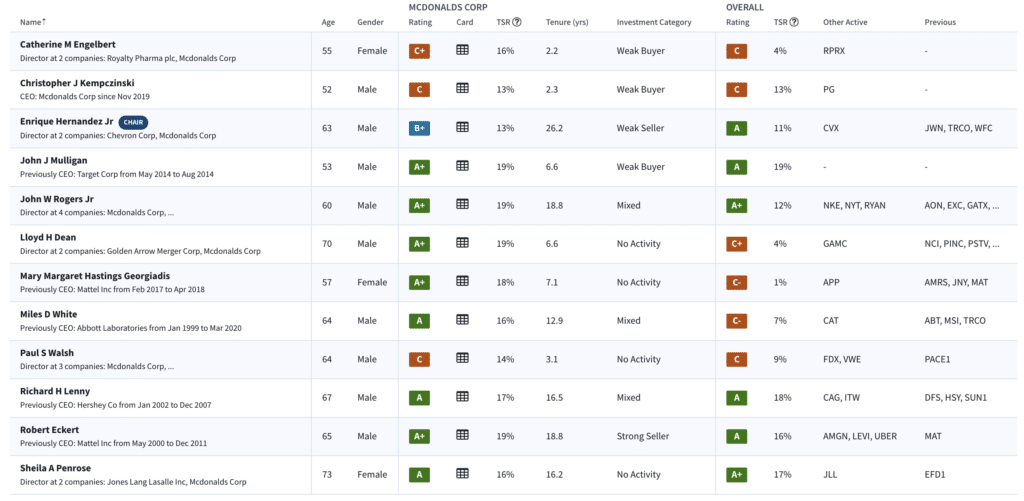 The McDonald's View
MCD views Icahn's demands as unreasonable: McDonald's says it "expects to source 85% to 90% of its U.S. pork volumes from sows not housed in gestation crates during pregnancy." The fast-food giant said it would be "impossible" to meet Icahn's request to end the practice immediately as it would both go against "veterinary science" and "harm the company's shared pursuit of providing customers with quality product at accessible prices."

Humane treatment or profits? McDonald's says the "current pork supply in the U.S. would make this type of commitment impossible." Even before the pandemic, global food prices had been trending upward as disease destroyed much of China's pig herd. I.M.F. data indicates average food inflation across the world reached 6.85 percent on an annualized basis in December, the highest level since 2014.

Pot calling the kettle black? Icahn Enterprises owns 89% of Viskase Companies, a maker of casings for products like hot dogs. McDonald's suggests Viskase's pig welfare commitments fall short of its own: "it's noteworthy that Mr. Icahn has not publicly called on Viskase to adopt commitments similar to those of McDonald's 2012 commitment."

MCD stock has performed well: Unlike the typical activist targets, MCD stock has done well relative to other fast-food outlets– shares are up ~20% over the past 12 months. That said, CMG has returned ~250% over five years, including dividends, after investor Bill Ackman got involved.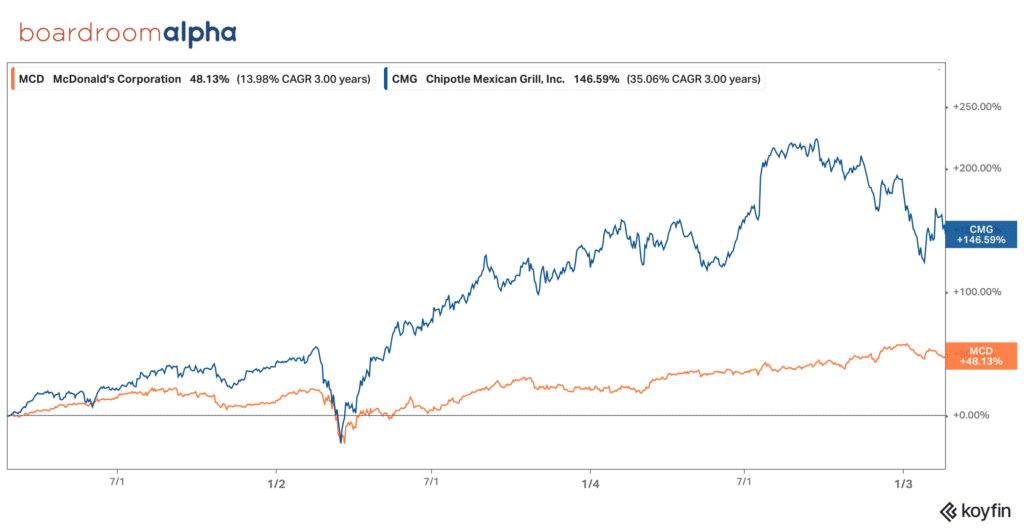 Also of Note
MCD may be a small player, but ultimately the US food industry hasn't done well on crate-free pork production. McDonald's says it is a relatively small player for the US pig-rearing industry, responsible for only around 1% of pork sales. In addition to McDonalds, a number of companies in the food and beverage industry—Costco (COST), K-Mart (SHLDQ), Heinz (KHC), Sodexo (SDXK), Kraft (KHC), Carl's Jr (CKE), and Denny's (DENN), among others—have all set the goal of transitioning to crate-free pork production in 2012. Only Chipotle (CMG) and Whole Foods/Amazon (AMZN) are 100% compliant with this commitment.

Executive compensation reared its head at MCD, lessons learned from Easterbrook debacle: Disproportionate executive compensation has increasingly been a hot-button for shareholders. After only 79% of shareholders voted in support of MCD executive compensation in 2020, 2021's vote improved to 93%. Last year, the company said it would tie 15% of executives' bonuses to meeting targets including diversity and inclusion and began disclosing data on the racial makeup of its workforce. McDonald's successfully clawed back former McDonald's CEO Steve Easterbrook's compensation after he was ousted by the company in 2019 for having an inappropriate relationship with a subordinate. In the end, Easterbrook returned $105 million in cash and stock after a contentious legal battle with the company. During his time as chief executive, Easterbrook sold more than $64 million in stock; when he departed in 2019, the value of the stock and options he had been awarded was worth $41 million.
McDonald's Say-On-Pay Votes