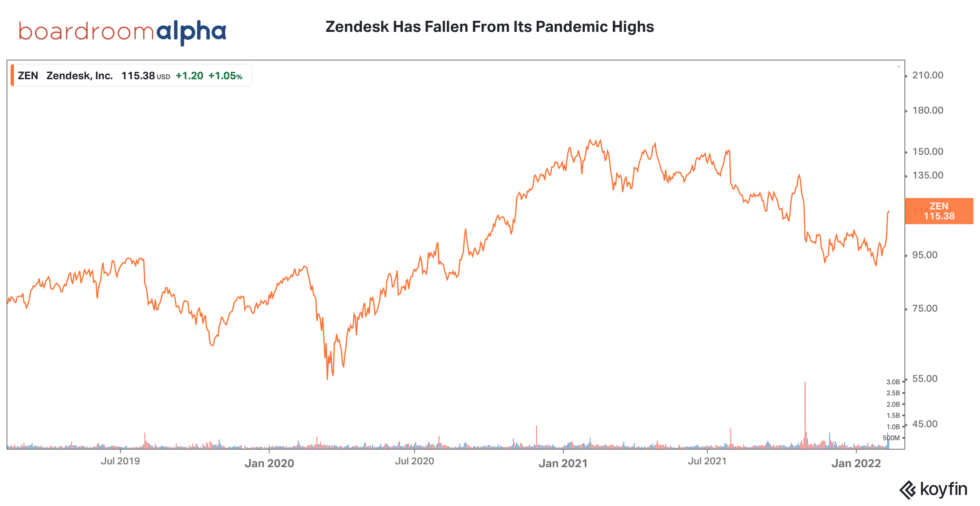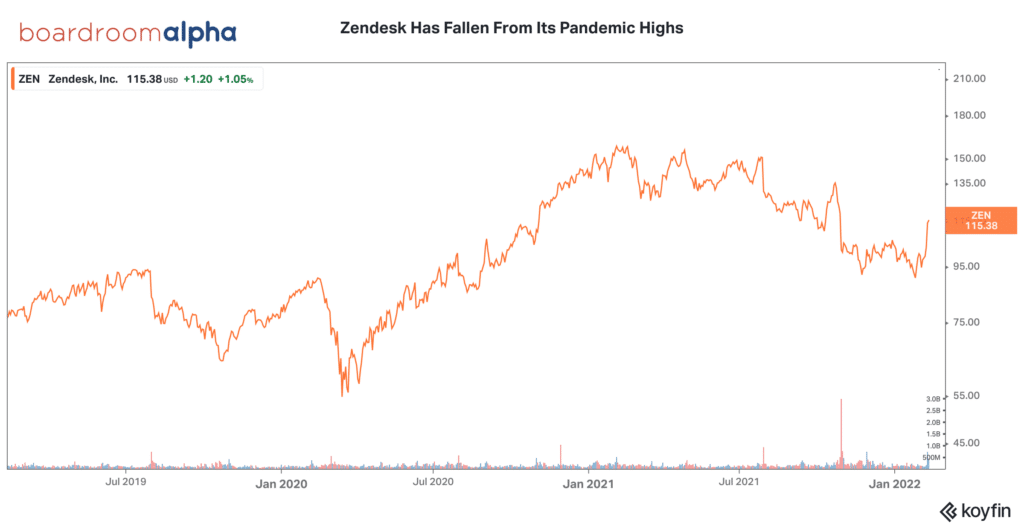 ZEN determined to avoid takeover, shares moving higher…In a resurgence of big leveraged buyouts, cloud software maker Zendesk (ZEN) announced it rejected a $127-$132 per share takeover proposal from a consortium of private equity suitors, including (possibly) Thoma Bravo, Hellman & Friedman LLC, Advent International Corp. and Permira. ZEN shares are up 18% in the last 5 days.
Company is plowing ahead with MNTV acquisition – ZEN appears determined to avoid a takeover and is pushing forward with its planned acquisition of Momentive Global (MNTV), parent company of SurveyMonkey. The company first announced the all-stock deal in October—which at that time, was worth about $4.1 billion. The deal value has since shot up to ~$26 per share, as a result of the recent surge in ZEN shares.
Deal skeptics led by Jana, who is waging proxy battle – Reception on ZEN's planned acquisition of MNTV hasn't been tremendously positive. In particular, ZEN isn't getting much love from activist investor Jana Partners, who owns ~3% stake. Jana argues that buying Momentive would slow ZEN's growth, dilute margins, and diminish buyer interest in the stock. The firm is waging a proxy battle and preparing to nominate 4 directors to the board. The proposed deal was also dealt a blow by shareholder advisory firm Glass Lewis, which said investors in both companies should vote against the deal.
ZEN Board Performance & Diversity Snapshot


M&A deals getting scrapped amidst market downdraft – Negative market sentiment has recently scrapped several tech mergers. Notably, Five9 (FIVN) voted down an acquisition bid from cloud-based videoconferencing supplier Zoom (ZOOM)– originally valued at $15 billion. ZOOM tried to capitalize on its strong pandemic-related run-up, but shares declined ~30% between the merger announcement and cancellation. PayPal (PYPL) also scrapped its bid to buy Pinterest (PINS) amidst negative investor reaction (shares fell over 12% in the 3 days after deal announcement). In SPACworld, talks between DraftKings (DFNG) and Entain PLC (OTCMKTS:GMVHY) ended after DraftKings shares fell over 10%.
LBO action on the rise. LBOs started 2022 with a bang with the $13 billion sale of Citrix to Elliott Investment Management and Vista Equity Partners. The leveraged finance market has seen a spike since last year, with the momentum expected to continue– largely due to private equity sponsors looking for new M&A activity and debt refinancing.
We expect ZEN's impressive growth and orientation as a pure-play computing story to sustain shares. While tech/cloud giants Microsoft (NASDAQ:MSFT) and Amazon (NASDAQ:AMZN) are more diversified, Zendesk is a pure cloud computing play, offering a cloud-based customer service desk. Despite its substantially smaller size and customer base, the company's impressive revenue and EPS growth is hard to ignore. Over the past year, Zendesk has increased its revenue by more than 50%. ZEN has added new customers at a staggering rate, with new accounts increasing from 69,000 to 81,000 over the past 12 months. The company is also rolling out new products and analytics devices to extend its value beyond just a customer service platform. While ZEN's premium valuation, at 8x forward sales– already reflects its high growth, we expect continued growth and scarcity status to sustain the shares in the near term.