Boardroom Alpha provides in-depth analytics and tracking of all public company executives and officers. Below is a rundown of people moves made at notable companies this past week. Get a demo today to see how you can receive real-time alerts and in-depth analytics.
Highlights
Twitter board drama. Social media giant Twitter (TWTR) rejected Egon Durban's resignation from the Board of Directors, despite failing to win a majority vote from Twitter shareholders to remain on the board for another term. Twitter indicated that the board believes Durban failed to receive shareholder support because of overboarding on several other company boards. Durban indicated he would reduce his commitments on boards. Notably, Durban, the co-CEO and managing director of private equity firm Silver Lake, has close ties to Tesla CEO Elon Musk and was on the board when it unanimously approved Twitter's sale Musk last month. Earlier this week, Twitter shareholders filed a proposed class action lawsuit against Musk and Twitter over the acquisition. In addition, former Chief Executive Officer Jack Dorsey did not stand for re-election to Twitter's board, and is no longer a board member, ending his relationship with the company he co-founded in 2006. Dorsey has been a director since 2007, and was most recently Twitter CEO from mid-2015 until his resignation last year.
Egon Durban's Current Directorships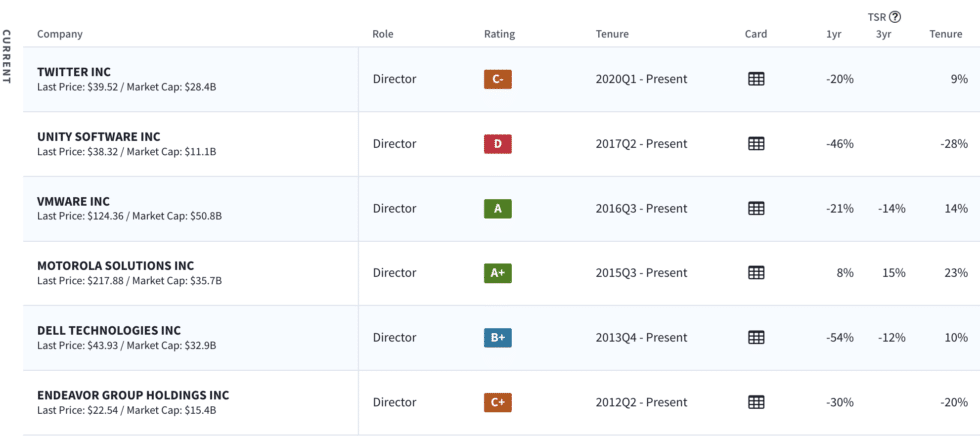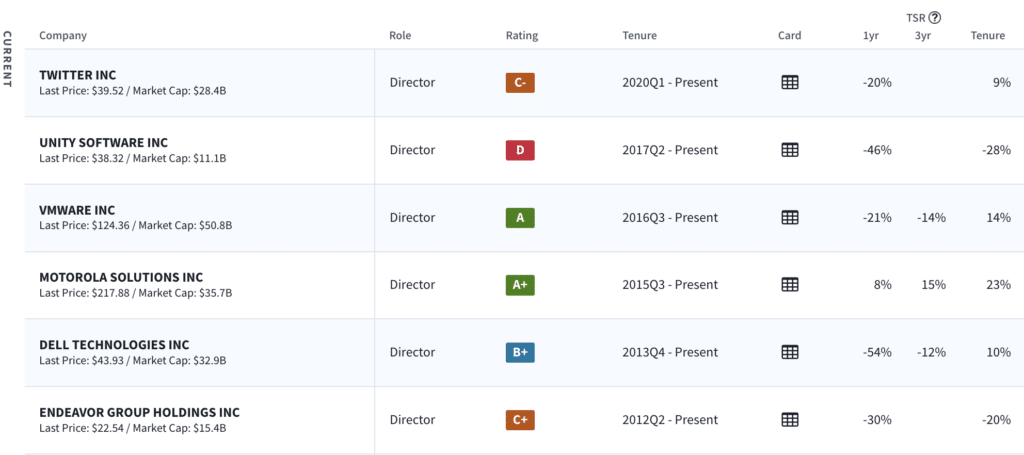 New CEO for Frontdoor. Rex Gibbons will step down as president and CEO of Frontdoor (FTDR) in June, with board chair William Cobb set to take over the position. Cobb has served as chairman of the board of directors since October 2018. FTDR shares are down ~29% YTD. The company also recently lowered 2022 guidance.
New CFO for WeWork. Flexible office provider WeWork (WE) announced the termination of Benjamin Dunham as the Chief Financial Officer of the Company. Short tenure for Dunham, who was appointed CFO in September 2020. Andre J. Fernandez will become WeWork's new CFO. Fernandez served as Executive Vice President & Chief Financial Officer of NCR Corporation (NCR). In December 2021, less than two months after completion of its deSPAC, WE announced a restatement of its 2020 and 2021 financials.
New directors at Synopsys. Electronic automation and design specialist Synopsys (SNPS) announced the appointment of Luis Borgen and Marc Casper to its board of directors. Borgen most recently served as chief financial officer of Athenahealth. Casper is currently chairman, president, and chief executive officer of global life sciences diagnostics provider Thermo Fisher Scientific (TMO).
Moves in this Issue
CEO
FTDR, NWBI
CFO
ACLX, BKKT, CDNA, CLOV, CURI, FLXS, MIXT, MLNK, MUX, OMGA, SPPI, TPIC, TUP, WE, WEX, WTRH
Directors
ABR, ADMP, ADT, ADV, ALL, ALVR, AMT, ASMB, ATRO, AXLA, AXON, BARK, BLK, BWFG, BYND, CDLX, CEMI, CERN, CFMS, CIX, CNMD, COUP, CTO, CUBI, DDD, DDS, DEI, DIOD, DLTH, DORM, ECVT, EIG, EXEL, FB, FFBC, FORG, FSLR, FTDR, GEG, HHC, HIBB, HMST, HSDT, HSII, HUBG, IMMR, INCY, INFN, IOBT, JLL, KFS, LAUR, LPI, MCS, MDRX, MGNX, MRAM, MRKR, MRO, MS, NDSN, NI, NIOBF, NTGR, NTRA, NWBI, OMCL, PAYO, PDCE, PODD, PPBI, PPIH, PRA, PRAX, PWP, PXD, QUOT, RBBN, RDUS, RGA, RGEN, RWT, SEE, SFM, SGMO, SNPO, SNPS, SOFI, SONX, SPTN, STKL, TLS, TMHC, TNET, TRGP, TTI, TWTR, UAL, UBX, VHI, VRSK, VTR, VWTR, WAT, WELL, WETF, WSR, WST, XOM, XPRO, XRAY
---
CEO Moves
FRONTDOOR INC (FTDR)
Leaving: CEO – Rexford Tibbens ( 4.1 yrs; -8.4% TSR)
Replaced by: William C Cobb
Mr. Cobb has served as Chairman of the Board since October 2018. Mr. Cobb served on the board of directors of Terminix Global Holdings, Inc. (formerly known as ServiceMaster Global Holdings, Inc.) from April 2018 until the Company's separation from Terminix on October 1, 2018. From May 2011 through July 2017, Mr. Cobb served as President and Chief Executive Officer, an…read full bio

NORTHWEST BANCSHARES INC (NWBI)
Leaving: CEO – Ronald J Seiffert ( 3.9 yrs; -2.1% TSR)
Replaced by: William W Harvey
William W. Harvey, Jr. has been employed by Northwest Bank since 1996, most recently as Senior Executive Vice President and Chief Financial Officer for Northwest Bank and Northwest Bancshares, Inc He was formerly Executive Vice President and Chief Financial Officer. Prior to joining Northwest Bank and Northwest Bancshares, Inc., Mr. Harvey served as a Management Accounting Officer with PNC Bank an…read full bio
CFO Moves
ARCELLX INC (ACLX)
Leaving: CFO – Lance E Thibault ( .3 yrs; )
Replaced by: Michelle Gilson
Prior to joining the Company, Ms. Gilson, age 30, served as a Managing Director at Canaccord Genuity, as a senior equity research analyst covering biotechnology companies. Prior to joining Canaccord Genuity in March 2018, she spent time at other equity research firms, including Jefferies LLC (September 2017-March 2018), Instinet LLC (December 2016-September 2017), Oppenheimer & Co…read full bio

BAKKT HOLDINGS INC (BKKT)
Leaving: CFO – Andrew Labenne ( .6 yrs; -83.9% TSR)
Replaced by: Karen Alexander
Ms. Alexander began serving as the Chief Accounting Officer of the Company in connection with the closing of its business combination with VPC Impact Acquisition Holdings in October 2021, after serving in the same position with Bakkt Holdings, LLC (the Company's predecessor) since June 2021. Prior to joining the Company, Ms. Alexander worked at GE Capital from October 2004…read full bio

CURIOSITYSTREAM INC (CURI)
Leaving: CFO – Jason Keith Eustace ( 1.6 yrs; -63.5% TSR)
Replaced by: Peter Westley
Mr. Westley was a non-voting board observer on the Board of Directors of Curiosity Inc. from March 2019 until August 2020. Mr. Westley was most recently with public and private equity investment firm Blum Capital Partners, where he primarily focused on the media and technology sectors and served as Partner and Managing Partner from 2012 until earlier this year. He also serves as the Chairman at Av…read full bio

FLEXSTEEL INDUSTRIES INC (FLXS)
Leaving: CFO – Derek P Schmidt ( 2.2 yrs; 31.2% TSR)
Replaced by: Alejandro Huerta
Mr. Huerta most recently served as the Chief Financial Officer for Tucker Powersports, a leading distributor in the powersports industry. In this role, Mr. Huerta had executive responsibility for finance, accounting, information technology and risk ma…read full bio

MCEWEN MINING INC (MUX)
Leaving: CFO – Anna Man-Yue Ladd-Kruger ( 1.7 yrs; -37.7% TSR)
Replaced by: Perry Ing
Mr. Ing is an experienced mining executive who previously served as Chief Financial Officer of the Company from March 2008 until November 2015. Since leaving the Company, Mr. Ing served as the Chief Financial Officer of Kirkland Lake Gold Inc. from November 2015 until November 2016 and as Chief Financial Officer of Mountain Province Diamonds Inc. from February 2017 to February 2022. Mr. Ing is als…read full bio

MERIDIANLINK INC (MLNK)
Leaving: CFO – Chad H Martin ( .8 yrs; -37.3% TSR)
Replaced by: Sean W. Blitchok
Prior to joining the Company, Mr. Blitchok served as the Senior Vice President of Finance and Operations at BlackLine, Inc., a cloud-based financial operations management platform specializing in accounting software development, from August 2021 to June 2022. Prior to that, Mr. Blitchok served as the Vice President of Finance and Strategy at Salesforce, Inc., a cloud-based software company pr…read full bio
MIX TELEMATICS LTD (MIXT)
Leaving: CFO – John Granara ( 2.9 yrs; -11.7% TSR)
Replaced by: Paul M Dell
Mr. Dell, age 40, is a chartered accountant and has served in various senior roles since joining the Company in July 2010. He currently serves as the Company's Chief Accounting Officer and Chief Financial Officer of MiX Telematics North America Incorporated, a position he has held since July 2019. Mr. Dell served as the Company's Interim Chief Financial Officer and as a member of the Board from Fe…read full bio
SPECTRUM PHARMACEUTICALS INC (SPPI)
Leaving: CFO – Thomas J Riga ( .0 yrs; )
Replaced by: Nora Brennan
Ms. Brennan, 53, has served on the Board of Directors (the " Board ") of the Company and as Chairperson of the Audit Committee of the Board since December 2020. On the Effective Date, she will relinquish her Board duties to assume this new role. Since May 2021, Ms. Brennan has also served as Chief Financial Officer at Fore Biotherapeutics Inc., a private precision oncology company. Previously, fro…read full bio
TPI COMPOSITES INC (TPIC)
Leaving: CFO – Adan Gossar ( .4 yrs; -76.0% TSR)
Replaced by: Ryan Miller
Mr. Miller served as the Vice President and Controller of the Commercial Systems Division of Rockwell Collins from April 2017 to November 2018 and Vice President, Investor Relations from October 2013 to April 2017. Mr. Miller served in various financial leadership roles at Rockwell Collins prior thereto and also worked for Deloitte & Touche LLP as an audit manager. Mr. Miller holds a Bachelor of A…read full bio
WAITR HOLDINGS INC (WTRH)
Leaving: CFO – Leo Bogdanov ( 2.0 yrs; -53.8% TSR)
Replaced by: Armen Yeghyazarians
Mr. Yeghyazarians was appointed chief accounting officer of the Company in September 2021. Effective upon the resignation of Mr. Bogdanov as chief financial officer on June 17, 2022, Mr. Yeghyazarians will assume the duties and responsibilities of chief financial officer of the Company in addition to serving as chief accounting officer. Mr. Yeghyazarians, 46, has served as our chief accounting off…read full bio
WEX INC (WEX)
Leaving: CFO – Jennifer Kimball ( .3 yrs; )
Replaced by: Jagtar Narula
Mr. Narula, age 51, is currently the Executive Vice President and Chief Financial Officer of 3D Systems Corporation, a provider of comprehensive 3D printing and digital manufacturing solutions, a position he was appointed to in September 2020. Prior to that, Mr. Narula served as Senior Vice President, Corporate Strategy and Business Development of Blackbaud, Inc., a provider of cloud software solu…read full bio
Director Joins
ADAMIS PHARMACEUTICALS CORP (ADMP)
Vickie S Reed
Ms. Reed is a healthcare executive with over 25 years of experience in operating and governance roles. Ms. Reed has served as Senior Vice President, Finance and Chief Accounting Officer at Mirati Therapeutics since November 2021, and as Chief Accounting Officer since January 2020, Vice …read full bio
BARK INC (BARK)
Mr. David Kamenetzky
Mr. Kamenetzky is a premier consumer and food technology investor and values-based leader, having most recently served as Chairman and Chief Executive Officer of JAB Holding Company. Previously, he was a member of the four-person Group Executive Committee at Anheuser-Busch InBev, with dir…read full bio
BEYOND MEAT INC (BYND)
Colleen Jay
Ms. Jay retired from The Procter & Gamble Company (NYSE: PG) in October 2017 after 32 years of service, most recently as President, Global Beauty Specialty from 2015. Ms. Jay joined The Procter & Gamble Company in 1985 where she managed top brand portfolios and large multi-billion…read full bio
CHEMBIO DIAGNOSTICS INC (CEMI)
Leslie Teso-Lichtman
Ms. Teso-Lichtman serves as Senior Vice President and Chief Financial Officer of CereVasc, Inc., where she is responsible for the accounting, finance, and treasury functions, including forecasting and capital planning. Previously, Ms. Teso-Lichtman served as Senior Vice President of Finance and T…read full bio
COMPX INTERNATIONAL INC (CIX)
Kevin B Kramer
Kevin B. Kramer, age 62,  has served as senior vice president, chief commercial and marketing officer for Allegheny Technologies, Incorporated, a publicly traded global manufacturer of specialty materials and components supplying the aerospace, defense, energy, medical, consumer electronic…read full bio
COMPX INTERNATIONAL INC (CIX)
Michael S Simmons
Michael S. Simmons, age 50, has served as the registrant's executive vice president since May 25, 2022. He previously served as the registrant's senior vice president and chief financial officer from 2021 to May 2022.  He currently serves as executive vice president of the regi…read full bio
COMPX INTERNATIONAL INC (CIX)
Amy A Samford
Amy A. Samford, age 48, has served as the registrant's executive vice president and chief financial officer since May 25, 2022. She previously served as the registrant's vice president and chief financial officer from 2019 to 2021. She currently serves as executive vice president and chief financial…read full bio
DILLARD'S INC (DDS)
William E Connor II
William E. (Chip) Connor, II, 72, is Chairman and Chief Executive Officer of William E. Connor Group, Hong Kong ("The read full bio
GREAT ELM GROUP INC (GEG)
David Matter
Most recently, Mr. Matter was a Managing Director at BlackRock where he served as the Co-Chief Investment Officer of BlackRock Alternative Advisors (BAA), BlackRock's Hedge Fund Solutions team. He chaired the BAA Investment Committee and was also a member of the BAA Management Committ…read full bio
HUB GROUP INC (HUBG)
Lisa Dykstra
Lisa Dykstra serves as the Senior Vice President and Chief Information Officer for Ann & Robert H. Lurie Children's Hospital, a position she has held since 2015. She has spent much of her nearly thirty-year information technolog…read full bio
HUB GROUP INC (HUBG)
Gary Yablon
Gary Yablon is a Managing Partner at Impala Asset Management, an investment management firm with approximately $1.5 billion of assets under management. Mr. Yablon joined Impala at the firm's inception in 2004. His investment expertise includes securities analysis and portfolio management ac…read full bio
Niocorp Developments Ltd (NIOBF)
Peter Robert Oliver
With a background in chemistry, Mr. Oliver served for 18 years at Talison Lithium, including 12 years as CEO/Managing Director and then as Non-Executive Director. Prior to that, Mr. Oliver was General Manager of Talison's Greenbushes and Wodgina Mines and served as Talison's Chi…read full bio
OMNICELL INC (OMCL)
Mary Garrett
Mary Garrett Mary Garrett, age 63, was nominated by the Board in February 2022 to stand for election to the Board at the Annual Meeting. She was originally identified as a candidate to serve as a director by a professional search firm. Ms. Garrett is currently the President of M. Power Coaching and…read full bio
PAYONEER GLOBAL INC (PAYO)
John Caplan
Mr. Caplan has also been appointed as a director on the Board. In connection with Mr. Caplan's appointment, the Company's current Chief Executive Officer, Scott Galit, will serve as Co-Chief Executive Officer of the Company, alongside Mr. Caplan, effective as of May 25, 2022. In addition, in connect…read full bio
PERELLA WEINBERG PARTNERS (PWP)
Elizabeth C Fascitelli
Elizabeth (Beth) Cogan Fascitelli worked for Goldman Sachs Group, Inc. from 1984 to 2020, most recently serving as a Partner and Managing Director and Chief Operating Officer of the Merchant Banking Division. Ms. Fascitelli is a former director of Carmike Cinemas, Cosmet…read full bio
PRAXIS PRECISION MEDICINES INC (PRAX)
Jill Desimone
Jill DeSimone, 66, served as President of U.S. Oncology at Merck & Co., Inc. ("Merck") from 2014 to May 2022. During her time at Merck, Ms. DeSimone also temporarily served as Interim President of U.S. Pharma to help navigate the business through the COVID-19 pandemic. Pri…read full bio
QUOTIENT TECHNOLOGY INC (QUOT)
Kimberly Anstett
Kim Anstett, 49, is an accomplished technology executive with more than 25 years of experience scaling businesses through strategy execution and transformation. Since May 2019, Ms. Anstett has served as Executive Vice President and Chief Technology Officer of Iron Mountain Inc. ("Iron Mount…read full bio
RADIUS HEALTH INC (RDUS)
Susan Vissers Lisa
Susan Vissers Lisa, 53, recently served as Senior Vice President, Investor Relations of CVS Health Corporation through April 2022. Prior to this position, Ms. Lisa was Vice President, Investor Relations at Boston Scientific Corporation for over seven years. Previously, she…read full bio
SNAP ONE HOLDINGS CORP (SNPO)
Thomas Hendrickson
Mr. Hendrickson currently serves on the board of directors and as the audit committee chair for O'Reilly's Auto Parts (since 2010) and Ollie's Bargain Outlets (since 2015). Before retiring, Mr. Hendrickson served as the Chief Financial Officer and Chief Administrative Officer …read full bio
SPROUTS FARMERS MARKET INC (SFM)
Hari K Avula
Avula has served as chief financial and strategic officer of Clif Bar & Company since May 2021, where he leads the financial management and enterprise strategy functions for the nutritious and organic food company. Avula joined Clif Bar from Walgreens Boots Alliance Inc., (NASDAQ: WBA) …read full bio
SYNOPSYS INC (SNPS)
Luis Borgen
Mr. Borgen served as Chief Financial Officer of athenahealth, Inc. (" athena "), a provider of cloud-based healthcare products and services, from September 2019 to April 2022. Prior to joining athena, Mr. Borgen served as Chief Financial Officer of Vistaprint from 2017 to 2019, of DavidsTea Inc. fro…read full bio
SYNOPSYS INC (SNPS)
Marc N Casper
Mr. Casper has served as President, Chief Executive Officer and a director of Thermo Fisher Scientific Inc., a leading life sciences company, since October 2009, and as Chairman of the board of directors of Thermo Fisher Scientific Inc. since February 2020. Mr. Casper previously served in senior lea…read full bio
Kevin B. Kramer, age 62,  has served as senior vice president, chief commercial and marketing officer for Allegheny Technologies, Incorporated, a publicly traded global manufacturer of specialty materials and components supplying the aerospace, defense, energy, medical, consumer electronic…read full bio
WISDOMTREE INVESTMENTS INC (WETF)
Lynn S. Blake
Lynn S. Blake is a former Chief Investment Officer who retired in September 2021 from State Street Global Advisors ("SSGA"), the investment management division of State Street Corporation, one of the world's largest asset managers. As Chief Investment Officer of SSGA, Lynn was r…read full bio
Director Exits
3D SYSTEMS CORP (DDD)
Charles W Hull ( 29.3 yrs; 7.0% TSR)
Committees: Technology
ADT INC (ADT)
Andrew Africk ( 6.3 yrs; -8.6% TSR)
Committees: Audit, Compensation, Nominating (and Governance)
ADVANTAGE SOLUTIONS INC (ADV)
Beverly F Chase ( 1.6 yrs; -37.6% TSR)
Committees: Compensation
ALLOVIR INC (ALVR)
John Robert Wilson ( 4.3 yrs; -62.0% TSR)
Committees: Nominating (and Governance)
ALLSCRIPTS HEALTHCARE SOLUTIONS INC (MDRX)
Paul Black ( 10.0 yrs; 1.6% TSR)
ALLSTATE CORP (ALL)
Michael L Eskew ( 7.8 yrs; 12.6% TSR)
Committees: Audit, Compensation and Succession, Executive, Nominating (and Governance)
AMERICAN TOWER CORP (AMT)
Gustavo Lara ( 17.5 yrs; 17.9% TSR)
Committees: Compensation
ARBOR REALTY TRUST INC (ABR)
Archie R Dykes ( 16.1 yrs; 4.8% TSR)
Committees: Audit, Nominating (and Governance)
ASSEMBLY BIOSCIENCES INC (ASMB)
Myron Z Holubiak ( 11.8 yrs; -22.8% TSR)
Committees: Compensation, Nominating (and Governance)
ASTRONICS CORP (ATRO)
Tonit M Calaway ( 2.7 yrs; -30.6% TSR)
Committees: Compensation, Nominating (and Governance)
AXCELLA HEALTH INC (AXLA)
Stephen Hoge ( -50.8% TSR)
AXON ENTERPRISE INC (AXON)
Richard H Carmona ( 15.3 yrs; 17.8% TSR)
Committees: Litigation, Nominating (and Governance), Scientific and Medical
BANKWELL FINANCIAL GROUP INC (BWFG)
Daniel S Jones ( 6.1% TSR)
BLACKROCK INC (BLK)
Jessica P Einhorn ( 9.8 yrs; 16.8% TSR)
Committees: Compensation, Management Development and Compensation, Risk
CARDLYTICS INC (CDLX)
Mark A Johnson ( 11.6 yrs; 14.4% TSR)
Committees: Audit, Compensation
CERNER CORP (CERN)
Gerald E Bisbee Jr ( 34.3 yrs; 15.9% TSR)
Committees: Audit, Nominating, Governance and Public Policy
CONFORMIS INC (CFMS)
Richard J Meelia ( 6.9 yrs; -43.6% TSR)
Committees: Audit, Compensation
CONMED CORP (CNMD)
Mark E Tryniski ( 15.0 yrs; 10.6% TSR)
Committees: Audit, Compensation, Strategy
COUPA SOFTWARE INC (COUP)
Leslie Cg Campbell ( 6.0 yrs; 19.5% TSR)
Committees: Audit, Nominating (and Governance)
CTO REALTY GROWTH INC (CTO)
Casey R Wold ( 5.2 yrs; 10.7% TSR)
Committees: Compensation, Nominating (and Governance)
CUSTOMERS BANCORP INC (CUBI)
Rick Burkey ( 11.3 yrs; 16.1% TSR)
Committees: Nominating (and Governance), Risk
DENTSPLY SIRONA INC (XRAY)
Arthur D Kowaloff ( 6.3 yrs; -6.1% TSR)
Committees: Human Resources Committee
DILLARD'S INC (DDS)
Frank R Mori ( 14.3 yrs; 22.3% TSR)
Committees: Compensation
DIODES INC (DIOD)
C H Chen ( 14.7% TSR)
Committees: Governance and Stockholder Relations, Risk Oversight
DORMAN PRODUCTS INC (DORM)
Paul R Lederer ( 24.3 yrs; 16.6% TSR)
Committees: Audit, Compensation, Nominating (and Governance)
DOUGLAS EMMETT INC (DEI)
Johnese Spisso ( 2.7 yrs; -9.6% TSR)
Committees: Nominating (and Governance)
DULUTH HOLDINGS INC (DLTH)
Brenda I Morris ( 6.7 yrs; -2.8% TSR)
Committees: Audit, Compensation
ECOVYST INC (ECVT)
Christopher C Behrens ( 3.3 yrs; -5.5% TSR)
EMPLOYERS HOLDINGS INC (EIG)
Richard W Blakey ( 6.4% TSR)
Committees: Compensation, Executive, Finance, Human Capital Management and Compensation
EVERSPIN TECHNOLOGIES INC (MRAM)
Michael B Gustafson ( 5.2 yrs; -6.1% TSR)
EXELIXIS INC (EXEL)
Charles Cohen ( 26.5 yrs; .8% TSR)
Committees: Audit, Compensation, Research & Development
EXPRO GROUP HOLDINGS NV (XPRO)
D Keith Mosing ( 8.8 yrs; -23.6% TSR)
EXXON MOBIL CORP (XOM)
Kenneth C Frazier ( 13.3 yrs; 4.9% TSR)
Committees: Board Affairs Committee, Compensation, Executive Committee
FIRST FINANCIAL BANCORP (FFBC)
John T Neighbours ( 6.8 yrs; 5.5% TSR)
Committees: Audit, Capital Markets, Enterprise Risk and Compliance , Enterprise Risk Management
FIRST SOLAR INC (FSLR)
Kathryn A Hollister ( 1.2 yrs; -23.3% TSR)
Committees: Audit, Compensation
FORGEROCK INC (FORG)
Paul S Madera ( .7 yrs; -71.6% TSR)
FRONTDOOR INC (FTDR)
Rexford Tibbens ( 4.1 yrs; -8.4% TSR)
GREAT ELM GROUP INC (GEG)
Peter A Reed ( 7.0 yrs; -17.7% TSR)
HEIDRICK & STRUGGLES INTERNATIONAL INC (HSII)
Laszlo Bock ( 2.1 yrs; 22.0% TSR)
Committees: Human Resources and Compensation
HELIUS MEDICAL TECHNOLOGIES INC (HSDT)
Mitch E Tyler ( -53.2% TSR)
HIBBETT INC (HIBB)
Alton E Yother ( 6.8% TSR)
Committees: Audit, Nominating (and Governance)
HOMESTREET INC (HMST)
Don Voss ( 7.2 yrs; 12.9% TSR)
Committees: Audit, Enterprise Risk Management, Executive
HOWARD HUGHES CORP (HHC)
Jeffrey D Furber ( 11.5 yrs; 7.2% TSR)
Committees: Nominating (and Governance)
IMMERSION CORP (IMMR)
Mary Dotz ( 1.0 yrs; -41.6% TSR)
INCYTE CORP (INCY)
Wendy L Dixon ( 12.3 yrs; 19.2% TSR)
Committees: Audit, ​ ​ ​ Audit and Finance, Nominating (and Governance)
INFINERA CORP (INFN)
Mark A Wegleitner ( 11.0 yrs; -2.4% TSR)
Committees: Nominating (and Governance), Technology and Acquisition
INFINERA CORP (INFN)
Marcel Gani ( 8.0 yrs; -4.0% TSR)
Committees: Audit, Compensation
INSULET CORP (PODD)
David A Lemoine ( 6.3 yrs; 31.3% TSR)
Committees: Audit, Compensation, Talent and Compensation
IO BIOTECH INC (IOBT)
Emmanuelle Coutanceau ( 2.6 yrs; -60.9% TSR)
IO BIOTECH INC (IOBT)
Claus A Andersson ( 5.4 yrs; -60.9% TSR)
JONES LANG LASALLE INC (JLL)
Sheila A Penrose ( 13.5% TSR)
Committees: Audit, Compensation, Nominating (and Governance)
LAREDO PETROLEUM INC (LPI)
Pamela S Pierce ( 15.0 yrs; -15.7% TSR)
Committees: Audit, Compensation, Nominating (and Governance), Nominating, Corporate Governance, Environmental and Social
LAUREATE EDUCATION INC (LAUR)
Michael J Durham ( 5.1 yrs; 9.6% TSR)
Committees: Audit, Nominating (and Governance)
LAUREATE EDUCATION INC (LAUR)
Brian F Carroll ( 9.5% TSR)
Committees: Compensation
MARATHON OIL CORP (MRO)
Jason Few ( 3.1 yrs; 16.8% TSR)
Committees: Audit and Finance, Compensation, Nominating (and Governance)
MARCUS CORP (MCS)
David A Baum ( 6.3 yrs; -2.2% TSR)
Committees: Audit, Finance, Nominating (and Governance)
MARKER THERAPEUTICS INC (MRKR)
Frederick Gerald Wasserman ( 6.3 yrs; -38.6% TSR)
Committees: Audit, Compensation, Nominating (and Governance)
META PLATFORMS INC (FB)
Peter Thiel ( 17.1 yrs; 20.0% TSR)
Committees: Compensation And Governance Committee
MORGAN STANLEY (MS)
Elizabeth Corley ( 4.3 yrs; 13.6% TSR)
Committees: Nominating (and Governance)
NATERA INC (NTRA)
Todd C Cozzens ( 11.3 yrs; 8.3% TSR)
Committees: Audit, Compensation
NETGEAR INC (NTGR)
Jef Graham ( 16.9 yrs; 3.5% TSR)
Committees: Compensation, Cybersecurity , Nominating (and Governance), Software and Subscription
NISOURCE INC (NI)
Carolyn Y Woo ( 24.3 yrs; 5.1% TSR)
Committees: Audit, Environmental, Safety and Sustainability, Finance, Nominating (and Governance)
NORDSON CORP (NDSN)
Arthur L George Jr ( 10.3 yrs; 17.8% TSR)
Committees: Audit, Compensation, Nominating (and Governance)
NORTHWEST BANCSHARES INC (NWBI)
Ronald J Seiffert ( 4.5 yrs; -1.8% TSR)
OMNICELL INC (OMCL)
Bruce D Smith ( 8.2 yrs; 18.5% TSR)
Committees: Nominating (and Governance)
OMNICELL INC (OMCL)
James T Judson ( 16.1 yrs; 15.3% TSR)
Committees: Audit, Mergers & Acquisitions
PACIFIC PREMIER BANCORP INC (PPBI)
Cora M Tellez ( 6.6 yrs; 9.1% TSR)
Committees: Audit, Compensation, Enterprise Risk Management
PDC ENERGY INC (PDCE)
David C Parke ( 19.3 yrs; 14.3% TSR)
Committees: Audit, Compensation, Nominating (and Governance)
PERMA-PIPE INTERNATIONAL HOLDINGS INC (PPIH)
David S Barrie ( 9.6% TSR)
PIONEER NATURAL RESOURCES CO (PXD)
Larry R Grillot ( 9.3 yrs; 11.1% TSR)
Committees: Audit, Health, Safety and Environment
PIONEER NATURAL RESOURCES CO (PXD)
Michael D Wortley ( 6.9 yrs; 8.7% TSR)
Committees: Audit, Nominating (and Governance)
PROASSURANCE CORP (PRA)
William Stancil Starnes ( 14.7 yrs; 2.7% TSR)
Committees: Executive
QUOTIENT TECHNOLOGY INC (QUOT)
Steven Michael Horowitz ( 7.0 yrs; -13.4% TSR)
Committees: Nominating (and Governance)
REDWOOD TRUST INC (RWT)
Jeffrey T Pero ( 13.3 yrs; 4.7% TSR)
Committees: Compensation, Nominating (and Governance)
REDWOOD TRUST INC (RWT)
Richard Baum ( 21.3 yrs; 6.7% TSR)
Committees: Compensation, Nominating (and Governance)
REINSURANCE GROUP OF AMERICA INC (RGA)
Christine Rose Detrick ( 8.3 yrs; 7.1% TSR)
Committees: Compensation, Nominating (and Governance)
REINSURANCE GROUP OF AMERICA INC (RGA)
Stanley B Tulin ( 10.3 yrs; 10.2% TSR)
Committees: Audit, Compensation, Finance, Investment and Risk Management, Investment, Risk
REPLIGEN CORP (RGEN)
Thomas F Ryan Jr ( 18.0% TSR)
Committees: Audit, Nominating (and Governance)
RIBBON COMMUNICATIONS INC (RBBN)
Krish A Prabhu ( 2.2 yrs; -.4% TSR)
Committees: Compensation, Technology and Innovation
SANGAMO THERAPEUTICS INC (SGMO)
Saira Ramasastry ( 9.9 yrs; -1.0% TSR)
Committees: Audit
SEALED AIR CORP (SEE)
Michael P Doss ( 2.0 yrs; 50.4% TSR)
Committees: Organization and Compensation
SEALED AIR CORP (SEE)
Neil Lustig ( 7.3 yrs; 7.3% TSR)
Committees: Audit, Nominating (and Governance), Organization and Compensation
SOFI TECHNOLOGIES INC (SOFI)
Carlos Medeiros ( .9 yrs; -61.4% TSR)
SOFI TECHNOLOGIES INC (SOFI)
Michel Combes ( .9 yrs; -61.4% TSR)
SONENDO INC (SONX)
Corey A Eaves ( .6 yrs; -87.0% TSR)
SONENDO INC (SONX)
Paul S Madera ( .6 yrs; -87.0% TSR)
SPARTANNASH CO (SPTN)
Yvonne R Jackson ( 11.6 yrs; 10.8% TSR)
Committees: Compensation, Nominating (and Governance)
SPARTANNASH CO (SPTN)
Elizabeth A Nickels ( 22.3 yrs; 7.9% TSR)
Committees: Audit, Nominating (and Governance)
SPARTANNASH CO (SPTN)
Frank Gambino ( 19.3 yrs; 18.9% TSR)
Committees: Audit
SUNOPTA INC (STKL)
Derek Briffett ( 4.5 yrs; -7.7% TSR)
Committees: Audit, Compensation
TARGA RESOURCES CORP (TRGP)
Chris Tong ( 16.3 yrs; 14.7% TSR)
Committees: Compensation, Nominating (and Governance), Risk Management
TAYLOR MORRISON HOME CORP (TMHC)
Gary H Hunt ( 2.3 yrs; 5.4% TSR)
Committees: Compensation
TELOS CORP (TLS)
Bernard C Bailey ( 15.6 yrs; -46.7% TSR)
TETRA TECHNOLOGIES INC (TTI)
William D Sullivan ( 14.8 yrs; -12.0% TSR)
Committees: Nominating (and Governance)
TRINET GROUP INC (TNET)
Martin Babinec ( 34.3 yrs; 18.4% TSR)
TWITTER INC (TWTR)
Jack Dorsey ( 15.0 yrs; .5% TSR)
TWITTER INC (TWTR)
Robert B Zoellick ( 3.8 yrs; .5% TSR)
Committees: Audit, Nominating (and Governance), Risk
UNITED AIRLINES HOLDINGS INC (UAL)
David J Vitale ( 16.3 yrs; 2.1% TSR)
Committees: Audit, Compensation, executive, finance
VENTAS INC (VTR)
Jay M Gellert ( 21.3 yrs; 18.0% TSR)
Committees: Executive, Investment, Nominating (and Governance)
VERISK ANALYTICS INC (VRSK)
Laura K Ipsen ( 2.3 yrs; 9.7% TSR)
Committees: Audit, Finance and Investment Committee
VIDLER WATER RESOURCES INC (VWTR)
Nicole Louise Weymouth ( 4.2 yrs; 5.5% TSR)
Committees: Audit, Compensation, Nominating (and Governance)
VIDLER WATER RESOURCES INC (VWTR)
Maxim C W Webb ( 5.3 yrs; .9% TSR)
VIDLER WATER RESOURCES INC (VWTR)
Dorothy Ann Timian-Palmer ( 4.2 yrs; 5.5% TSR)
VIDLER WATER RESOURCES INC (VWTR)
Eric H Speron ( 6.3 yrs; 7.2% TSR)
Committees: Audit, Compensation, Nominating (and Governance)
WATERS CORP (WAT)
Gary E Hendrickson ( 3.7 yrs; 14.7% TSR)
Committees: Audit, Compensation
WELLTOWER INC (WELL)
Jeffrey H Donahue ( 25.3 yrs; 10.5% TSR)
Committees: Compensation, Executive, Investment, Nominating (and Governance)
WEST PHARMACEUTICAL SERVICES INC (WST)
Patrick J Zenner ( 20.3 yrs; 22.1% TSR)
Committees: Nominating (and Governance)
WHITESTONE REIT (WSR)
Jack L Mahaffey ( 8.8% TSR)
Committees: Audit, Compensation, Nominating (and Governance)