Vickers announces long-awaited merger with Scilex. More mining action this week. Moelis & Co. bowing out of 2 SPAC IPOs. And all the day's news in SPACs.
————————————————-
Free Investor Resources from Boardroom Alpha
—————————————————-
** Podcast: Know Who Drives Return
** Daily SPAC Newsletter
** Full SPAC Listing
VCKA and Scilex seal the deal
Vickers Vantage Corp. I (VCKA) and Scilex Holding Company announce their merger. Scilex focuses on non-opioid therapies for patients with acute and chronic pain, and is a majority-owned subsidiary of Sorrento Therapeutics (SRNE). Scilex shareholders will own approximately 88% of the new company. The merger is expected to close by 3Q 2022; Scilex will trade under the new ticker symbol "SCLX." No mention of additional financing in the press release other than its $140M trust.
MTAL to acquire CSA Copper Mine from Glencore for $1.1B
Mining is hot this week. On the heels of AMC'c investment in Hycroft Mining Corp. (HYMC), we have another mining deal, this time in SPACland. SPAC Metals Acquisition Corp. (MTAL) announced the acquisition of CSA Copper Mine (New South Wales, Australia) from Glencore plc (LSE: GLEN) for $1.05 billion in cash and $50 million in stock. Also included in the consideration for the acquisition is a 1.5% copper net smelter royalty to Glencore. The purchase price implies a 4.5x multiple of 2022E EBITDA. Financing is complicated (senior debt, convert, PIPE); see the presentation here. MTAL stock traded up today, closing at $9.66. Unlike AMC's baffling announcement earlier this week, CSA looks very much within MTAL's wheelhouse. It's also one of Australia's highest grade copper mines. Good timing for buying a copper mine, particularly given a very evident Electric Vehicle (EV) production ramp.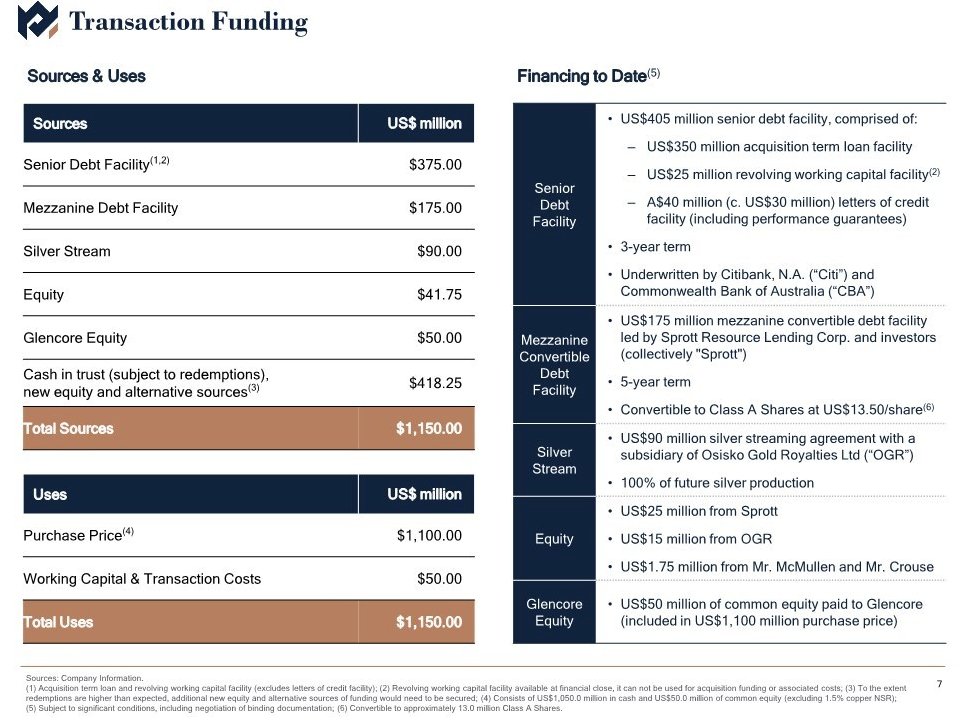 Source: Company presentation
FRSG and EO Charging cancel merger plans
Another SPAC merger bites the dust. First Reserve Sustainable Growth Corp.(FRSG) and EV fleet charging provider EO Charging terminated their merger agreement, citing "unfavorable market conditions."
Moelis getting out of the SPAC game?
Moelis & Company withdrew 2 SPAC IPO S-1s its Atlas 3, 4. The SPACs had filed for their IPOs in March last year and were looking to raise over $1 billion. However, at the same time, they filed an S-1/A and rebranded what was Atlas Crest V to Atlas Crest III, a proposed $200M IPO.
Atlas Crest II (ACII) is still searching for a merger target. Meanwhile, shares of aircraft manufacturing company Archer Aviation (ACHR), which deSPAC'd from Atlas Crest I, are struggling at ~$4. That deal got done only after cutting the valuation by $1 billion.
Elsewhere in SPACs
Pan European electric vehicle (EV) charging infrastructure provider Allego (ALLG) deSPAC'd today. Shares closed at $9.20.
Asia online property portal Property Guru (PRGU) deSPACs tomorrow.
SPAC Calendar
SPAC Deal Votes
Mar 22 | TWNT –> TERRAN ORBITAL Corp
Mar 29 | HTPA –> Packable
Mar 31 | HLXA –> MoonLake Immunotherapeutics AG
SPAC Extension Votes
Mar 18 | VHAQ
Mar 18 | AMAO
Mar 22 | THCA
More from Boardroom Alpha
For ongoing tracking, analytics, and data on SPACs checkout Boardroom Alpha's SPAC Data and Analytics service.