ASAX proves breaking up doesn't have to be hard to do. Valentine's day proves to be a day of unrequited love for Astrea Acquisition Corp. (ASAX), which terminated its merger with HotelPlanner and Reservations.com. SPAC shareholders were scheduled to vote on the transaction tomorrow, but appear to have been spooked by the extraordinarily high redemptions (over 90%). Note that the deal didn't include PIPE financing. Today's ASAX news comes on the heels of the announcement last week that ASAX is an entirely different company from recently de-SPAC'd Astra Space (ASTR), whose shares plummeted over 40%.
High redemptions are thwarting deals. As we've seen in recent weeks, the high rate of redemptions isa recurring theme which is preventing deals from getting done. Redemptions have steadily increased over the past three consecutive months.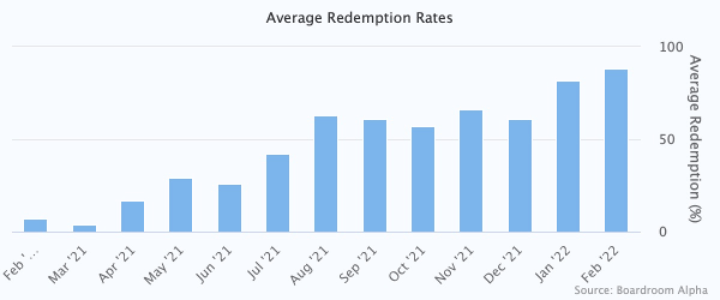 ASAX still has almost a year to give a deal another try—but…. ASAX's mandate to combine with a target in hospitality or fintech may prove difficult to execute in the current macro. Notably, Fertitta Entertainmentand FAST Acquisition Corp (FST called off their $8.6 billion merger in December.  Short-term rental specialist Sonder (SOND), which came public via Gores Metropoulos II (GMII) last month, is the latest hospitality SPAC to hit the market. Shares closed Friday at $9.00.
Surprising some, ASAX shares are up ~17% intraday.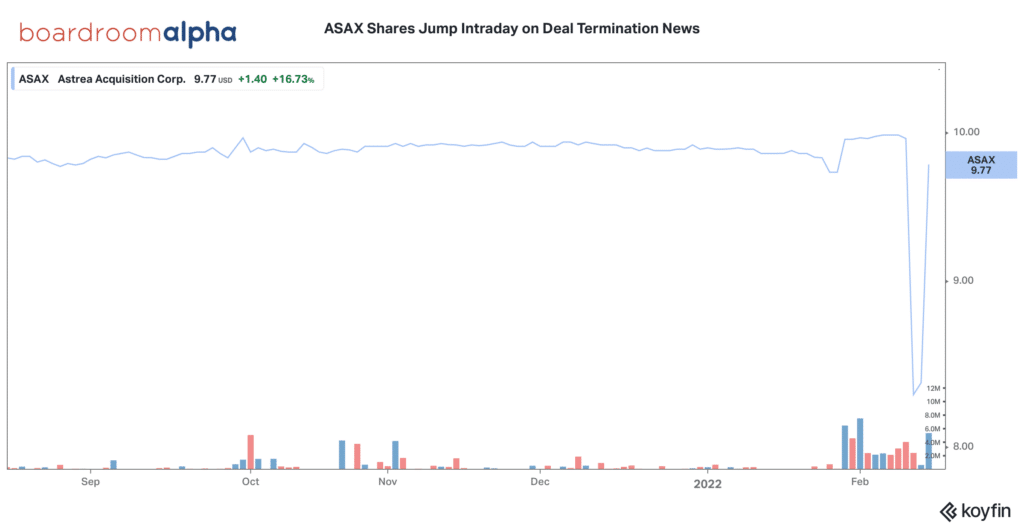 The continued slide in SPAC warrant prices underscores the growing SPAC merger concerns. Prices have been on the slide for over a year and continue to search for a bottom.