Companies
Performance Ratings and ESG Analytics for Your Team and Peers
Ensure you've got the best team and governance practices in place and the world knows it.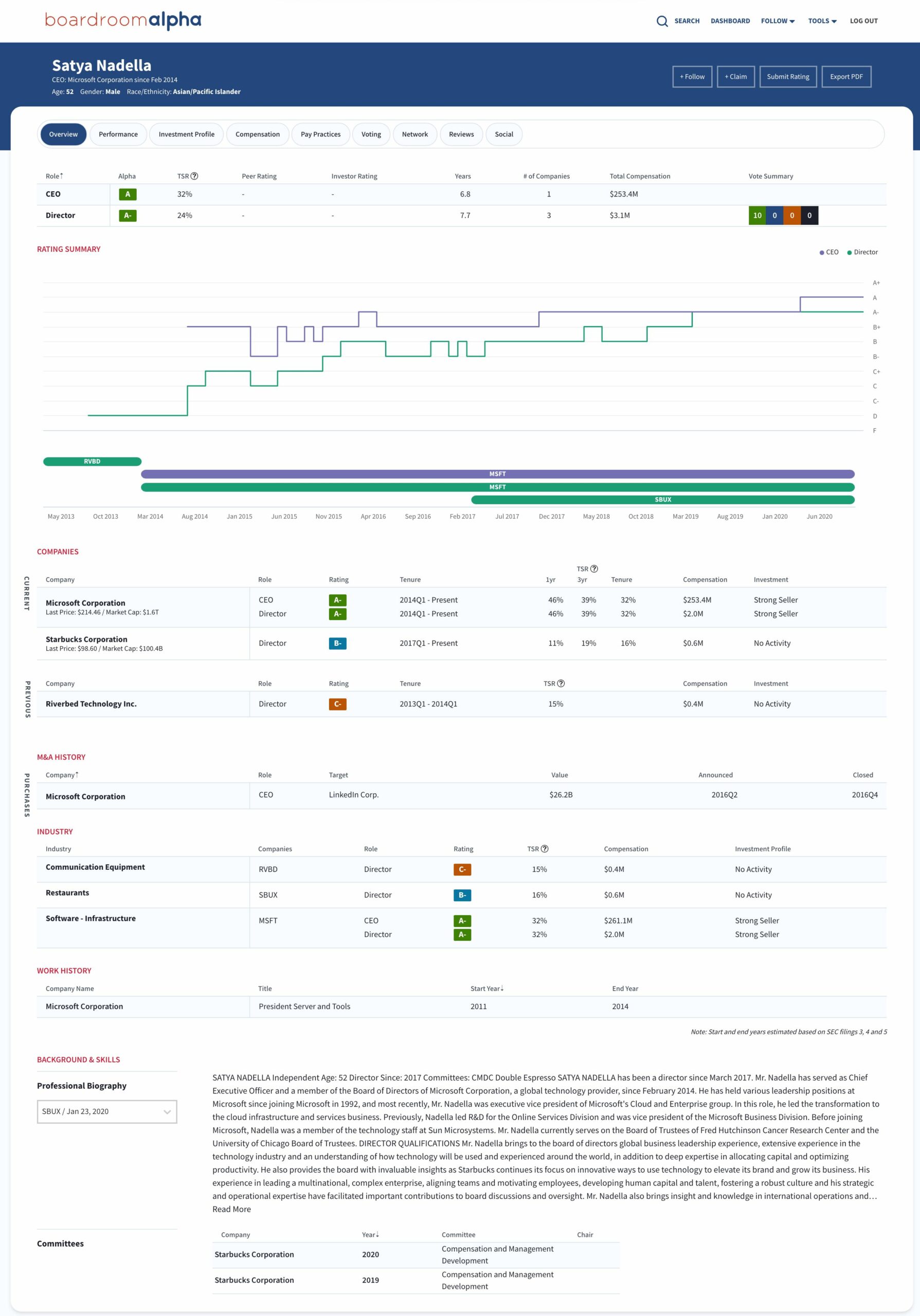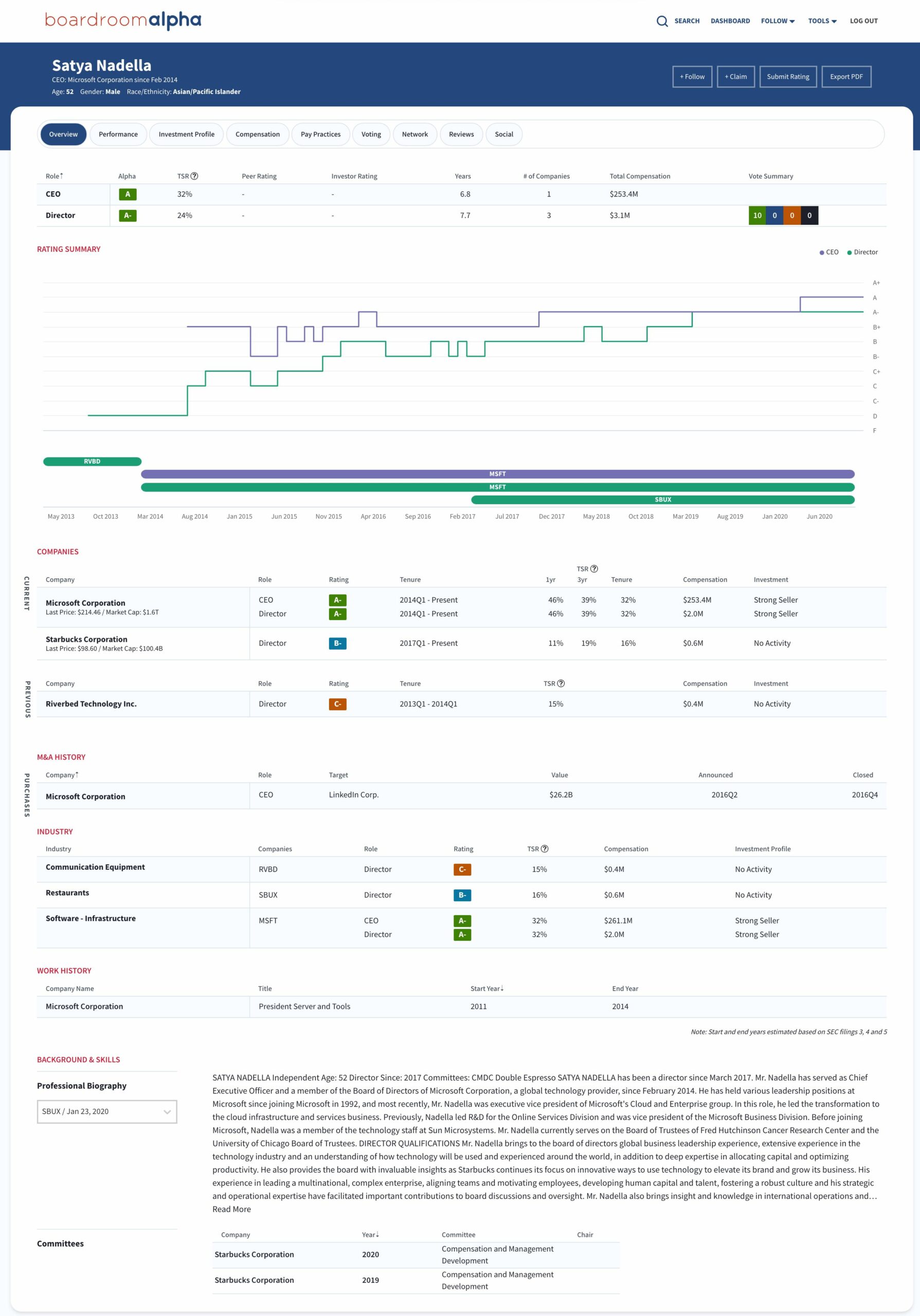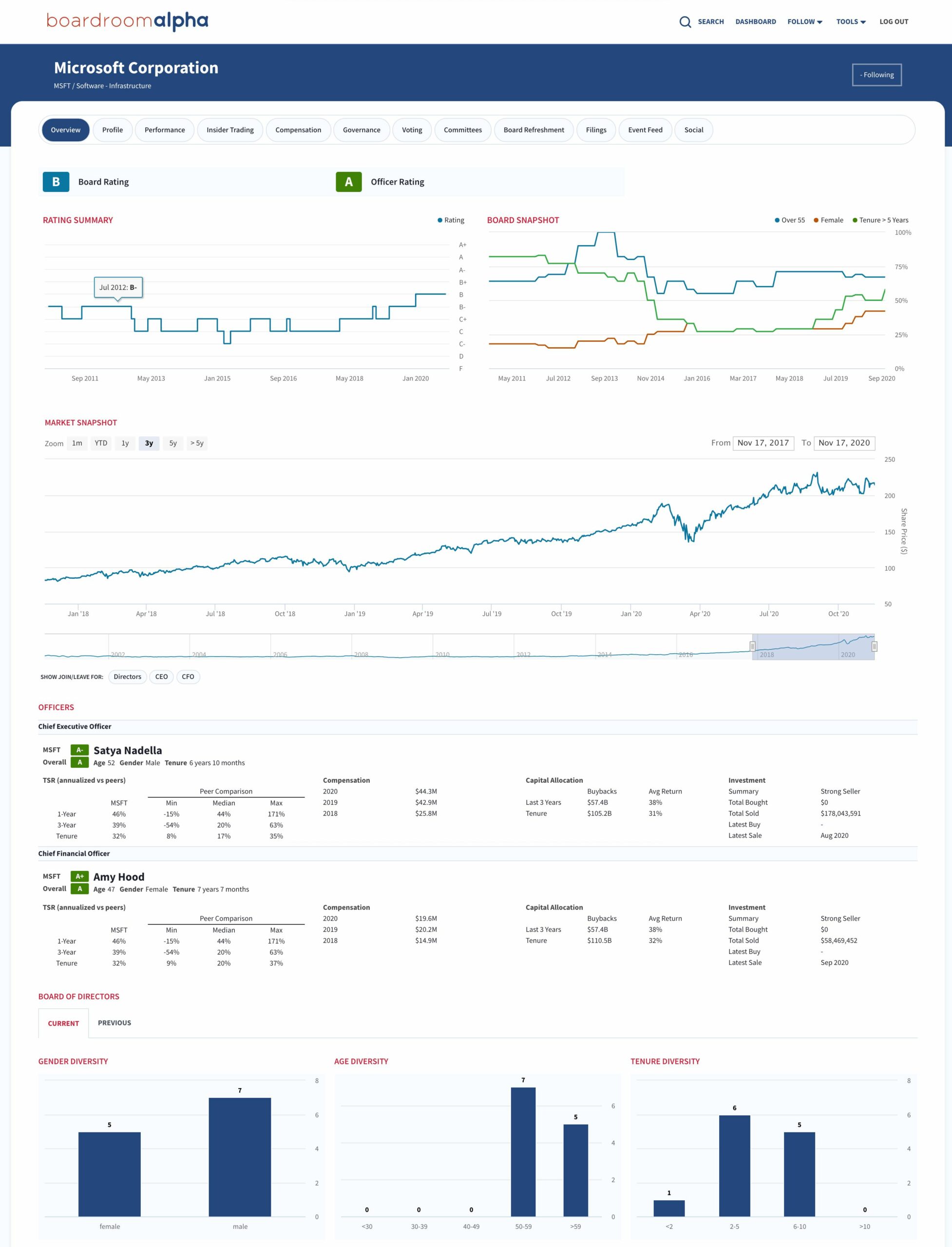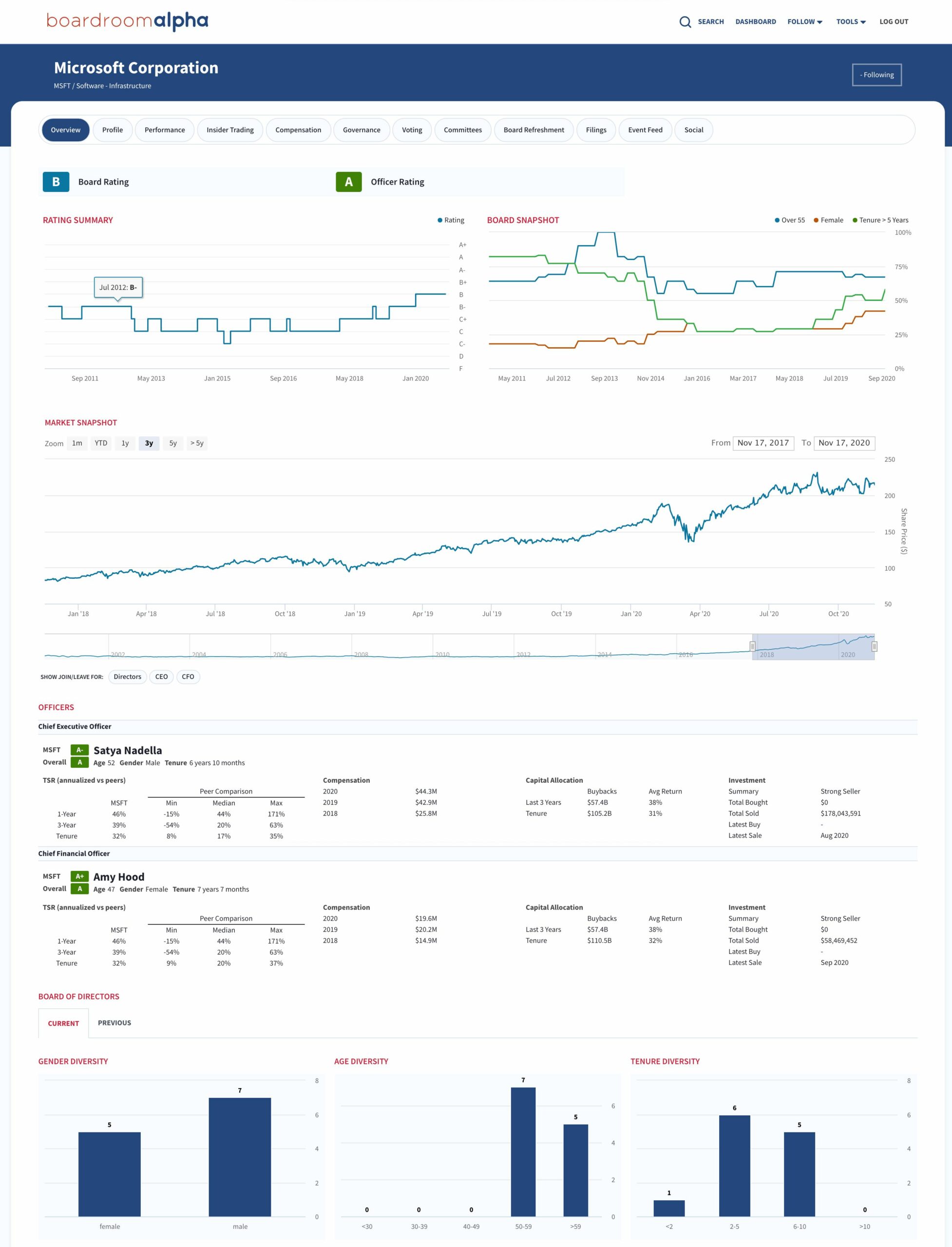 Investors Know
the Team Matters
Boardroom Alpha's Team ratings are used by investors to identify the BEST teams to invest in and the WORST teams to avoid or short.
Alpha Director/Officer Rating
Boardroom Alpha rates every director and officer across their full track record of delivering value. The ratings are tied directly to performance and value creation. 
Alpha Team Rating
The Boardroom Alpha Team Rating is a composite rating based on each director and officer's individual rating. It is a powerful signal of that team's ability to deliver value. The BEST teams outperform and the WORST teams underperform.
Boardroom Alpha's BEST / WORST Teams Drive Alpha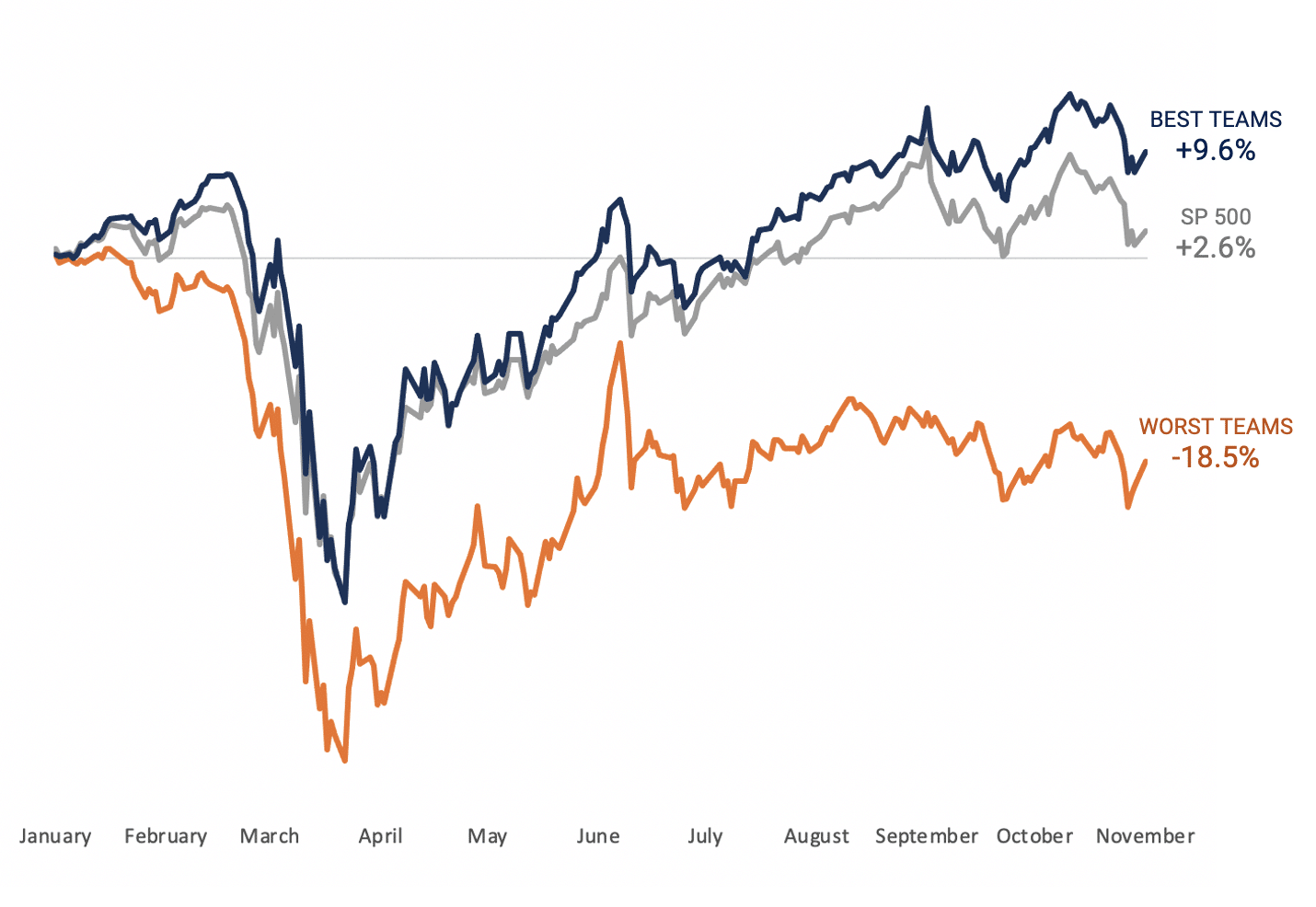 The Boardroom Alpha platform enables companies to ensure they've got the best team, know what their peers are doing, and know how outsiders are assessing them.
Board & Officer Assessments
Identify new investment opportunities and uncover risks with by tracking director and executive moves, performance-based ratings for every director and officer, and in-depth Governance assessments.
Pay-for-Performance
Assess how you stack up relative to peers on key pay performance metrics know whether proxy advisors and shareholders will be coming for you or if you're in the clear. 
Monitor Peers and People
Monitor your peers as they change executives or directors, make insider buys/sells, see their latest filings, and more. 
Director & Executive Recruiting
Enhance your process of finding, evaluating, and monitoring your pipeline of potential directors and officers. Don't settle for limited lists and track record assessments any more.
The Boardrom Alpha Platform
Company intelligence on performance, ESG, and more.
BA Team Rating provides quantitative assessment of the board and officers' history of value creation
Governance risk practices score
Detailed view of governance practices and diversity
Pay-for-Performance assessments and detailed compensation data across all directors and officers
All insider trading analytics on equity grants, acquisitions, and dispositions – spot potential governance issues early.
Full shareholder voting history; including funds (N-PX) voting
Complete context on every officer and director.
Full biographies including age, gender, education, and race/ethnicity
Insider buying/selling analytics and alerts
Pay practices as a director
Compensation history as a director and officer
History of capital allocation decisions
Performance Ratings and Context for Every US Public Company Director, CEO, and CFO
ESG Analytics and Insights
SPAC Analytics, Research, and Data