Asset Managers
Great Teams Deliver Alpha.
Who are You Invested In?
Great teams consistently beat their peers and bad teams underperform. Knowing the people behind your investments is critical to delivering outperformance for your investors.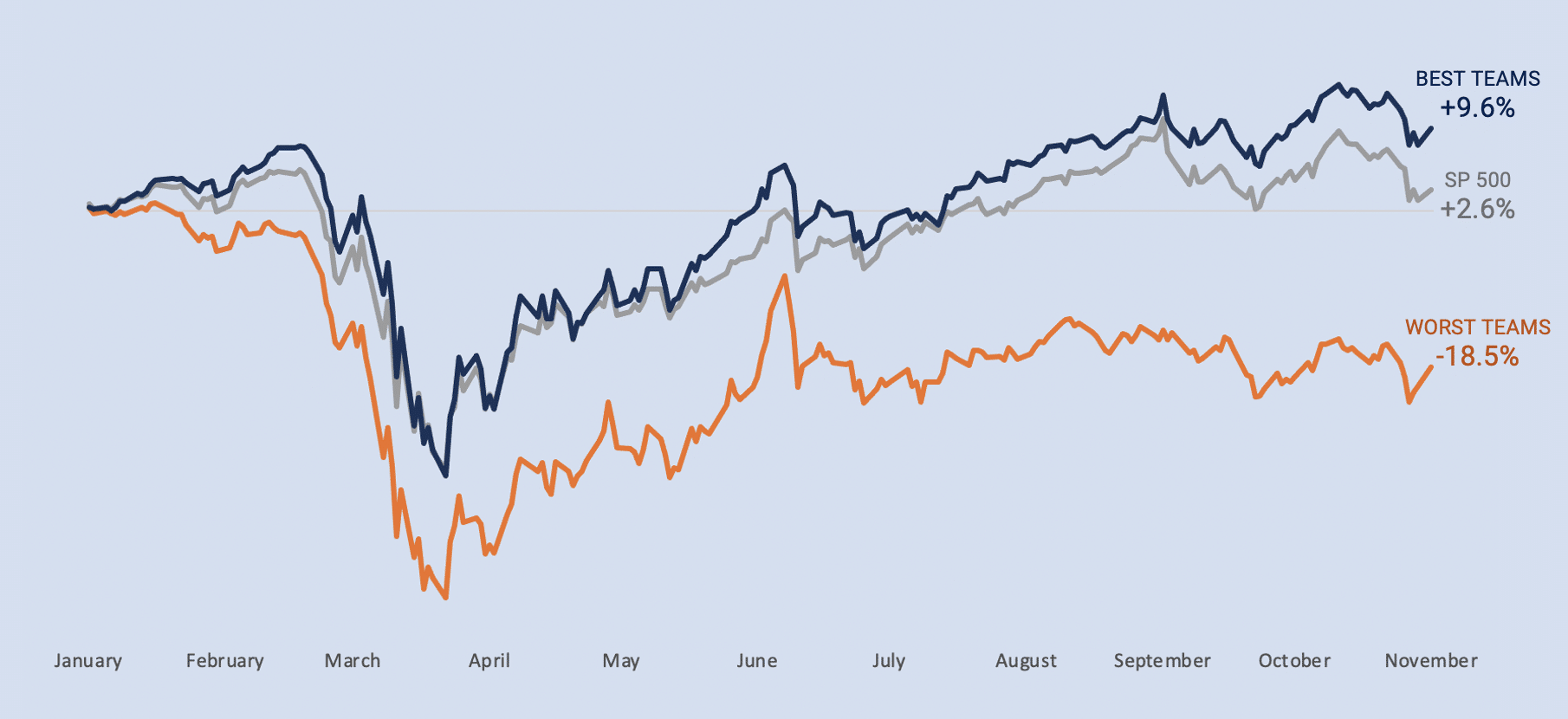 Know the team, their track record and governance practices at every US public company. Revolutionary performance ratings, analytics, and context for every director, officer, and team.
Alpha Director/Officer Rating
Boardroom Alpha rates every director and officer across their full track record of delivering value. The ratings are tied directly to performance and value creation. 
Alpha Team Rating
The Boardroom Alpha Team Rating is a composite rating based on each director and officer's individual rating. It is a powerful signal of that team's ability to deliver value. The BEST teams outperform and the WORST teams underperform.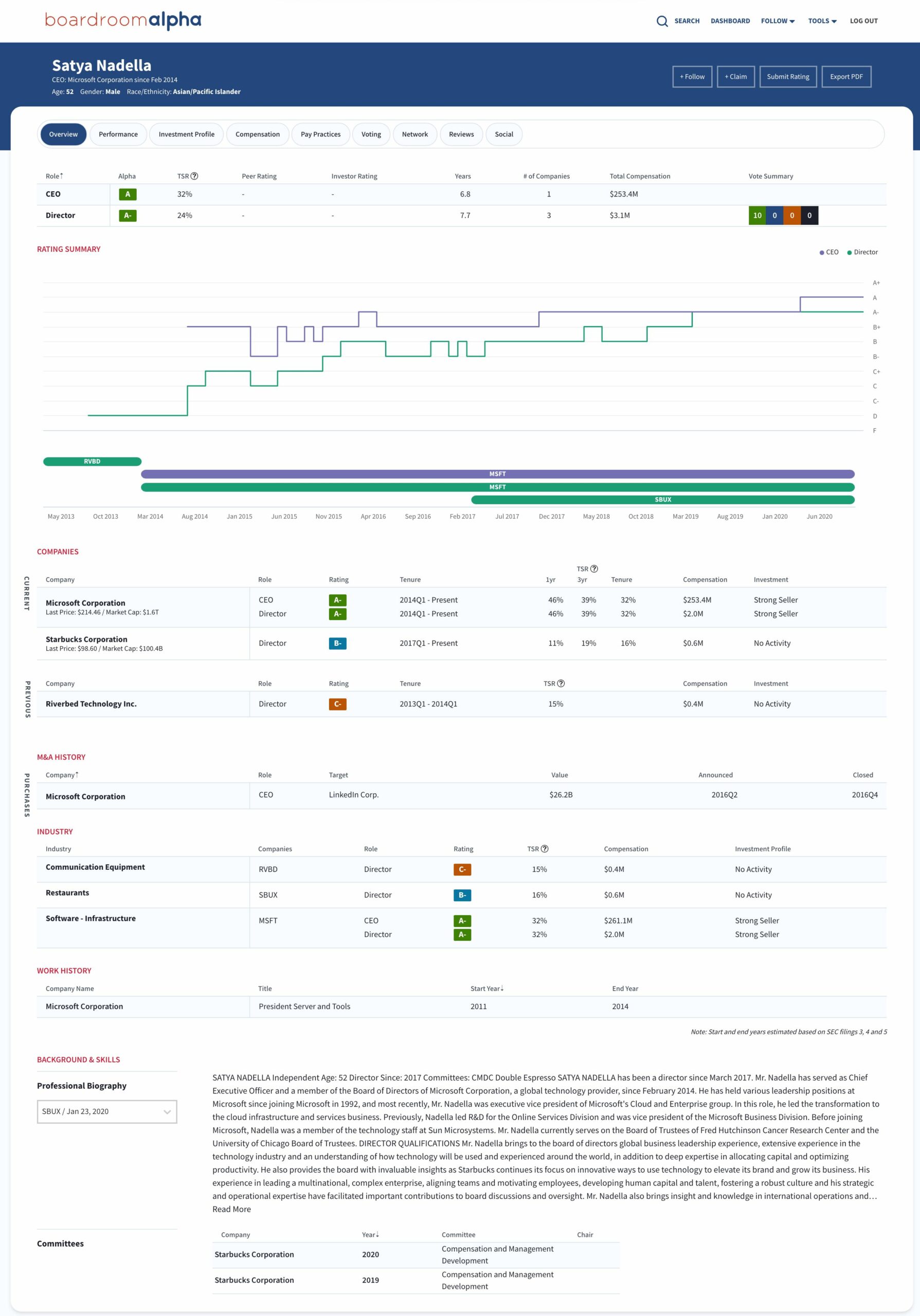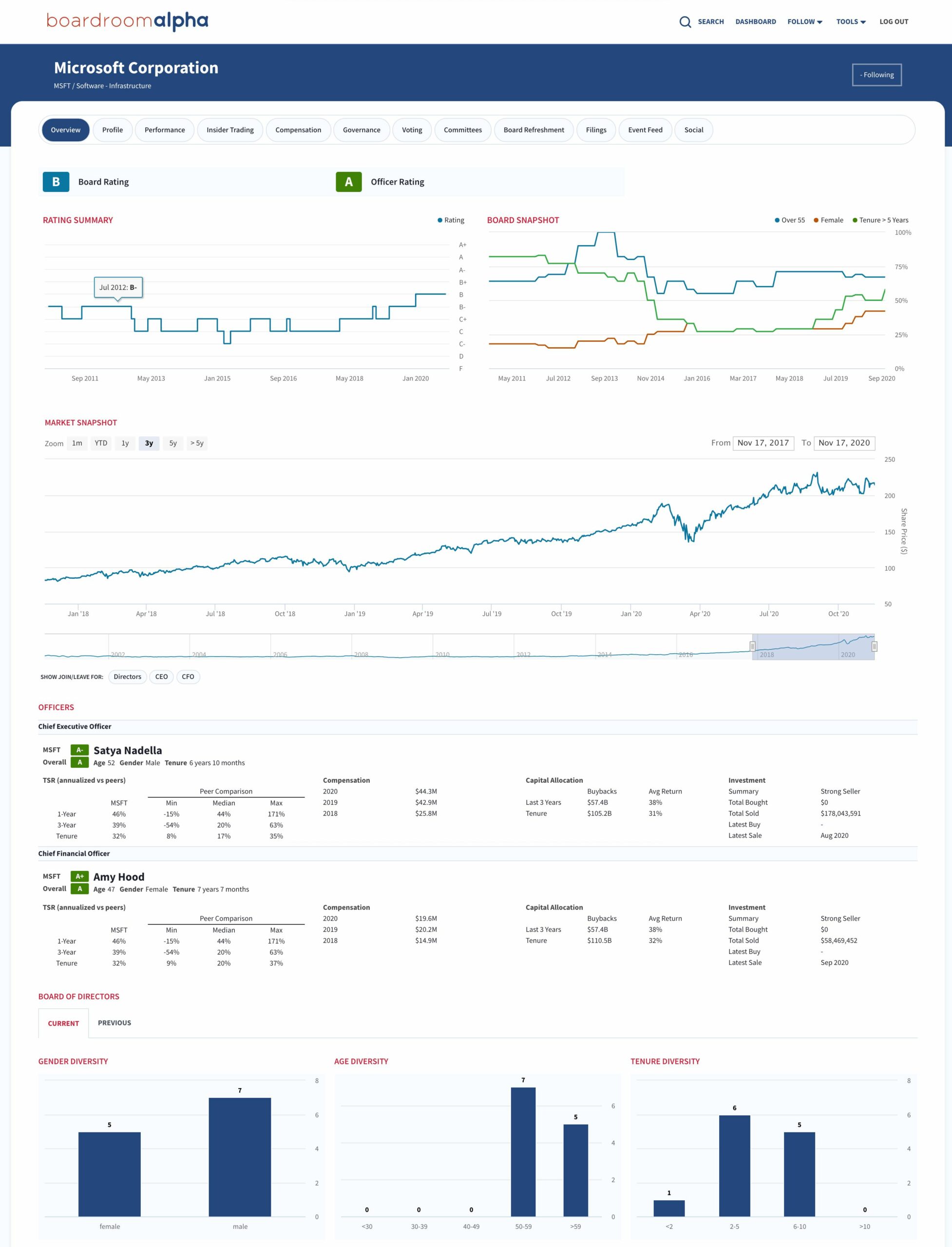 Idea Generation
Boardroom Alpha rates every director and officer across their full track record of delivering value. Each company's Team Rating is built from the ground-up based on those person-level ratings.
Monitor People & Companies
Effectively track all the activity for the people and companies you follow. Be first to identify new opportunities as directors and officers change jobs or make trades.
Company Research
Quickly and accurately assess the teams at the top, the company's governance risks and strengths, and all company and insider activity.
ESG Investment Analysis
Quickly assess director and officer performance track record and governance practices. Boardroom Alpha's individual and team ratings tie governance directly to performance and its Governance Risk Score assesses each company's governance practices.
Assess Your Portfolios
Assess your portfolios across the quality of the teams, ESG factors, and more.
Assess Insider Buying & Selling
Boardroom Alpha's Insider Buying and Selling analysis enables on-going monitoring of trading and assessment of "surprise", returns, and more.  
The Boardrom Alpha Platform
Company intelligence on performance, ESG, and more.
BA Team Rating provides quantitative assessment of the board and officers' history of value creation
Governance risk practices score
Detailed view of governance practices and diversity
Pay-for-Performance assessments and detailed compensation data across all directors and officers
All insider trading analytics on equity grants, acquisitions, and dispositions – spot potential governance issues early.
Full shareholder voting history; including funds (N-PX) voting
Complete context on every officer and director.
Full biographies including age, gender, education, and race/ethnicity
Insider buying/selling analytics and alerts
Pay practices as a director
Compensation history as a director and officer
History of capital allocation decisions
Performanc Ratings and Context for Every US Public Company Director, CEO, and CFO
ESG Analytics and Insights
SPAC Analytics, Research, and Data