Two SPAC deals today and some important votes this week.
————————————————-
Free Investor Resources from Boardroom Alpha
—————————————————-
** Podcast: Know Who Drives Return
** Daily SPAC Newsletter
** Full SPAC Listing
SPAC Deal: MAAQ + Cardio Diagnostics
Mana Capital Acquisition Corp. (MAAQ) announces a DA with Cardio Diagnostics, an "artificial intelligence-driven Integrated Genetic-Epigenetic Engine™ that enables improved diagnosis and prevention of cardiovascular disease." Cardio Diagnostics is expected to have an approximate post-transaction equity market capitalization of $175 million assuming no redemptions, and will list on the Nasdaq as "CDIO." Expected close in the second half of 2022. No slide deck.
SPAC Deal: GIAC+ Freightos
Gesher I Acquisition Corp. (GIAC) announces a DA with Fedex-backed Freightos. The transaction values Freightos, a digital platform for global freight booking services, at a pro forma $435M enterprise value. The transaction is expected to generate gross proceeds of at least $80 million (and up to $166 million depending on redemptions). Expected close in 2H 2022. There is an investor call tomorrow am.
GLBL – on track to close 2H 2022
Cartesian Growth Corporation (GLBL) announced it has received the required pre-closing approvals and is on track to close its merger with Tiedemann Group and Alvarium Investments in 2H 2022.
OPA / Forbes on ice
Axios notes that Forbes' IPO plans may be in trouble. Magnum Opus Acquisition Limited(OPA), which is looking to merge with Forbes, has filed two deadline extensions so far this year.
Elsewhere in SPACs
SPAC votes this week
Wed: NAAC / TeleSign; RBAC / SeatGeek; BIOT / Blade
SPAC Calendar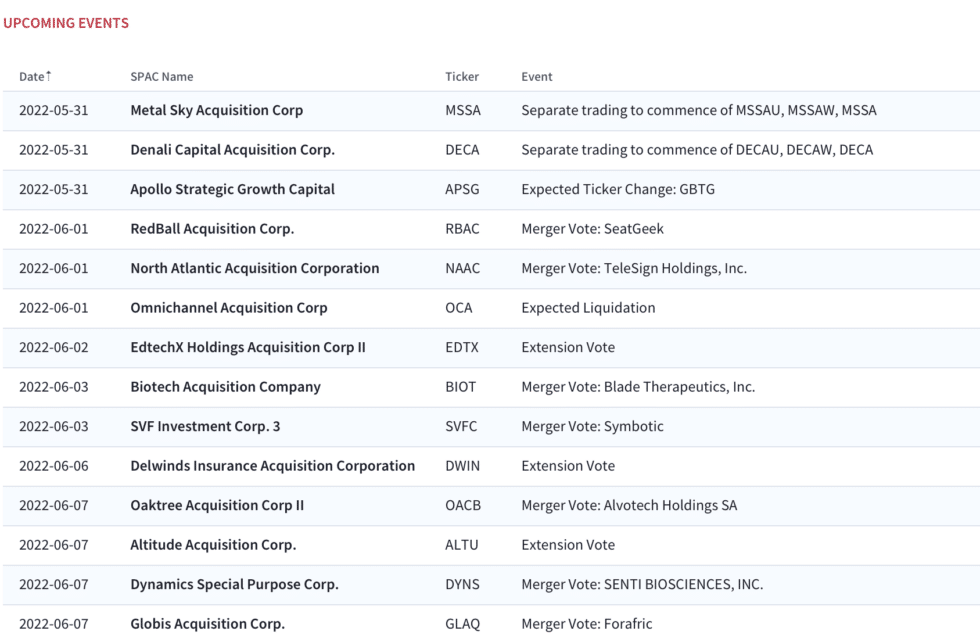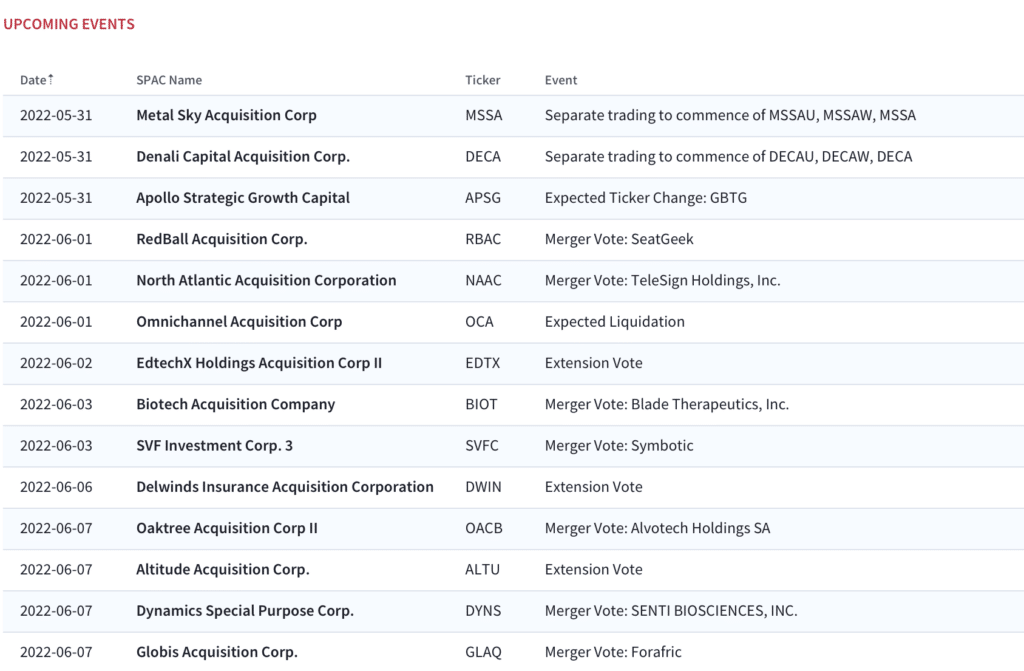 More from Boardroom Alpha
For ongoing tracking, analytics, and data on SPACs checkout Boardroom Alpha's SPAC Data and Analytics service.