Boardroom Alpha sat down with Pat Dillon, CFO of autonomous trucking company TuSimple Holdings (TSP). TuSimple was the first autonomous trucking company to go public in a $1.1 billion offering last April that valued the company at $8.1 billion. The company now owns more than 100 Class 8 trucks, about 75 of which are in the U.S.  A lot has been going on at the company– from a successful driverless run, a recent executive succession plan, and the potential sale of its China business. 
Building an Autonomous Freight Network. TSP is developing an Autonomous Freight Network (AFN) that covers most of the lower third of the U.S. from Tucson to Orlando, Florida, and Charlotte, North Carolina. This network will provide two services, TuSimple Capacity (self-owned fleet) and a Carrier Owned Capacity service. The company is also collaborating with Navistar/The Traton Group to build custom trucks for its own fleet. The TuSimple Capacity business charges freight users by dollar per mile. A second pricing model allows truck owners to choose whether to deploy TSP AD solutions and pay for a per mile subscription (SaaS)
Encouraging results from driverless freight run. TSP is in many ways an AI company, having developed high-definition maps for thousands of miles of roads. Notably, TuSimple is the first autonomous driving (AD) company to conduct a freight run with no human in the cab. The results were very encouraging. TuSimple will expand driverless operations to add daytime runs and begin operations in the Texas Triangle of Dallas, Houston and San Antonio later this year. The goal—eventually—is to remove all surrounding safety/assisting vehicles from the operation, reducing costs and proving the viability of the technology.
TSP: Life in an early-stage hypergrowth market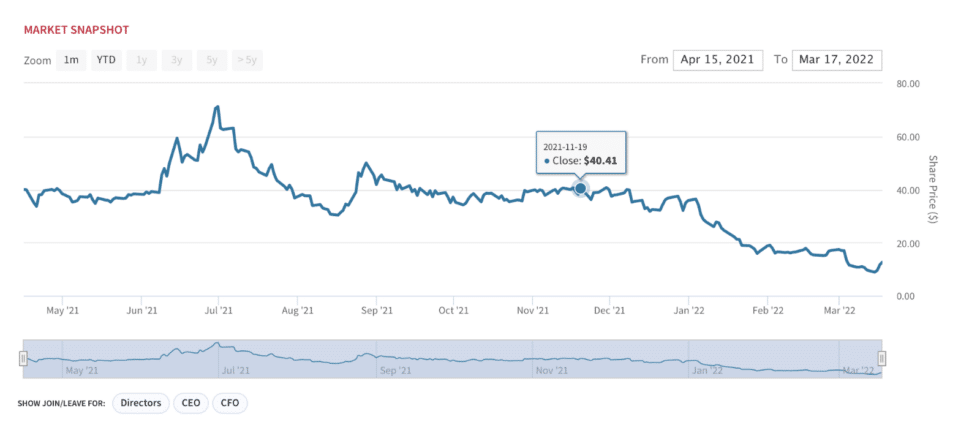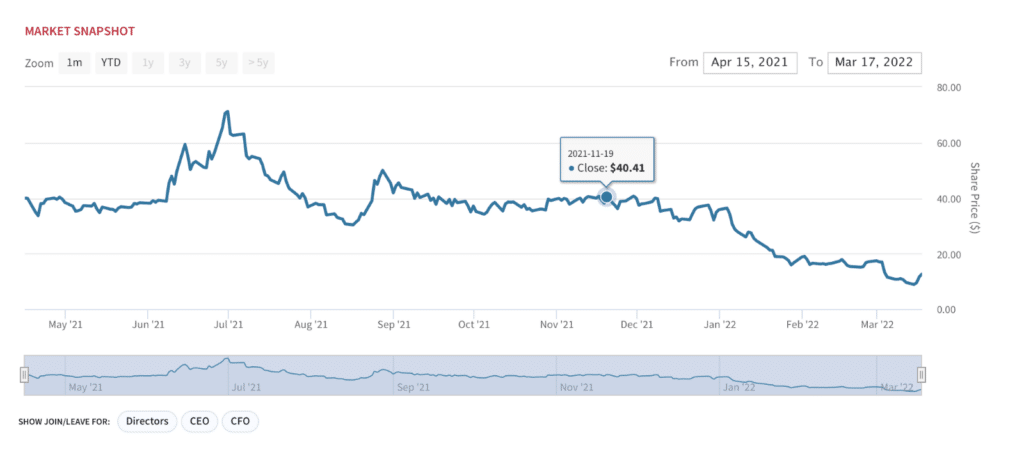 Source: Boardroom Alpha
Shares down almost 80% from peak levels. TSP went public in April 2021 at ~$40. Shares briefly peaked at almost $80 in June of last year. After an over 20% decline on the day of the company's management succession announcement earlier this month, shares rebounded on the news of a potential $1 billion sale of its China business. TSP shares currently trade ~$13.
Market didn't respond well to CEO succession. Earlier this month, TuSimple announced that co-Founder and CTO Xiaodi Hou will succeed Cheng Lu as President and Chief Executive Officer and succeed Mo Chen as Chairman of the Board. With Lu's departure, inside directors will hold two seats instead of three, a positive corporate governance move toward more independent directors. While the company's executive succession had been discussed at the board level and was known to senior leadership, the company hadn't disclosed it publicly—a move which clearly spooked investors. Same thing happened at Starbucks (SBUX) earlier this week. Notable Board member: Brad Buss, who served on the Board at Tesla (TSLA) from 2009- 2019.
TSP: Board Overview


Source: BoardRoom Alpha
Exploring sale of China business. Following the recent settlement of a foreign investment probe, it has been reported that TuSimple is exploring the sale of its China business for as much as $1 billion. The move follows the February signing by TuSimple of a National Security Agreement (NSA) with the Committee on Foreign Investment in the United States (CFIUS) to shield intellectual property developed in the U.S. from China. As part of the agreement, two directors representing Sun Dream Inc., an affiliate of China-based media conglomerate Sina Corp., said they would leave TuSimple's board at the end of their respective terms. Sina also agreed to a standstill provision preventing further purchases of TuSimple stock (it owns ~ 20%).
Highlights:
2021 revenues of $6.3 million. Notable customer: United Parcel Service (UPS), which made a minority investment in the company in 2019.
7,325 nonbinding reservations from fleets for the company's purpose-built Navistar/Traton Group LT Class 8 truck. TSP is partnered with the Traton Group (Volkswagen's heavy-truck business) to sell the vehicle by 2024
Ended 2021 with $1.3 billion in cash
Operating at a loss, mainly owing to R&D expense
TSP potential red flags. Aside from the management succession, insider selling is the main red flag here, with a cluster of three insiders selling $1.3M worth of stock in late 2021. Insiders sold $284 million worth of TSP stock over the past 12 months. Short interest has come down in the last month, with ~4.6% of float short.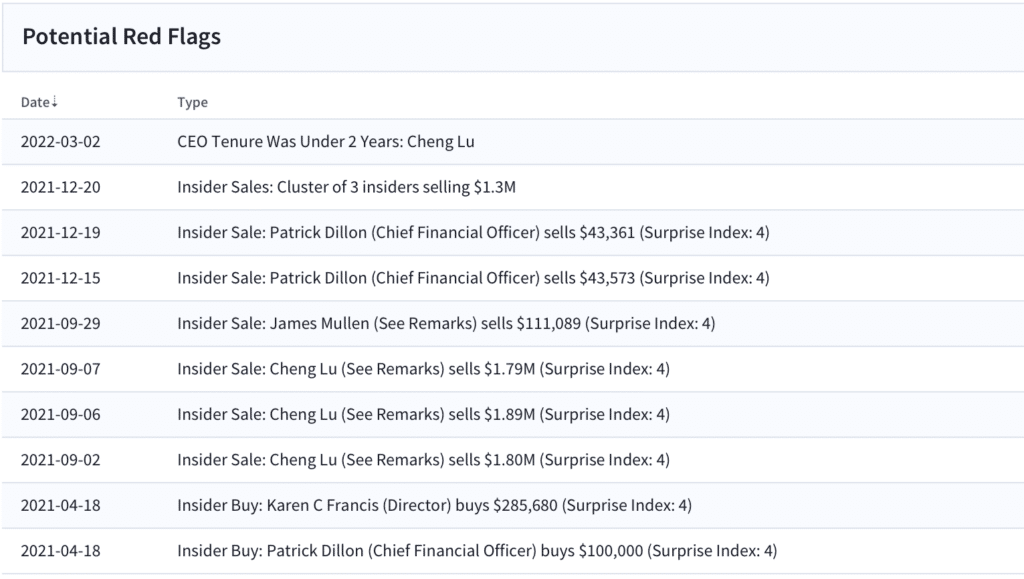 Source: Boardroom Alpha
How does this scale and when? Autonomous trucking tech can in theory do a lot to solve the current structural problems of U.S. truck transportation industry. After all, its a low-margin business suffering from inflation, high labor and fuel costs. But in order to commercialize, AD tech requires continuous autonomous freight operations on high-volume routes at a more competitive per-mile operating cost than manually driven trucks. Ultimately, TSP is an AI company that carries a high degree of technical risk.
The law of shifting expectations. The safety probe at Tesla has resulted in a sobering of the self-driving movement. Even most experts thought this industry would be in commercial production by now (e.g., see exhibit). Like any nascent technology, things take longer than we expect. After countless LiDAR IPOs last year [see our AEye (LIDR) and Cepton (CPTN) podcasts here], investors hoped that commercial lidar production would start in 2022. Today, we're less sure. And when it comes to the most futuristic of self-driving scenarios– L-5 self-driving (hands off, eyes off)– industry observers sat that's still 5 or more years away. TSP is still years away from demonstrating meaningful revenue and profitability.
Too much too soon? Autonomous Driving expectations back in 2019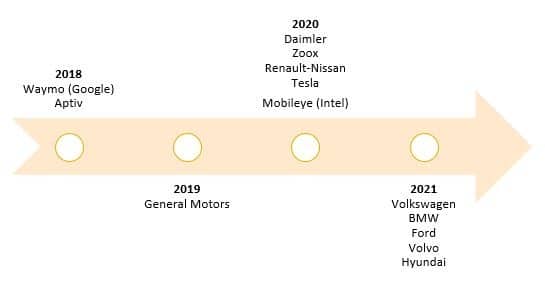 Source: "Self-Driving Technology: Risks and Opportunities through an ESG Lens," Sustainalytics, March 2019.
Look at the surrounding AD ecosystem. While much of the AD industry development has been focused on passenger vehicles, we would argue that current leaders like Tesla, Baidu and Google's Waymo may threaten TSP's position over time. These companies also have a more unified vision of what AD looks like, based on a combination of HD mapping, cameras, radars and lidar. As the market develops, these companies could also port over their solutions for commercial vehicles.
It's early, but if you're ESG-centric, consider public policy… We recognize this is all very, very early, but it's imagine a dystopian future where autonomous driving increases roadway congestion by as much as 3X. After all, if less people are driving, we can get more cars on the road. The Public Transport Users Association of Victoria, Australia said it well: "The fundamental problem of transport in cities is one of shared space, which well-run public transport networks solve efficiently but which self-driving cars do little more to solve than ordinary cars today."
…and labor implications. With inflation at a 40-year high, 'real' worker pay is declining. Amidst the unionization push we're seeing at companies like Starbucks, investors have to wonder about the potential regulatory risk as AD tech impacts drivers' jobs. Have to imagine any "driver out" tech would encounter significant resistance from labor unions. Food for thought. Perhaps autonomous cars are net job creators. It's complicated.
TSP stock: still too rich for where we are in the business model. TSP shares have fallen from their highs, but still, at a $2.6B market cap, TSP trades at almost 200x forward sales. While we are all-in on AI and appreciate TSP's business model, we view the valuation as extended given this is still largely unproven, pre-commercial tech.