Starbucks' planned succession lacks a successor, demonstrating the importance of building a deep management bench
Johnson out at Starbucks, Schultz back in again…for now. In a 'it's been planned all along but still kind of a surprise' kind of executive change, Kevin Johnson announced his resignation as CEO of Starbucks (SBUX) effective April 4, 2022. Johnson will continue to serve as a Starbucks partner and special consultant to the company and Board of Directors through September. As the company looks for a permanent successor, the Board of Directors appointed founder and former CEO and former executive chairman Howard Schultz as interim CEO (effective April 4) with a compensation of $1. Shultz also rejoins the company's Board of Directors. Notably, this is Schultz third time in the CEO seat. He served as CEO from 1986 to 2000, and again from 2008 to 2017. SBUX expects to name a permanent CEO by this fall.
A planned succession plan…without a successor. While the news comes as a surprise to investors, the company says it's all part of a planned succession. "A year ago, I signaled to the Board that as the global pandemic neared an end, I would be considering retirement from Starbucks. I feel this is a natural bookend to my 13 years with the company," Johnson said in a statement. Starbucks board Chairwoman Mellody Hobson also said his decision to leave was his own, not the result of any board or outside push. Still, for a planned succession, the announcement speaks volumes about the depth of Starbuck's management team and leaves the Board looking a bit flat-footed, particularly with Schultz filling in once again. We think many investors are left wondering why the Board hasn't been working on developing a strong bench of management contenders. McDonald's (MCD), for example, has done a good job of building a management bench from within the company.
SBUX shares up over 50% since Johnson took the helm 5 years ago…but challenges ahead

Source: Boardroom Alpha
SBUX under Johnson: credit where credit is due. Johnson, 61-years of age, has served as CEO since April 2017. He joined the board in 2009 while working as CEO of Juniper Networks (JNPR) and became a member of the leadership team in 2015 as president and COO. Johnson leveraged his expertise as a former tech executive to push Starbucks into the digital age, revamping the company's loyalty program and updating its store footprint to adapt to consumer habits. He also accelerated Starbucks' expansion in China, now the company's second-largest market.
SBUX: Board diversity & inclusion snapshot


Source: Boardroom Alpha
Next hurdles: Navigating life after COVID-19. Starbucks was one of the first American restaurant chains to feel the impact of the pandemic in China in early 2020. Last June, the company accelerated store closures to pave the way for more to-go and drive-through locations. As it closed cafes during Covid-19 lockdowns, Starbucks saw its same-store sales decline for the first time in over a decade. Sales recovered in 2021, with the company reporting $29.1 billion in sales, up from $22.4 billion in 2017 when Johnson first took over.
SBUX growth rests in China, where competitive dynamics are shifting. Outside of the U.S., China is Starbucks' fastest growing market. The company continues to accelerate its store expansion push in the region, with a goal of 6,000 stores by year end. At the same time, competition in the specialty beverage market in China is intensifying, most notably from Luckin Coffee (OTCMKTS: LKNCY). Following the company's delisting in June 2020 and accounting fraud scandal (Luckin fabricated over $300 million in sales), Luckin has re-invented itself and plans to relist on the Nasdaq as soon as the end of this year. Luckin now has more than 6,000 stores across China, about 500 more than Starbucks. In the company's most recently reported earnings report, revenues more than doubled YoY to $364.7 million.
What's the tea? Competition in specialty beverages is clearly intensifying in China. But market dynamics are also very different in the China versus the U.S. The market for tea drinks is 2x that of coffee in China, with the gap expected to widen this year. In China, the number of milk tea and fruit juice storefronts is about 4x that of coffee shops. That makes Hey Tea second to Starbucks in China's specialist coffee and tea shop market, with a roughly 9% share—and rising. Starbucks will have to pivot or risk losing market share.
SBUX: The historical importance of China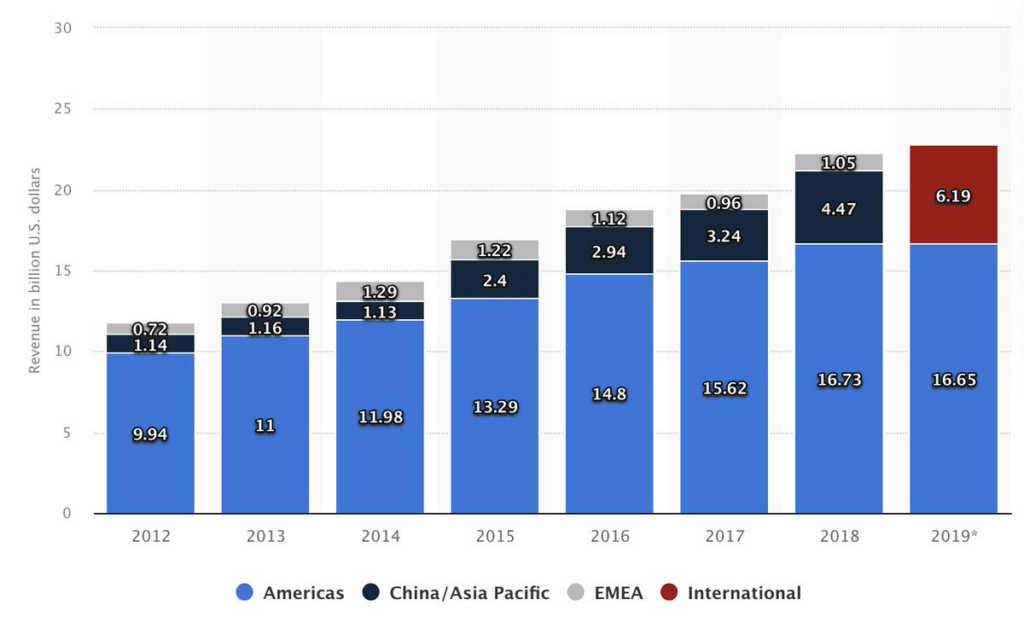 Source: Investor presentation
Unionization push hasn't been handled very well. Starbucks is facing the biggest unionization push in the company's history as workers agitate for better pay and conditions. Johnson has appealed to workers to let the company maintain its direct relationship with them. More than 120 U.S. stores have filed union petitions with the National Labor Relations Board (NLRB). As of early March, six company-owned stores have successfully unionized. The NLRB recently issued a complaint against Starbucks over accusations that it retaliated against two employees in Phoenix that looked to unionize.
SBUX: Potential red flags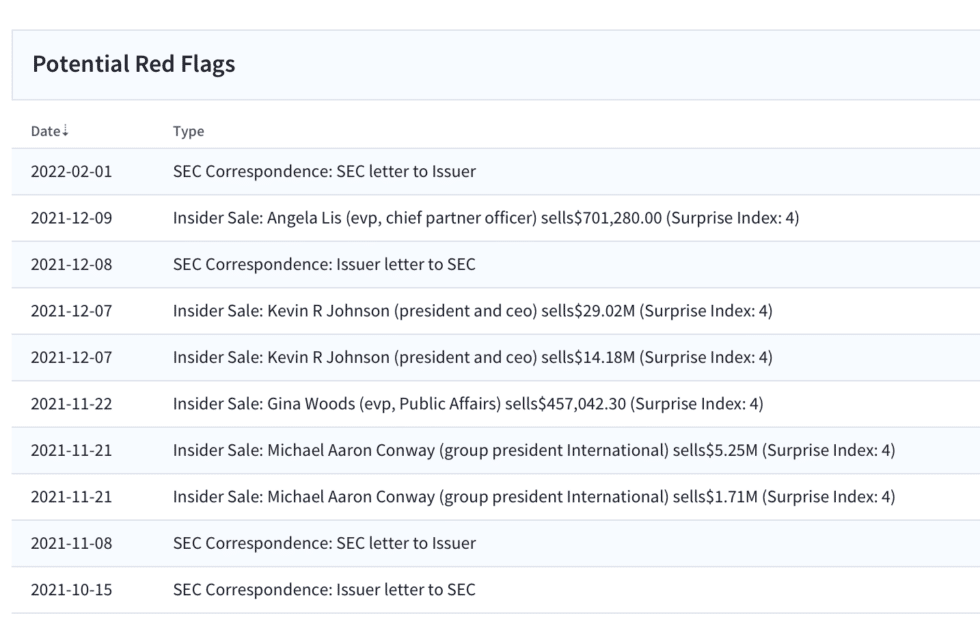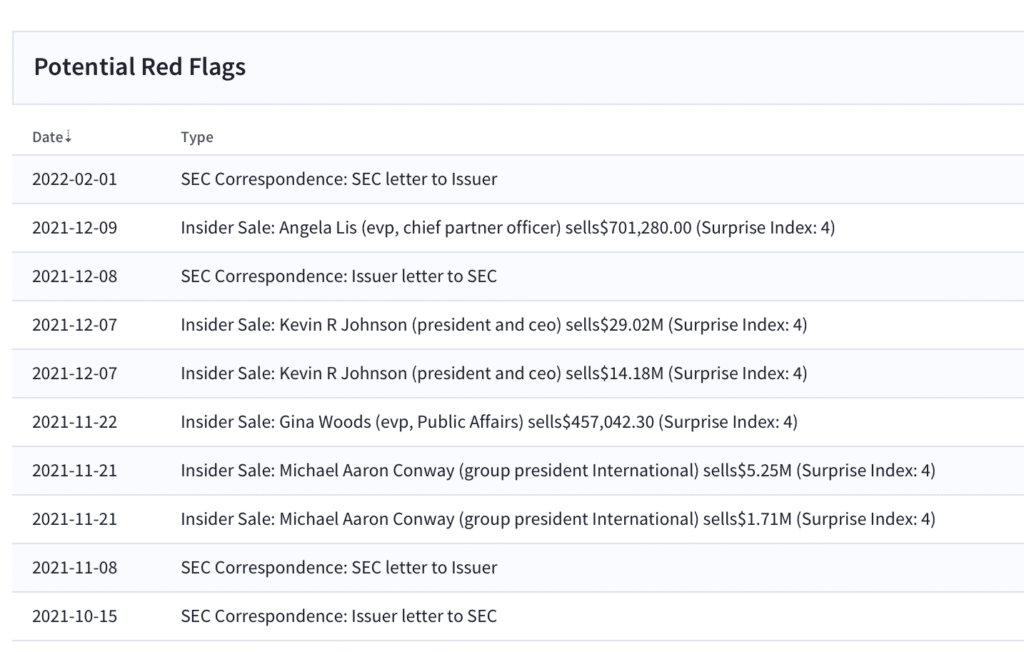 Source: Boardroom Alpha
ESG-related activist involvement. A group of over 75 investors, led by Trillium Asset Management, have urged Starbucks to adopt a global policy of neutrality for all current and future attempts of its workers to organize. Trillium previously wrote to Starbucks back in December to express concerns over the company's initial response to the union push.
Other red flags: Environmental concerns. The most notable here is recent SEC correspondence in December 2021 relating to disclosures around risks related to greenhouse gas emissions. Yesterday, Starbucks outlined a sustainability push that includes plans to ditch disposable cups. The company announced it is piloting reusable cup programs in six markets.
Insider selling. Johnson has been selling stock. Insider sales totaled $35 million over the last 6 months and $142 million over the past 12 months.
SBUX: Insider Selling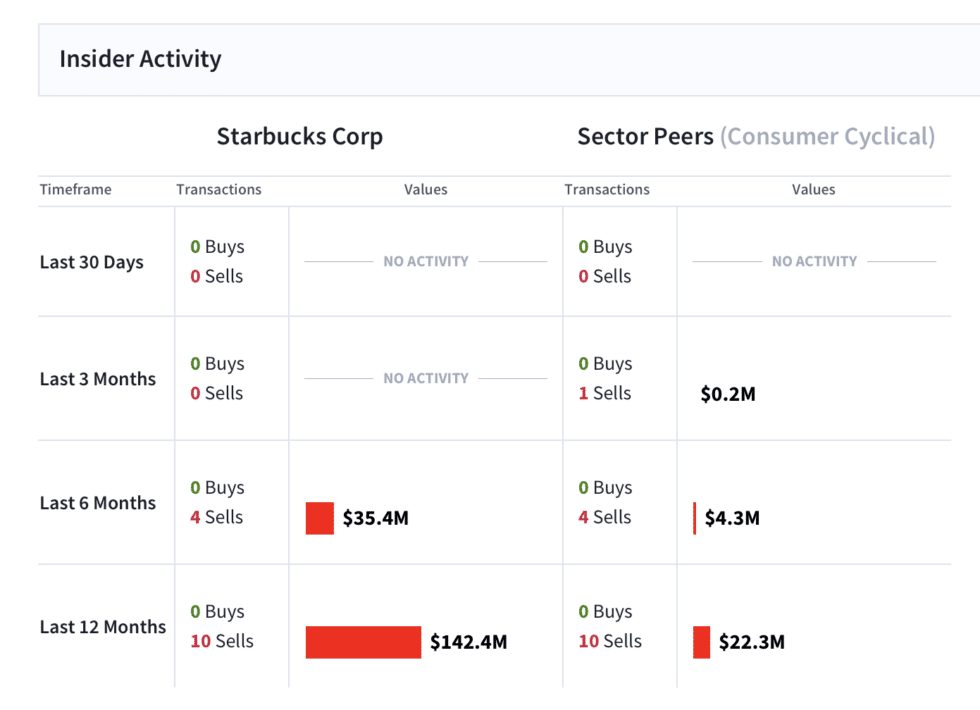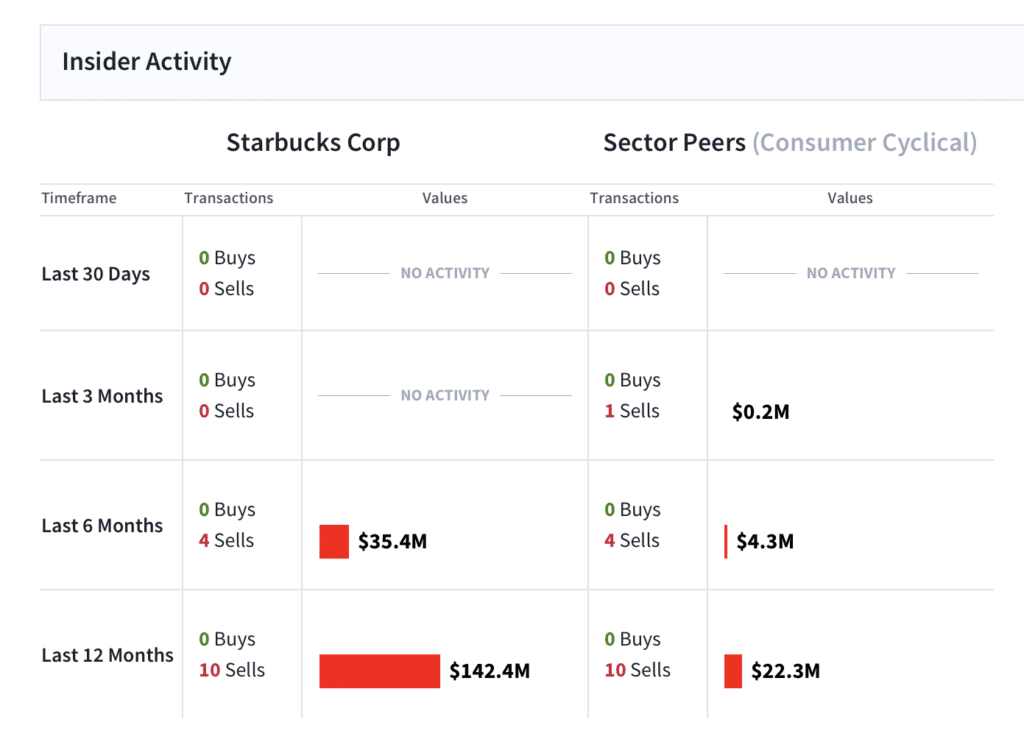 Source: Boardroom Alpha
All of this is happening at a critical juncture for SBUX stock. Earnings look muted in the near term. SBUX shares have declined 16% over the past 12 months versus a 10% gain in the S&P500 over the same period. SBUX shares are down 24% year-to-date, versus a 10% decline for the S&P 500 over the same period. We expect the shares to trade sideways in the near term, as rising wages, training, supply chain constraints and other costs as likely to weigh on earnings. Shout out to Bill Ackman and the team at Pershing Square (PSH), who famously exited their position in 2020 with a 79% gain to swap for an investment in Domino's (DPZ).
SBUX versus DPZ: 2020 to present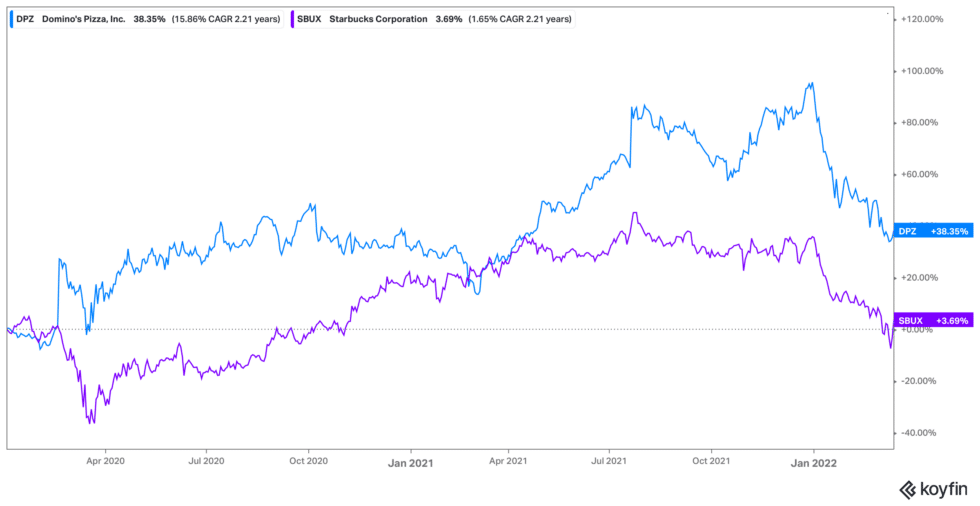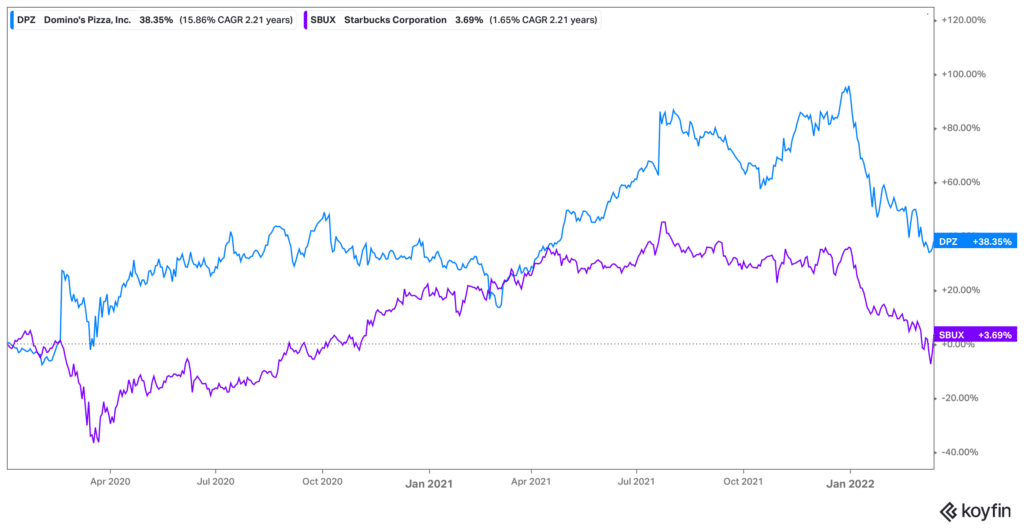 Source: Koyfin
Time for a change? Declining shareholder return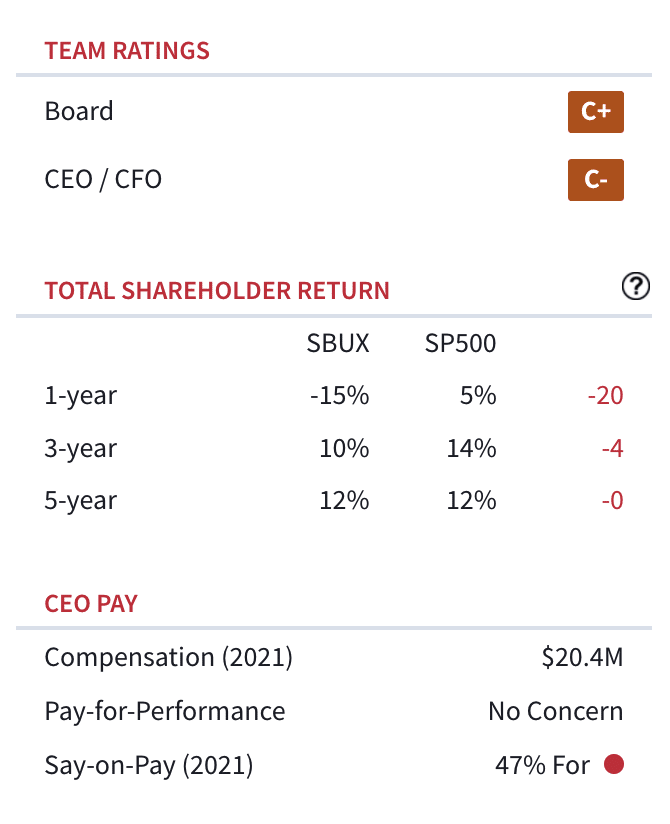 Source: Boardroom Alpha