ESSC announces DA with ICONIQ, its third after terminating with both JDS and Ufin Holdings. DUNE heads to court with its merger target. And the rest of the day's news in SPACs.
————————————————-
Free Investor Resources from Boardroom Alpha
—————————————————-
** Podcast: Know Who Drives Return
** Daily SPAC Newsletter
** Full SPAC Listing
ESSC with a second deal termination (JHD), announces a new DA with ICONIQ
East Stone Acquisition Corporation (ESSC) announced a DA with Dubai-based smart electric vehicle (EV) company ICONIQ Holding Limited (NWTN). The transaction values the company at a $2.5B post combination value. $33M in trust. No PIPE. East Stone has terminated its previously announced business combination agreement with JHD Holdings Limited (JHD). The SPAC also terminated a merger agreement with Ufin Holdings in February 2021.
Dune – TradeZero Lawsuit
Dune Acquisition Corporation (DUNE) announced the SPAC has filed a complaint in Delaware court, which alleges, that TradeZero fraudulently induced Dune to enter into the agreement and plan of merger and that TradeZero has materially breached the merger agreement.
Archimedes Fattens PIPE for SoundHound Deal
Archimedes Tech SPAC Partners filed an 8-K disclosing a subscription agreement for an additional $2M, raising the PIPE for its proposed merger with SoundHound to $113M. The transaction is now expected to raise $246M, including up to $133M of cash held in trust , subject to redemptions, and the fully-committed PIPE.
Elsewhere in SPACs
Global SPAC Partners Co. (GLSPT) extends deadline to July 13, 2022. 3.8M shares redeemed (22.7%). $0.03 added to trust.
Upcoming Merger and Extension Votes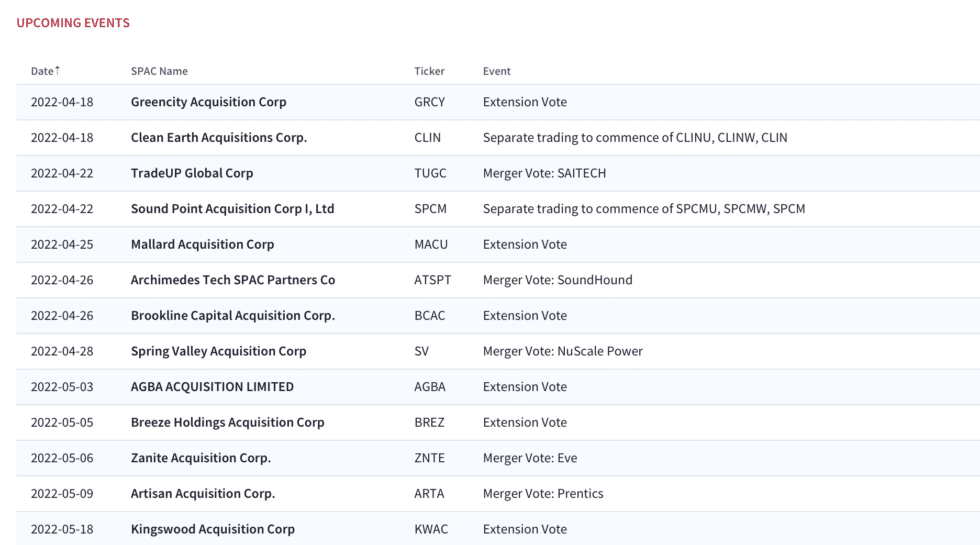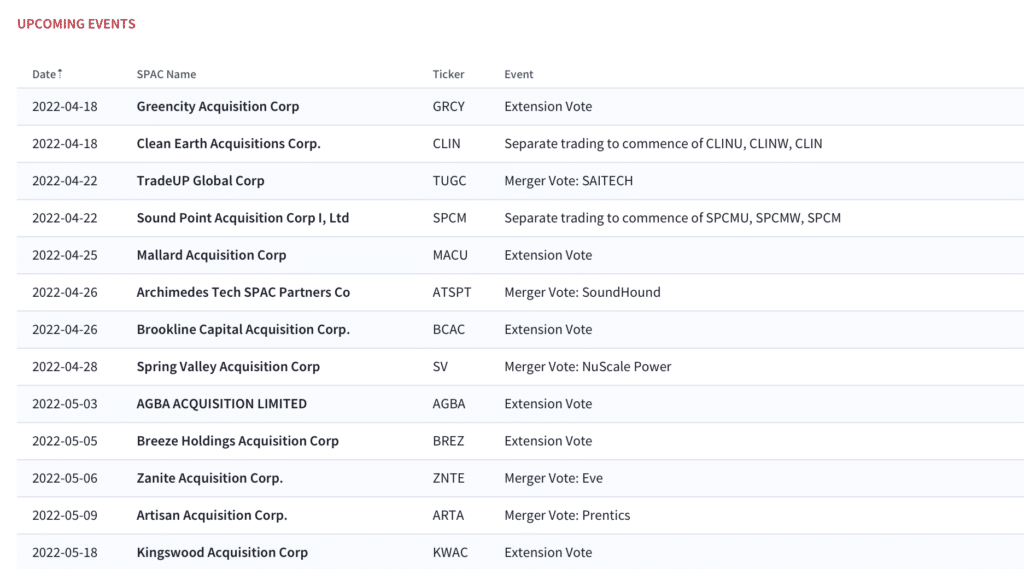 More from Boardroom Alpha
For ongoing tracking, analytics, and data on SPACs checkout Boardroom Alpha's SPAC Data and Analytics service.