A suspended corporate buyback amidst Schultz's personal buying spree, a unionization bruising: Starbucks is still struggling to send the right message to shareholders
Schultz is back again buying SBUX stock. Back for his third time leading Starbucks (SBUX), Howard Schultz is back in the news lately. First, he's been an aggressive buyer of SBUX stock. The interim CEO has purchased $15M worth of stock so far in May. Notably, Schultz is the only insider buying the stock over the past 12 months.
Meanwhile, SBUX pulled the plug on a $20 billion buyback program. On March 16, the Starbucks stated that it had reinstated its buyback program. At the time, the company indicated that over the next three fiscal years, it was planning to return $20 billion to shareholders. Schultz suspended Starbucks' share-repurchase program in April when he took over as interim CEO, noting that his priority was to invest in employees and stores. The company did not buy back shares in F2021, but had committed to spending $20 billion on buybacks and dividends over the next three years. The decision to halt the program and invest in employees and stores hasn't been well-received by investors. Shares fell ~7% on the April 4 announcement and haven't recovered since.
SBUX officer investment summary and insider trading history




Unionization push hasn't been handled well. If Starbucks' decision to halt buybacks was designed to bolster confidence in management, Schultz's latest handling of the employee unionization movement hasn't helped the cause. Many observers have speculated that Schultz was brought back to help the company fight this rising worker rights campaign. In the past, Schultz has successfully fought attempts to unionize Starbucks' U.S. stores. Under Schultz's leadership in the early 2000s, Starbucks had to reinstate fired workers and pay to settle labor law violations on several occasions.
Latte makers became front line workers. Whereas the push toward unionization at Amazon (AMZN) has been slower and choppier in gaining momentum, at Starbucks it's been nothing short of explosive. Since the first corporate Starbucks location voted to unionize late last year, Starbucks employees have filed petitions for union elections at more than 250 stores, spanning 35 states in the US. Workers have unionized at more than 70 Starbucks stores (out of ~9,000 total). At least five stores have voted "no" to organizing. Schultz, however, has has been a vocal opponent of unionization, calling it "an outside force that's going to dictate or disrupt who we are and what we do."
SBUX accused of intimidating and retaliating against unionization. Earlier this month, the top labor regulator in the U.S., The National Labor Relations Board (NLRB), filed a complaint against Starbucks, accusing the company of 29 unfair labor practice charges — including over 200 violations of the National Labor Relations Act. The agency is seeking to order Starbucks to recognize a union at a Buffalo, New York store where the union lost an initial vote last year. NLRB has accused Starbucks of intimidating and retaliating against workers who are seeking to unionize. Among the accusations are that Starbucks fired employees because they supported the union and intimidated workers seeking to unionize by subjecting them to surveillance. The complaint also notes Starbucks officials made "unprecedented and repeated" visits to Buffalo and held mandatory anti-union meetings, noting that leaders, including CEO Howard Schultz, promised an increase in benefits if workers refrained from organizing. Starbucks has said that as of August its minimum hourly wage will be $15 and that the average will be nearly $17.
SBUX: Market Snapshot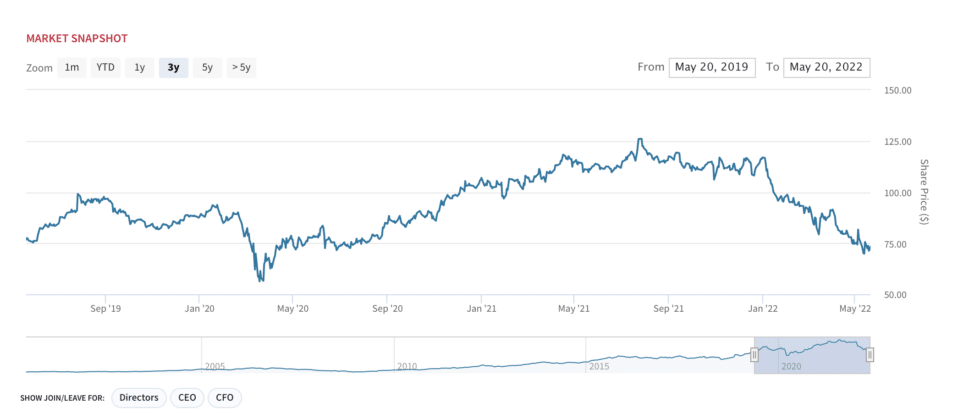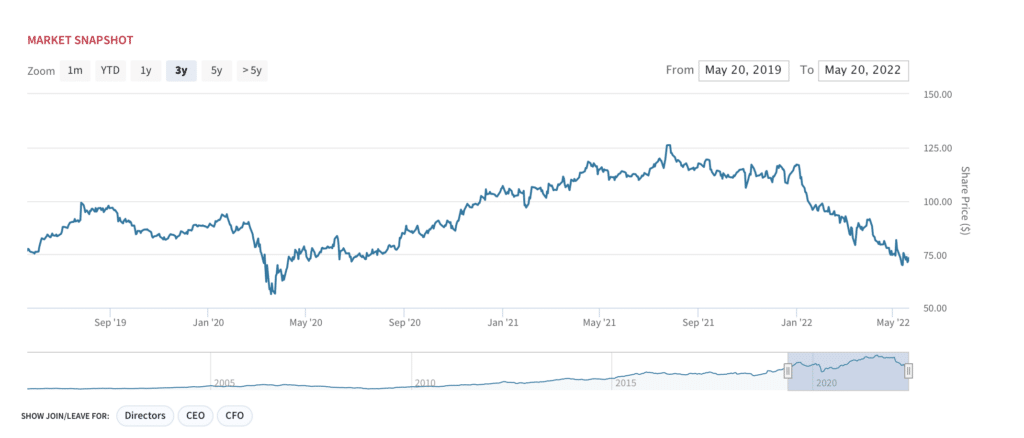 SBUX shares have underperformed emerging from the pandemic. Starbucks stock has declined 33% over the past year, versus a 7% decline for the S&P 500 over the same period. Shares are down over 40% from a 52-week high of ~$126 in July 2021. SBUX has been struggling as it navigates the business coming out of the pandemic — facing rising costs, closures in China, supply chain disruptions and increasing competitive threats. On its most recent FQ2 earnings call, the company suspended its 2022 outlook. The upshot is that Schultz outlined a plan to invest $1 billion into increasing pay, revamping training and store innovation.
From the 'Great Resignation' to the 'Great Reckoning.' Union levels have fallen to the lowest levels we've seen in recent years. In 2021, union membership was 10.3%– equal to 2019 levels. But decades of wage stagnation and support from younger progressives suggests that the pendulum may be swinging in the other direction. While Starbucks is raising its minimal wage, many workers may question if that's enough– especially considering former CEO Kevin Johnson's 2021 compensation package totaled $20.4 million. According their latest proxy, the ratio between median worker pay and CEO compensation was a staggering 1,579:1. Recent high-profile unionization campaigns at companies like Amazon (AMZN) and Tesla (TSLA) also come at a time when more Americans are quitting their jobs and many employers are scrambling to hire. In a post-pandemic economy, the push for unionization is part of the bigger picture of workers taking more control of their professional lives. Understandably, many workers are leveraging a historically tight labor market into raises, promotions, and other intangible benefits like flexible scheduling, remote work and cheaper and subsidized child care.
Hot topic: union membership and income inequality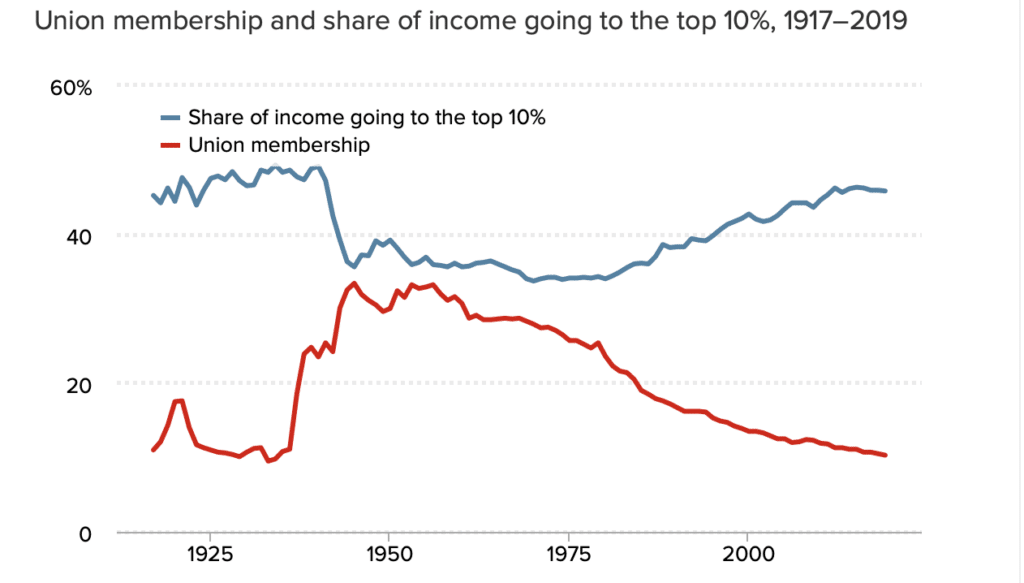 Regardless of which side of the union fence you're on, one thing is clear: the relationship between companies and their shareholders and employees is changing. Schultz said it himself in a recent letter to employees. Starbucks "is facing new realities in a changed world, pinched supply chains, the decimation caused by Covid, heightened tensions and political unrest, a racial reckoning and a rising generation which seeks a new accountability for business." In a world where ESG-related investing is the norm, consumers (and investors) want to invest in businesses that benefit society. They want to hold a company that talks of progressive values accountable.
Coffee is a lifestyle and an experience. Starbucks figured this out a long time ago that coffee is synonymous with culture and lifestyle. The company become an experience provider, creating a "third place" for socialization beyond home and the workplace. The company successfully built a relationship-driven, employees-first culture, encouraging its staff (called "partners" rather than employees), to form close bonds with each other. Even part-time U.S. staff receive stock options and health insurance. But now, other new coffee upstarts are figuring this out too — as demonstrated by some of Starbucks newest competitors. These include right-wing leaning Black Rifle Coffee (BRCC) and the cult-like following among the "brose" at Dutch Brothers (BROS). If Starbucks wants to send an inclusive, progressive message, many Starbucks employees and investors aren't getting it.
Regaining confidence in the story will be complicated. Being a better listener would carry SBUX far. Many observers predict that Starbucks' unionization push will fizzle as wage hikes and Schultz's other planned employee perks take effect. Regardless of how the coffee union story ends, there's something even bigger at stake for Starbucks: a successful turnaround in SBUX stock. Starbucks urgently needs to send a message to investors and employees that reinstates confidence in management and the company's path forward. So how Starbucks handles employee concerns is more important than ever. Schultz says he wants Starbucks to "reintroduce joy and connection back into the partner experience." Starbucks continued fumbling around unionization is diluting this message — potentially at the expense of long term shareholder value.
SBUX: Governance snapshot