Neuberger Berman announces $1.9 billion in committed capital. CFVI's Rumble seems to pivot by adding "non-political" content. And all the day's news in SPACs.
————————————————-
Free Investor Resources from Boardroom Alpha
—————————————————-
** Podcast: Know Who Drives Return
** Daily SPAC Newsletter
** Full SPAC Listing
Neuberger Berman launching more SPACs, addressing redemptions with committed capital
Just as things are starting to look bleak in SPACland, Neuberger Berman announced it has raised $1.9 billion in committed capital to form more SPACs. The firm will co-sponsor several SPACs, along with CC Capital Partners, a private investment firm formed and led by former Blackstone dealmaker Chinh Chu. The Neuberger Berman Opportunistic Capital Solutions Fund expects to address the issue of redemptions by committing to invest $200 million in each deal through a forward purchase agreement.
The second SPAC backed by the new fund, CC Neuberger Principal Holdings II, raised over $828 million and plans to merge with visual media company Getty Images in a deal that is expected to close later this year. The third fund-backed SPAC, CC Neuberger Principal Holdings III, raised about $402 million in a February 2021 IPO and is currently looking for a target.
The committed funds and backstops should help alleviate investor concerns surrounding deal execution. Redemption rates have been steadily increasing since the start of the year. February saw an average of 88% in redemptions. Thus far in March, redemptions are averaging around 67%, versus 4% in March 2021. As we've seen in recent weeks, SPAC deal cancellations are also on the rise and the deSPAC count is down to 2 so far this month.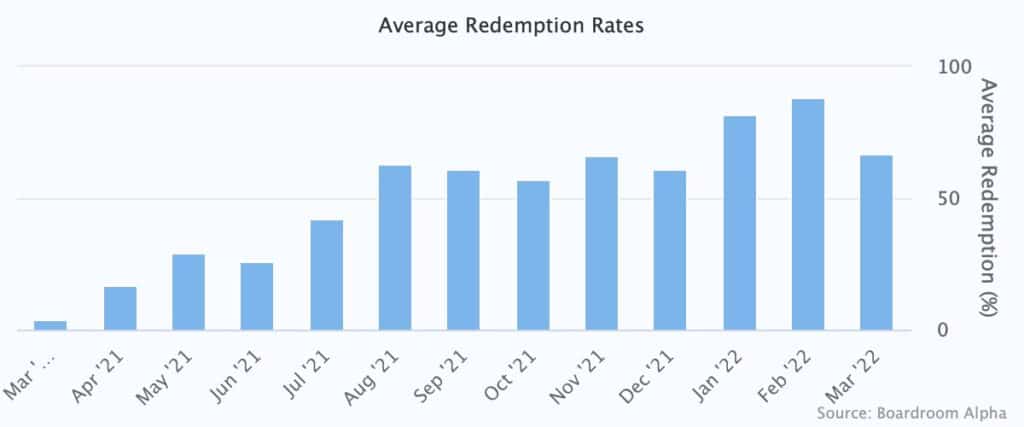 Rumble / CFVI diversifying its content strategy
Rumble announced the addition of 15 major content providers across non-political content categories. The move may be motivated, at least in part, to distance the company from its connection to the former president's nascent media conglomerate. As background, Rumble is expected to go public via SPAC CF Acquisition Corp. VI (CFVI). We've talked about the rise of alternative social media outlets and censorship in the past, particularly as it relates to another right-leaning social media outlet: Truth Social / Digital World Acquisition Corp. (DWAC). Given the recent falterings at Truth Social and Trump's absence from the platform, a content diversification strategy makes sense. As the company states: "Rumble is a high-growth neutral video platform that is creating the rails and independent infrastructure designed to be immune to cancel culture. Rumble's mission is to restore the Internet to its roots by making it free and open once again."
Elsewhere in SPACs
Bridgetown Holdings 2 (BTNB) approved its merger with Property Guru. Redemptions came to ~60%, or 17.733M shares. Ticker changes to PGRU 3/18
Calendared SPAC deal votes:
Mar 16 | FMAC –> Starry, Inc.
Mar 22 | TWNT –> TERRAN ORBITAL Corp
Mar 29 | HTPA –> Packable
Mar 31 | HLXA –> MoonLake Immunotherapeutics AG
SPAC extension votes:
Mar 18 | VHAQ
Mar 18 | AMAO
Mar 22 | THCA
More from Boardroom Alpha
For ongoing tracking, analytics, and data on SPACs checkout Boardroom Alpha's SPAC Data and Analytics service.
Free Investor Resources from Boardroom Alpha
Monthly SPAC Market Review
The Know Who Drives Return Podcast (all episodes)