Get excited about SPAC DAs today, in biotech! And all the day's news in SPACs.
————————————————-
Free Investor Resources from Boardroom Alpha
—————————————————-
** Podcast: Know Who Drives Return
** Daily SPAC Newsletter
** Full SPAC Listing
Brookline Capital Acquisition Corp and Apexigen seal the deal
Amidst a tough biotech market, Brookline Capital Acquisition Corp. (BCAC) and Apexigen announce their merger, which is expected to be completed in July 2022. Apexigen to be listed on Nasdaq under the ticker symbol "APGN." The deal implies an equity value of $205M (net-equity basis) and includes a
$15M PIPE, only ~$58M in trust and given recent trends, not a lot of that will be left after redemptions.
BCAC is led by CEO and Chairman Samuel Wertheimer, a Senior Scientific Advisor at Brookline Capital Markets, co-founder of financial services firm Poliwogg, and a former Private Equity Partner at OrbiMed Advisors; and President Scott Katzmann, co-founder and Managing Partner.
BCAC SPAC Team Summary


Apexigan's preliminary phase 2 data in esophageal cancer are due in the first half of 2022, with results in sarcoma patients following by the end of the year. Apexigen's primary indication is melanoma and plans to talk to the FDA about a potential registration path for its CD40 agonist sotigalimab in melanoma. The plan is to develop sotigalimab as a treatment for patients who have previously received PD-1/L1 checkpoint inhibitors such as Merck's Keytruda.
PONO and Benuvia are official
PONO Pono Capital Corp (PONO) and drug developer Benuvia announce their merger at an EV of $440M. No PIPE . The company expects $115M in gross proceeds (assuming no redemptions). This expectation, however, could prove optimistic given the recent wreckage of scrapped SPAC deals. The transaction is expected to be completed in Q3.
Honolulu, HI-based PONO is led by CEO and Director Dustin Shindo, the CEO of Junify, a provider of zero trust network access software, and former CEO of Pono Health.
Bunuvia is a manufacturer of active pharmaceutical ingredients focused on cannabinoids. The company owns FDA-approved cannabinoid drug SYNDROS and one of the largest synthetic cannabinoid manufacturing facilities in the U.S. SYNDROS is FDA approved for the treatment of chemotherapy-induced nausea and vomiting in cancer patients and loss of appetite in AIDS patients. Benuvia is also pursuing a 505(b)(2) approval pathway with the FDA for three additional indications, including its previously announced plans to commence Phase II clinical trials in the 2H 2022 for Alzheimer's Disease Agitation (Agit-AD).
PONO Snapshot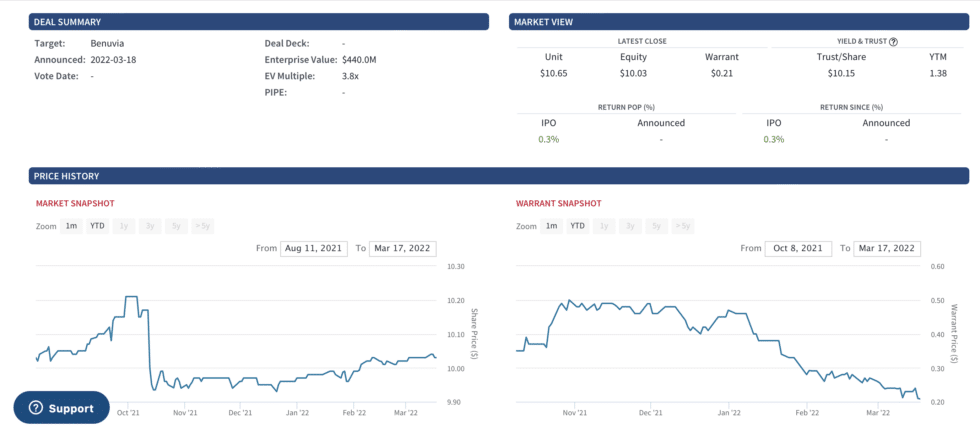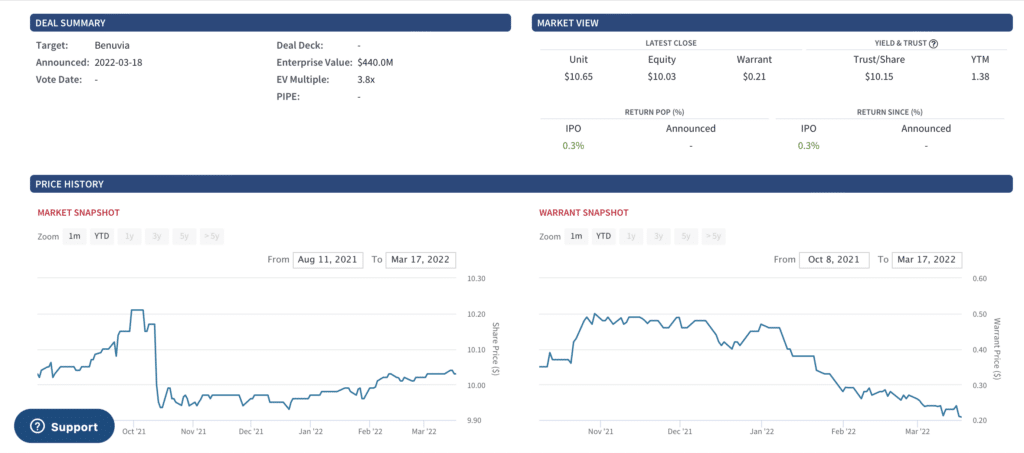 Elsewhere in SPACs
Asia online property portal Property Guru (PRGU) deSPACed today from Richard Li and Peter Thiel-backed Bridgetown 2. Shares traded down on the day, closing at $8.46. PropertyGuru becomes public amidst a challenging tech environment. Shares of other Asia-based U.S. listed companies Sea (SE) and Grab Holdings Ltd. (GRAB) are down ~ 60% year-to-date pm disappointing earnings.
In the world of SPAC short squeezes, Sky Harbor Group (SKYH) had its day (>80% short interest), trading up 25% to close at $35.72.
Waiting on redemption figures from ALLG / MOTV and FRGE / FMAC
SPAC Calendar
SPAC Deal Votes
Mar 22 | TWNT –> TERRAN ORBITAL Corp
Mar 29 | HTPA –> Packable
Mar 31 | HLXA –> MoonLake Immunotherapeutics AG
SPAC Extension Votes
VHAQ stays in the game, extends to June 28, 2022
AMAO is at the wire, pushing its extension vote (scheduled today) to Monday. March 22 liquidation date.
Mar 18 | BRLI
Mar 22 | THCA
More from Boardroom Alpha
For ongoing tracking, analytics, and data on SPACs checkout Boardroom Alpha's SPAC Data and Analytics service.