Extensions, liquidations, deals and cancellations were abound in November. Below we take a look at the month's activity in the SPAC market.
SPAC Redemptions Remain Sky High
Among the continuous themes in SPAC land these days is that SPAC redemptions remain sky high. Average redemptions for completed SPACs ticked in at over 83% in November, below October's all-time high of 95%, though still at a ridiculous level that signals investors have no interest in owning the deSPAC'd company. In current market conditions the only SPAC capital staying in is seemingly part of a non-redemption (paid) agreement, or locked up sponsor capital.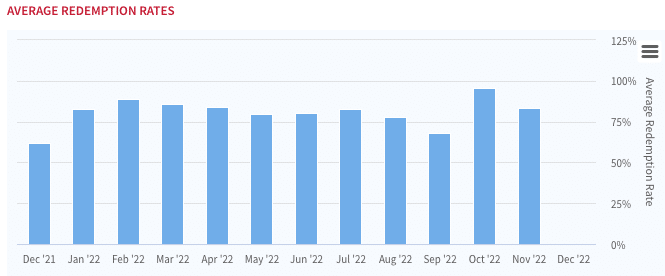 SPAC Liquidations are Accelerating, Fast
At the current pace December will smash the record for SPAC liquidations. Currently there are 27 officially set to throw in the towel, adding 16 from November we are sure to see over 70 SPACs call it quits this year alone.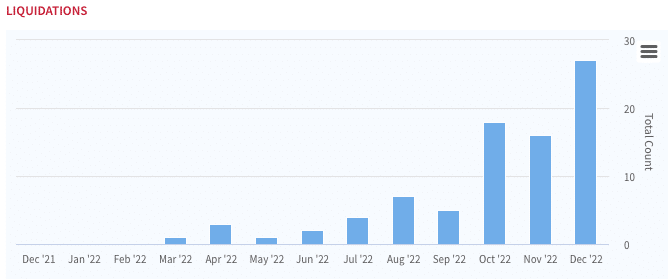 Early liquidation votes continue to come in at a blistering pace as well. While this nuance (see excise tax) might potentially go away, we are still set up for a very active December in early liquidations.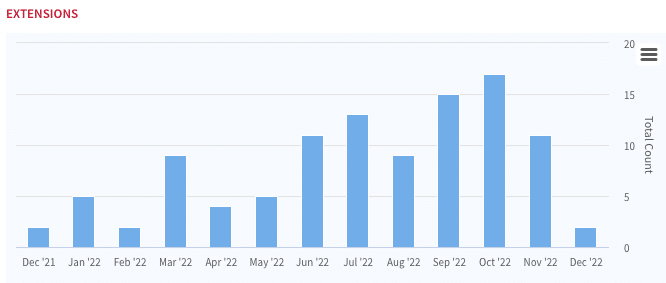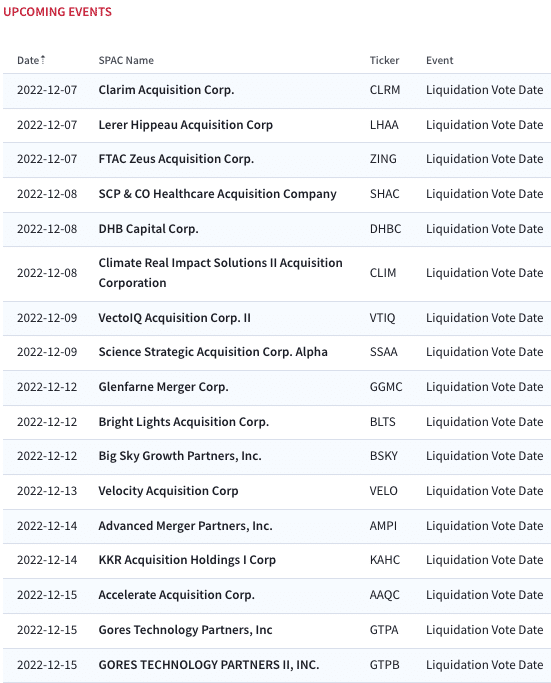 The Great SPAC Maturity Wall
SPAC maturities are fast approaching as we end the year. The great maturity wall of Q1 is staring down at 230+ SPACs currently set to expire within the Q1 2023 timeframe. This number will likely decrease slightly due to extensions and early liquidations, but that will be on the margins and not change the fact that ~200 SPACs will likely be gone by the time we hit April.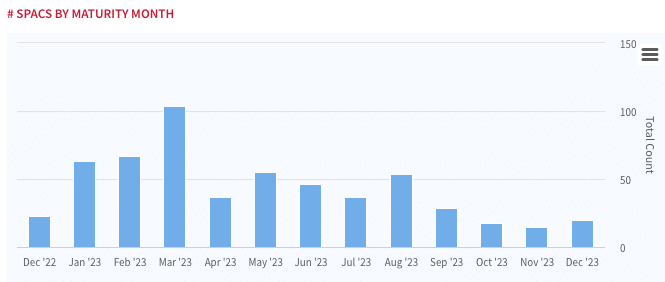 SPAC Merger Activity
Despite all the talk about extensions and liquidations, 23 SPACs managed to get definitive agreements announced in the month, just slightly below October's 26.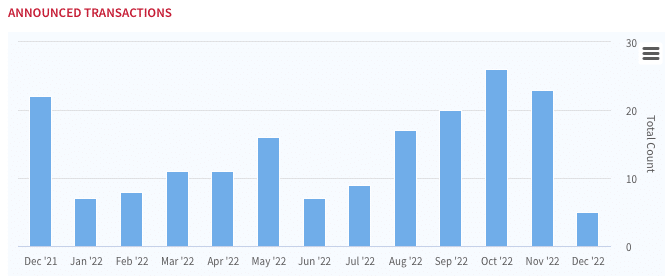 SPAC Deal Announcements in November 2022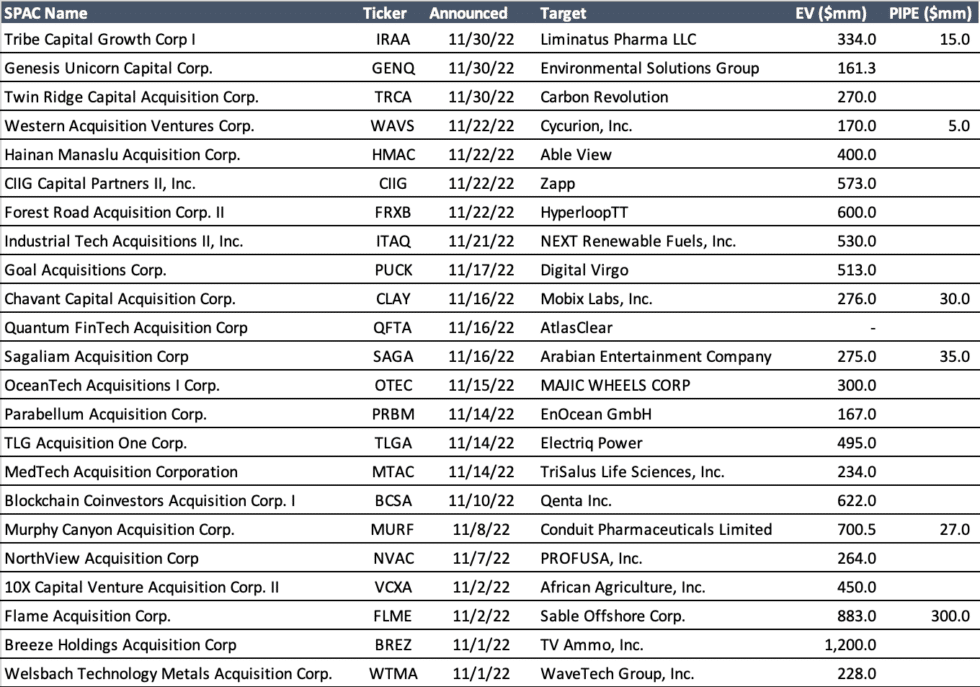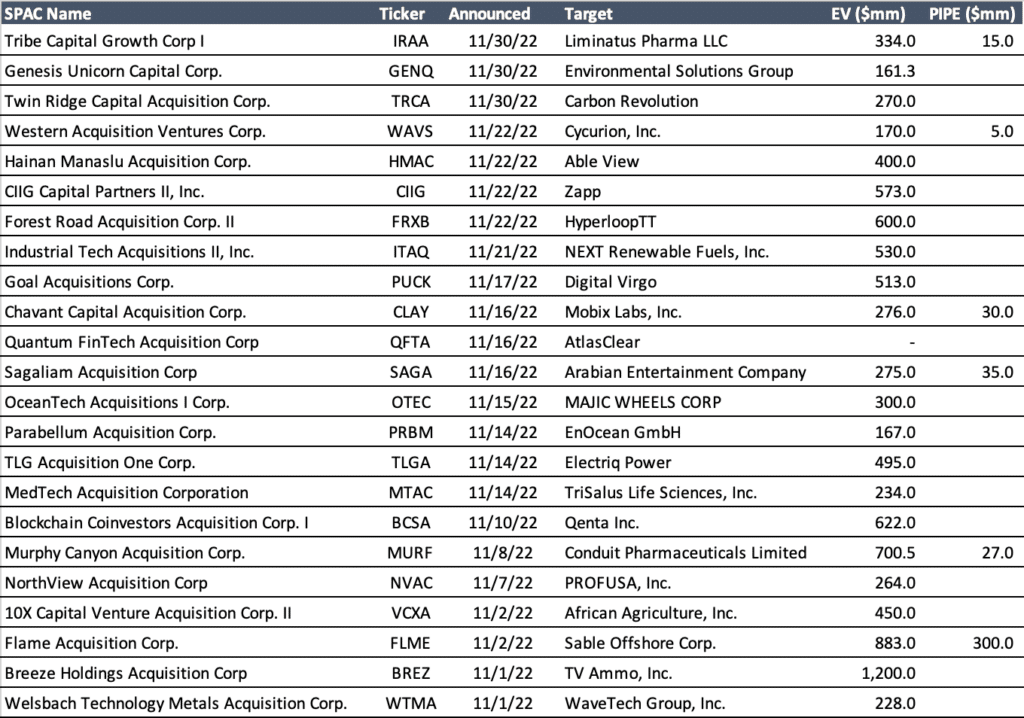 SPAC Deals Terminated in November 2022
The 23 additional DAs were offset by 3 terminations which, frankly, have been at a more abated pace lately. With high profile deals like Circle/Concord, it's not looking good at the moment for crypto-related SPAC deals.

SPAC IPOs, Nothing to See Here
Not much to see here, just a single $57.5M issuance for Plutonian Acquisition Corp. SPAC IPOs aren't looking like there is a comeback in the near term.