Welcome back for another dive into the month's SPAC activity. January proved to be a bit calmer than December, mostly due to the deluge of early liquidations and votes that were jammed into the last month of 2022. The SPAC market continues to (largely) be in a wait and hold pattern – almost zero primary activity, and kicking the can down the road on most new DAs.
Keep a watchful eye on the upcoming March maturity wall. Will activity return to normal (well, pre 2021 mania) when the market clears out a bit? Could certainly be.
We take a rundown of the month that was below.
Redemptions and Listing Requirements
As always with SPACs the market is ever changing and throwing new challenges at participants. The latest of which concerns continuing to satisfy public listing conditions at both the NYSE and NASDAQ. Given the massive uptick in both extension votes and shareholder redemptions at these votes, a large volume of SPACs are suddenly in danger of becoming delisted for failing to meet certain market thresholds (e.g. 500k public shares or a given market value of securities ~$35M – $50M depending on the exchange).
NYSE moves to delist Parabellum Acquisition Corporation (PRBM)
SPACs are suddenly faced with another obstacle, of whether or not to voluntary delist and liquidate or find a path forward to compliance. A few factors that might help gain compliance: pending business combination that are close to completion or founder shares selling into the public markets.
Keep an eye out for SPACs who will cancel their extensions due to a level of redemptions that are simply too high.
SPAC Merger Activity
SPAC to Merge with (Public) DeSPAC WEJO
It's been a prevailing thought over the last year, given the swift decline in valuations of many DeSPACs, that beaten down DeSPACs would be an attractive merger targets at dirt cheap prices for companies to scoop up. We've seen several DeSPACs get acquired including Rocket Pharmaceuticals' (RCKT) purchase of Renovacor (RCOR) and Chicken Soup For the Soul Entertainment's (CSSE) entertaining purchase of Redbox Entertainment (RDBX).
However January brought us one of the more interesting transactions we haven't seen in some time (h/t to this tweet thread) since perhaps the Talbots / BPW situation in 2009. The situation is thus: Wejo Limited (WEJO) a former DeSPAC (Nov '21 close) announced that it entered a business combination with current SPAC TKB Critical Technologies 1 (USCT).
Read the business combination agreement here
The current transaction values Wejo at just a fraction of its original SPAC deal valuation, and although the market has reacted positively to the news, WEJO shares currently sit at just $0.89 per share. Obviously a far cry from the $10 base SPAC level. Takeaway here: keep an eye out for more zombie DeSPACs, with perhaps limited ability to raise funds in the capital markets, looking for non-traditional ways of staying alive.
The craziness of the WEJO / USCT situation aside, January was otherwise par for the course in terms of new DA activity, with 16 new transactions agreed upon. The last day of the month brought about a surprise with the Largest SPAC deal announced in some time as L Catterton Asia Acquisition Corp. (LCAA) struck a $5.4B deal to take EV Maker Lotus Technology Inc. public. There have only been 2 other deals announced with an EV > $1B since the beginning of November.
While shares traded in higher volume following the announcement, there still was little movement on the commons relative to the massive deal-day pops of 2020/2021. However, the warrants have spiked over 3,000% to $0.68. Given the severely beaten down prices of warrants – home run trades do still exist.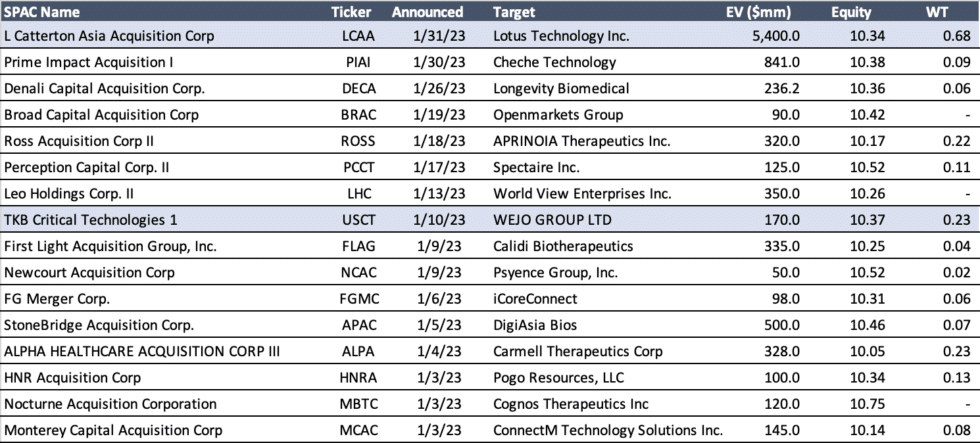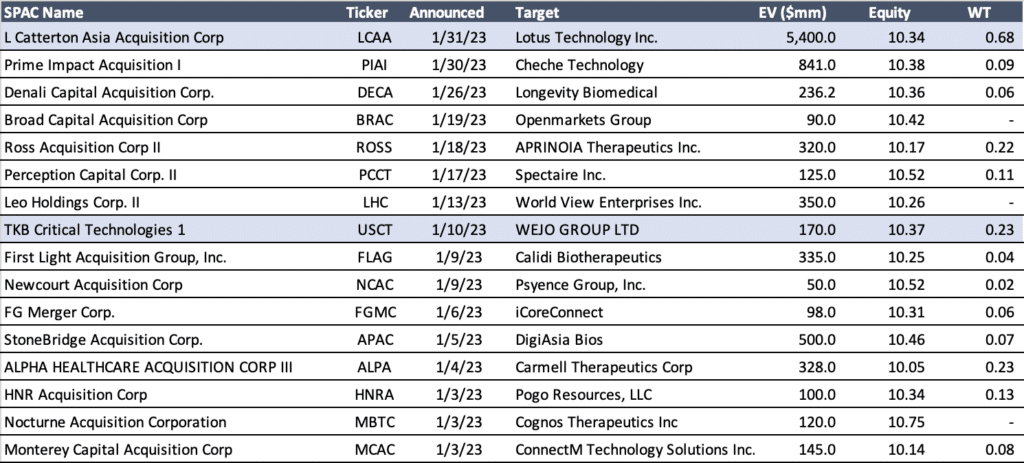 DeSPAC Bankruptcies
Similarly to what we spoke about above, there are several dying DeSPACs that haven't been able to keep afloat, raise money, or find someone to acquire them. The result has been a slew of companies filing for bankruptcy protection. Two new DeSPAC bankruptcy filings occurred in January:
They join: CORZ, QNGY, FSRD, and CRXT to have filed since September. Unfortunately, this doesn't feel like a trend that will abruptly end.
SPAC IPOs – Nothing to See Here
Just two debuts in January 2023, bringing the amount of Pre-Deal SPACs to 357 as of this writing. The average pre-deal SPAC is averaging ~$10.23 per share with warrants a paltry $0.08 (which is actually up a couple of cents over the last two months.)
Primary issuance is likely to largely remain on hold until the market clears out, and seasoned SPAC sponsors jump back into the fray.



The Great SPAC Maturity Wall
The maturity wall of March (that we've been speaking about for months) is upon us, although largely less drastic as previously discussed. 1) several SPACs front ran their deadlines and liquidated in 2022 and 2) another cohort of SPACs have since kicked the can and extended their deadlines out. That being said there are still ~100 SPACs that are set to expire from now till the end of the March. The extensions have created a new wall set to come in August 2023. We'll keep an eye out.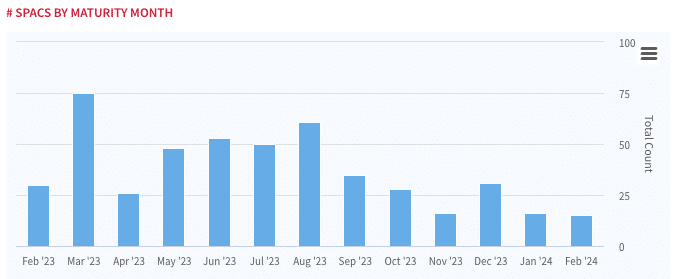 DeSPAC'ing
6 SPACs were able to successfully complete a business combination in the new year. Aside from some ticker change low-float rollercoaster trading activity, none of the companies are trading particularly well, all well below $10 and NAV.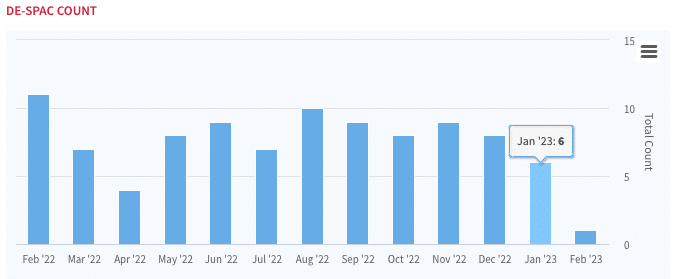 January DeSPAC Transactions