Elon + Twitter = DWAC + CFVI status check. And the rest of the day's news in SPACs.
————————————————-
Free Investor Resources from Boardroom Alpha
—————————————————-
** Podcast: Know Who Drives Return
** Daily SPAC Newsletter
** Full SPAC Listing
SPAC IPO: Aimfinity (AIMA)
Aimfinity Investment Corp. I (AIMA). The SPAC completed a $70M offering, with a seemingly complicated Class 1 + 2 warrant structure, hoping to incentivize shareholders to hold. The offering is expected to close on April 28, 2022. The SPAC target will not be limited to a particular industry or geographic region, although it will not complete a combination with a target headquartered in China or with a majority of its business in China.
SPAC Deal: AOGO / EON Realty
Arogo Capital Acquisition Corp. (AOGO) announced a DA with EON Realty, a virtual and augmented reality and knowledge metaverse company. The transaction values EON at an enterprise value of $655M and is expected to provide EON with approximately $101M in cash (before redemptions and other expenses). The transaction is expected to close by the second half of 2022.
Elsewhere in SPACs
Twitter isn't the only social media play in the spotlight. The conversation once again turns to Truth Social (DWAC) and Rumble (CFVI). While CFVI shares are flat YTD, DWAC shares have declined 21% YTD. There's more than one thing wrong at the Trump social media company. According to a recent short report by Kerrisdale Capital:
"DWAC's stock has much further to fall given the demonstrably misleading statements in DWAC's registration statement, the status of TMTG's operations at the time the merger agreement was executed, the cast of characters seeking to consummate that merger and those individuals' flagrant disregard for SEC rules and regulations."
Thanks to Axios for a good status check on both companies.
Upcoming Merger and Extension Votes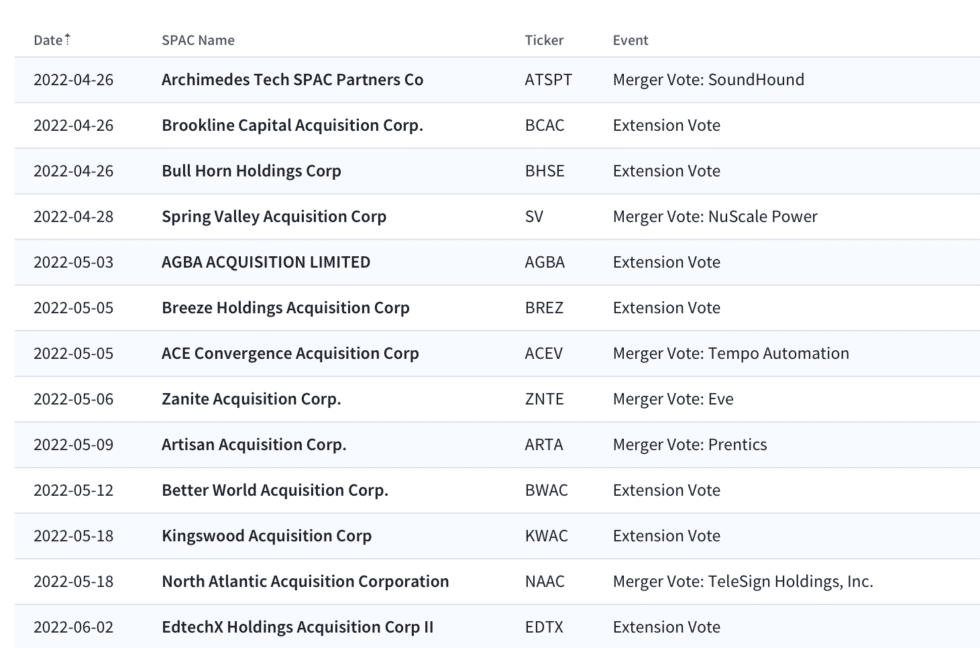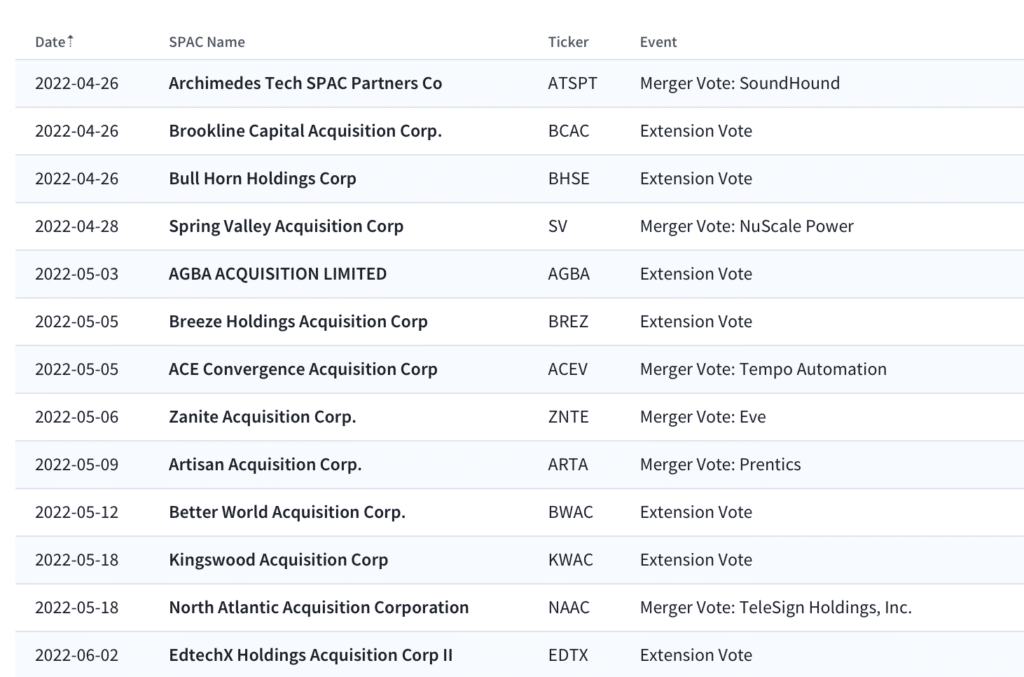 More from Boardroom Alpha
For ongoing tracking, analytics, and data on SPACs checkout Boardroom Alpha's SPAC Data and Analytics service.