Cannabis SaaS player SpringBig already running on fumes, losing 47% in its first day of trading. Grove Collaborative gets the green light. And the rest of the day's news in SPACs.
————————————————-
Free Investor Resources from Boardroom Alpha
—————————————————-
** Podcast: Know Who Drives Return
** Daily SPAC Newsletter
** Full SPAC Listing
SPAC Deal: FHLT/ Excelera
Future Health ESG Corp. (FHLT) announces DA with Excelera, a "leading accountable care organization and AI platform." The transaction values Excelera at $459 million and includes a $100M PIPE priced at $11. Trust size $201M.
SPAC Deal: LJAQ / Moolec
LightJump Acquisition Corp. (LJAQ) announces DA with Moolec, a "science-based food ingredient company." The transaction values the company at a $504M equity value and includes a $10M backstop. $138M in trust.
SBIG Drops 50% in its First Day of Trading
SaaS-based cannabis marketing platform Springbig (SBIG) deSPAC'd from Tuatara Capital Acquisition Corp. today. Shares traded down 47% to close at $4.50.
VGII/ Grove Collaborative: Merger approved
Virgin Group Acquisition Corp. II (VGII) approves merger with sustainable household products supplier Grove Collaborative. No information on redemptions. Grove Collaborative will trade on the NYSE as GROV on 6/17.
ACKIT Extension
Ackrell SPAC Partners (ACKIT) to add $0.043 / share or $200k each month it extends past June to Sept. Vote on 6/21.
DUNE Extension
Dune Acquisition Corp. (DUNE) gets an 18 month extension to December 22, 2023. Shares redeemed: 16,409,033 (95.1%). $8.4M in trust.
SPAC Daily Movers


SPAC Calendar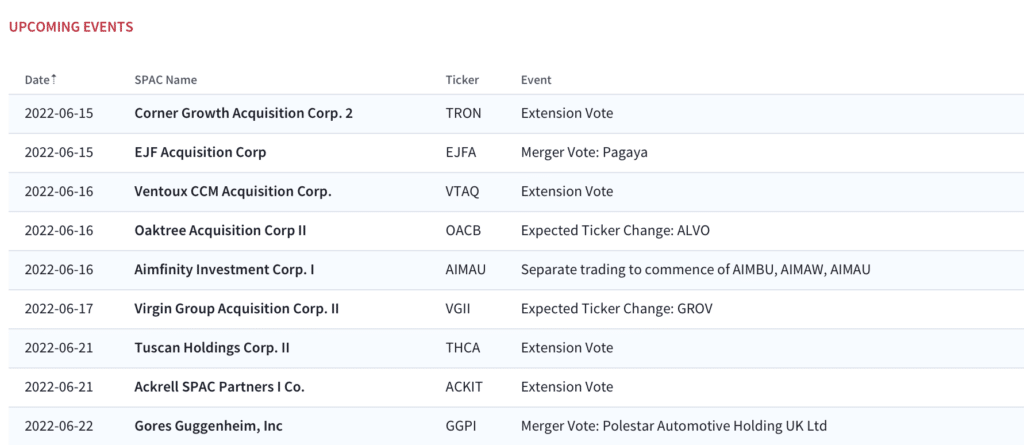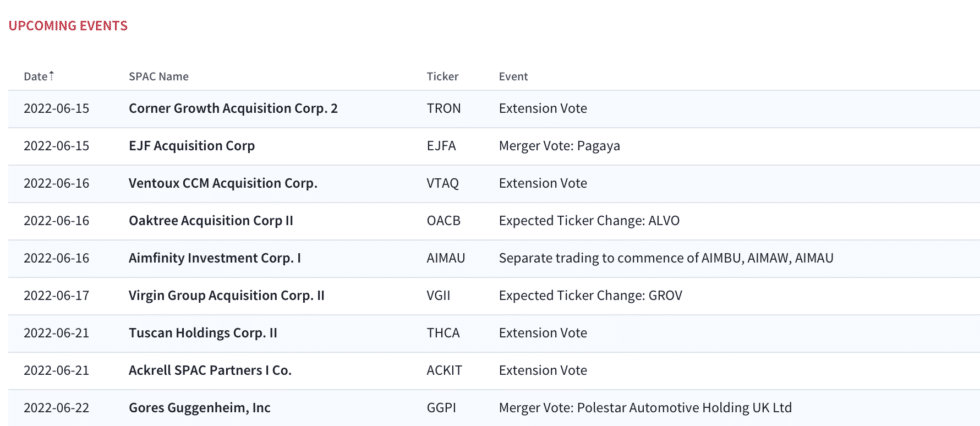 More from Boardroom Alpha
For ongoing tracking, analytics, and data on SPACs checkout Boardroom Alpha's SPAC Data and Analytics service.