Deal termination for BIOT/Blade Therapeutics. Two merger votes this week. And the rest of the day's news in SPACs.
————————————————-
Free Investor Resources from Boardroom Alpha
—————————————————-
** Podcast: Know Who Drives Return
** Daily SPAC Newsletter
** Full SPAC Listing
BIOT / Blade Therapeutics Deal Termination
Biotech Acquisition Corp. (BIOT) terminates deal with biopharma Blade Therapeutics. BAC will continue to look for another target.
Deal Announcement: MACA / Holisto
Moringa Acquisition Corp. (MACA) announces DA with Holisto, "a technology based online travel booking platform." Implied pro forma equity value is approximately $405M. No PIPE; $30M convertible. Expected close during the fourth quarter of 2022. Slide deck here.
Deal Announcement: MUDS / Blue Nile
Mudrick Capital Acquisition Corp. II (MUDS) announces DA with Blue Nile, an online retailer of conflict-free natural diamonds. The transaction values Blue Nile at a pro forma implied equity value of $873M and is expected to generate approximately $450 million of capital before expenses (assuming no redemptions). $321M in trust. Includes an $80M PIPE (~$50M of which has been pre-funded by MUDS). Existing Blue Nile shareholders will retain 39% of the combined company's pro forma equity.
Two merger votes this week
Merger votes for Virgin Group Acquisition Corp. II (VGII) and sustainable consumer products company Grove Collaborative and EJF ACquisition Corp. (EJFA) and AI infrastructure player Pagaya Technologies.
SPAC Daily Movers


SPAC Calendar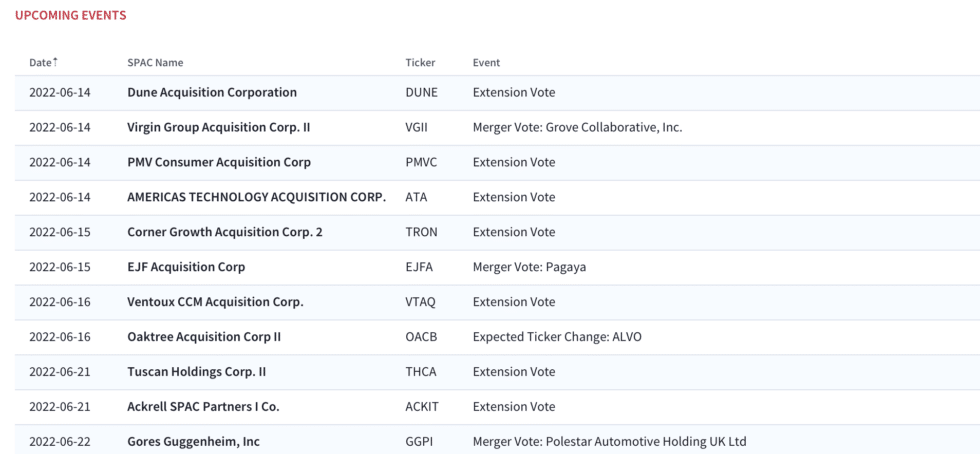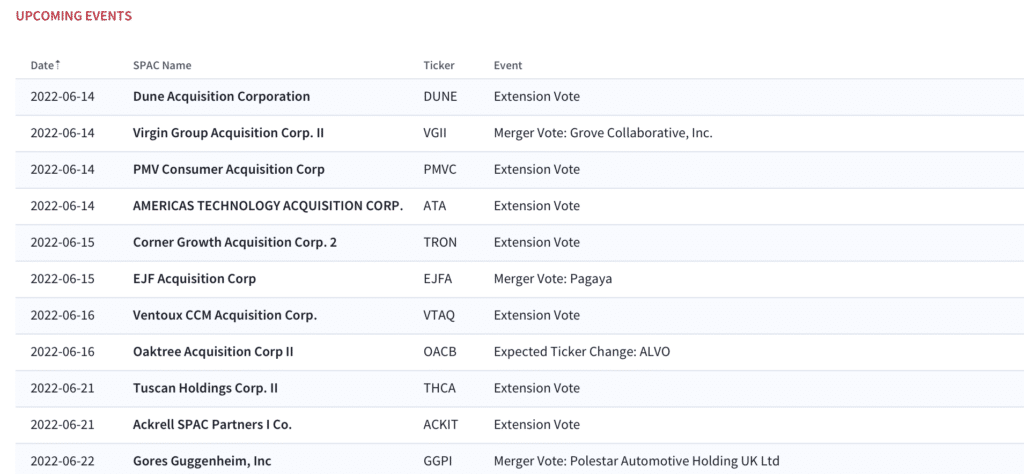 More from Boardroom Alpha
For ongoing tracking, analytics, and data on SPACs checkout Boardroom Alpha's SPAC Data and Analytics service.