The highly anticipated DeSPAC traded higher on the day.
Polestar (PSNY) finally made its long anticipated debut as a public company today, and its shares rose slightly to close at $13.00. While not a screaming increase, there is some belief that PSNY will continue to trade at a premium to its previous SPAC NAV as a signal that this is the strongest DeSPAC to hit the market in some time. Could it be a catalyst for a renewed sense of positivity for the SPAC market?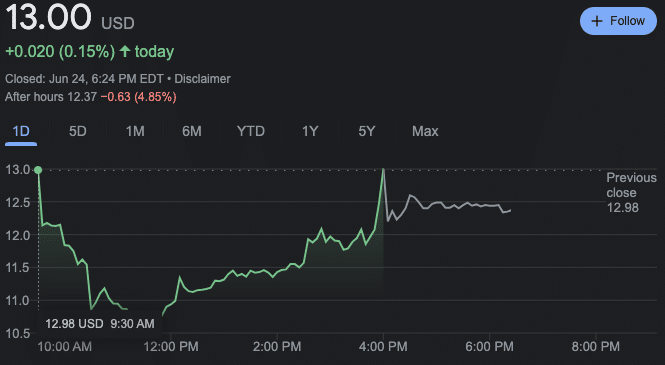 Otherwise, it was a pretty benign week in SPAC land. IPO issuance remains almost dead, with just 1 new issue pricing this week. As for DAs, just 2 hit the tape. The name of the game continues to be SPACs with announced deals struggling to get across the finish line, and the rest paying up to kick the can down the road via extensions. 6 SPACs are lined up for extension votes already thru mid July, and another 4 have merger votes scheduled. Buckle up!
Elsewhere in SPACS
Chavant Capital Acquisition Corp (CLAY) filed for a 7/14 extension vote, 6 months from July to January and adding $0.033 per share not redeemed
SK Growth Opportunities Corporation (SKGR) priced a $200M IPO, 1 share, 1/2W. DB books and the SPAC is ESG focused


Agrico Acquisition Corp (RICO) preliminarily announced that shareholders have approved their Kalera deal ahead of its scheduled 6/27 shareholder meeting
Northern Lights Acquisition (NLIT) fell the most today as it was set to vote on its Safe Harbour deal, shares dipped over 10% to close at $7.95. Still awaiting results from the company.
It appears Gobi Acquisition Corp. (GOBI) intends to liquidate early as it has filed a preliminary proxy to vote on the issue (no date yet set). GOBI's current deadline is over a year away in July-2023. Shares closed at $9.92 and NAV is ~$10.01
SPAC Calendar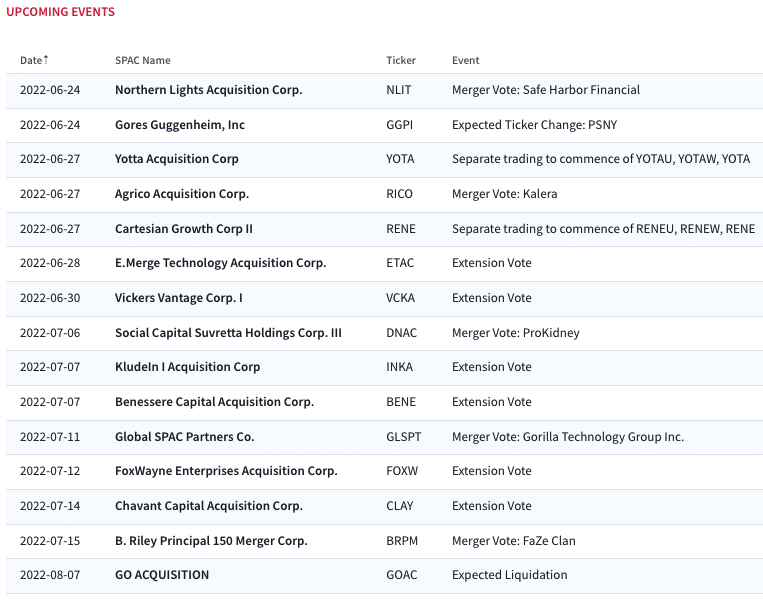 Today's Price Action
Biggest Gainers
2.16% ~ $ 9.92 | GOBI – Gobi Acquisition Corp. (Pre-Deal)
1.94% ~ $ 9.99 | THCP – Thunder Bridge Capital Partners IV, Inc. (Announced)
1.00% ~ $ 10.12 | USCT – TKB Critical Technologies 1 (Pre-Deal)
.71% ~ $ 9.95 | PORT – Southport Acquisition Corporation (Pre-Deal)
.62% ~ $ 9.69 | IPAX – Inflection Point Acquisition Corp. (Pre-Deal)
.61% ~ $ 9.85 | ATEK – Athena Technology Acquisition Corp. II (Pre-Deal)
.52% ~ $ 9.73 | BSAQ – Black Spade Acquisition Co (Pre-Deal)
.52% ~ $ 9.75 | JUGG – Jaws Juggernaut Acquisition Corporation (Pre-Deal)
.51% ~ $ 9.81 | MACC – Mission Advancement Corp. (Pre-Deal)
.51% ~ $ 9.94 | RVAC – Riverview Acquisition Corp. (Announced)
.51% ~ $ 9.94 | SAGA – Sagaliam Acquisition Corp (Pre-Deal)
.50% ~ $ 9.97 | SMAP – Sportsmap Tech Acquisition Corp. (Pre-Deal)
.50% ~ $ 10.06 | TGR – Kimbell Tiger Acquisition Corp (Pre-Deal)
.41% ~ $ 9.78 | AFAQ – AF Acquisition Corp. (Pre-Deal)
.41% ~ $ 9.80 | DTOC – Digital Transformation Opportunities Corp. (Pre-Deal)
.41% ~ $ 9.84 | BIOT – Biotech Acquisition Company (Announced)
.41% ~ $ 9.84 | FTPA – FTAC Parnassus Acquisition Corp. (Pre-Deal)
.41% ~ $ 9.85 | PV – Primavera Capital Acquisition Corporation (Announced)
.41% ~ $ 9.88 | AACI – Armada Acquisition Corp. I (Announced)
.41% ~ $ 9.89 | ZING – FTAC Zeus Acquisition Corp. (Pre-Deal)
Biggest Losers
-10.67% ~ $ 7.95 | NLIT – Northern Lights Acquisition Corp. (Announced)
-4.88% ~ $ 8.58 | RICO – Agrico Acquisition Corp. (Announced)
-1.10% ~ $ 9.88 | FHLT – Future Health ESG Corp. (Announced)
-.91% ~ $ 9.79 | AGGR – Agile Growth Corp. (Pre-Deal)
-.81% ~ $ 9.81 | MEAC – Mercury Ecommerce Acquisition Corp (Pre-Deal)
-.81% ~ $ 9.96 | TETE – Technology Telecommunication Acquisition Corp (Pre-Deal)
-.80% ~ $ 9.93 | ROCG – Roth CH Acquisition IV Co. (Pre-Deal)
-.72% ~ $ 9.71 | TCVA – TCV Acquisition Corp. (Pre-Deal)
-.71% ~ $ 9.75 | DISA – Disruptive Acquisition Corp I (Pre-Deal)
-.70% ~ $ 9.92 | SGHL – Signal Hill Acquisition Corp. (Pre-Deal)
-.70% ~ $ 9.98 | MNTN – Everest Consolidator Acquisition Corp (Pre-Deal)
-.69% ~ $ 10.10 | VTAQ – Ventoux CCM Acquisition Corp. (Announced)
-.60% ~ $ 9.92 | LGTO – LEGATO MERGER CORP. II (Announced)
-.60% ~ $ 9.96 | KINZ – KINS Technology Group Inc. (Pre-Deal)
-.51% ~ $ 9.69 | BRIV – B. Riley Principal 250 Merger Corp. (Pre-Deal)
-.47% ~ $ 27.82 | DWAC – Digital World Acquisition Corp. (Announced)
-.41% ~ $ 9.65 | HCVI – Hennessy Capital Investment Corp. VI (Pre-Deal)
-.41% ~ $ 9.76 | HPLT – Home Plate Acquisition Corp (Pre-Deal)
-.40% ~ $ 9.89 | IGTA – Inception Growth Acquisition Ltd (Pre-Deal)
-.40% ~ $ 9.94 | VHNA – Vahanna Tech Edge Acquisition I Corp. (Pre-Deal)