Once trading at $175, DWAC may be coming back to reality and shareholders will feel the sting.
Digital World Acquisition (DWAC) is again the star of the SPAC show as it released details on its grand jury subpoenas. The stock dropped -9.56% on the day down to $25.16. DWAC also announced that Bruce Garelick (CSO of Rocket One) was stepping down as a director. While DWAC is still trading far above the $10 NAV for SPACs, investors that have gotten caught up in the somewhat irrational exuberance while it was trading towards its high will be feeling real pain today. For more details, Bloomberg covers it well here.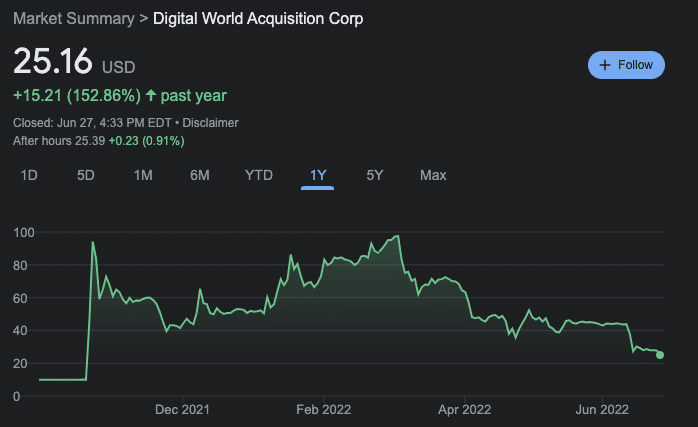 Elsewhere in SPACS
FYI, there are still around 590 pre-deal SPACs searching for targets and only 9 new deals announced in June so far. And, there are over 115 SPACs with announced deals trying to get their deals over the line. Our June monthly SPAC Market Update will cover numbers in more depth, but it's clear that June hasn't delivered any positive surprises regarding the SPAC market's health.
NORTHERN LIGHTS ACQUISITION (NLIT) adjourned again until June 28th for the vote on their deal with Safe Harbor Financial. This follows their reschedule from last week. NLIT ended the day up 16.5% at 9.26.
TUSCAN HOLDINGS CORP II (TCHCA) released details on their extension vote from last week. 39,400 shareholders redeemed and the extension was approved to December with an addition of $0.10 for the first 3 months and $0.033 / month thereafter. Note, around 84% of shareholders had already redeemed.
Agrico Acquisition (RICO) went to vote today, but we're awaiting details.
EMERGE TECHNOLOGY ACQUISITION (ETAC) and VICKERS VANTAGE (VCKA) both have extension votes this week.
ICYMI, we had a SPAC IPO on Friday: SK Growth Opportunities for $200M
Polestar (PSNY) (ex- GPPI) dropped -14.5% today and ended at $11.11. PSNY will be closely watched as many believe it to be a "real" EV company that could actually break the deSPAC curse, outperform for shareholders, and become a rival to Tesla. In the near term, shareholders should expect plenty of volatility.
Yotta Acquisition (YOTA) and Cartesian Growth II (RENE) both started trading separately today.
Iron Spark I (ISAA) declared a quarterly cash dividend of $0.05 per share. Payable July 15, 2022 to stockholders of record on July 8, 2022.