Plus the rest of the day's news in SPACs
The first half of 2022 has punished just about everyone in the market, but especially those in SPAC land. Our monthly SPAC Market Review will be released tomorrow and we'll go in depth across SPACs, but today's after hours double deal termination typifies the market year-to-date.
Today's FTCV and ISLE deal terminations make it 9 for the month of June. ISLE was the smaller of the two deals and the merger with Cytovia Therapeutics was valued around $370M at the time it was announced. The FTCV / eToro deal was substantially larger. Original deal valuation was $10B, but given how the market has eroded broadly and newcomers like HOOD and COIN are down -54% and -81% respectively, it's not a surprise to see the deal fall through.


Elsewhere in SPACs
Looking forward, the SPAC calendar is dominated by extension votes. And, for those deal votes still upcoming, investors will certainly have their doubts about deals coming to completion.
Apollo pulled Spartan IV (SRTN) with a registration withdrawal today, but still has APGB and ACRO looking for deals.
Enjoy Technology Inc (ENJY) which deSPAC'd in October 2021 has already filed for chapter 11 bankruptcy.
Digital World Acquisition (DWAC) popped +7%, on no news, but at $24.16 remains down -53% YTD.
Northern Lights (NLIT) surged over $25 during the day, but settled and closed the day up 9% at $10.61. Shareholders approved the merger on the 28th of June and today it extended the deadline to consummate the merger to September 28, 2022.
deSPACs continued to suffer with Polestar (PSNY — ex-GGPI) dropping -10% to $8.81. DAVE, which started trading below $1 in early June dropped another -8% and is now at just $0.69. MSPR dropped -14% and is now at $2.14.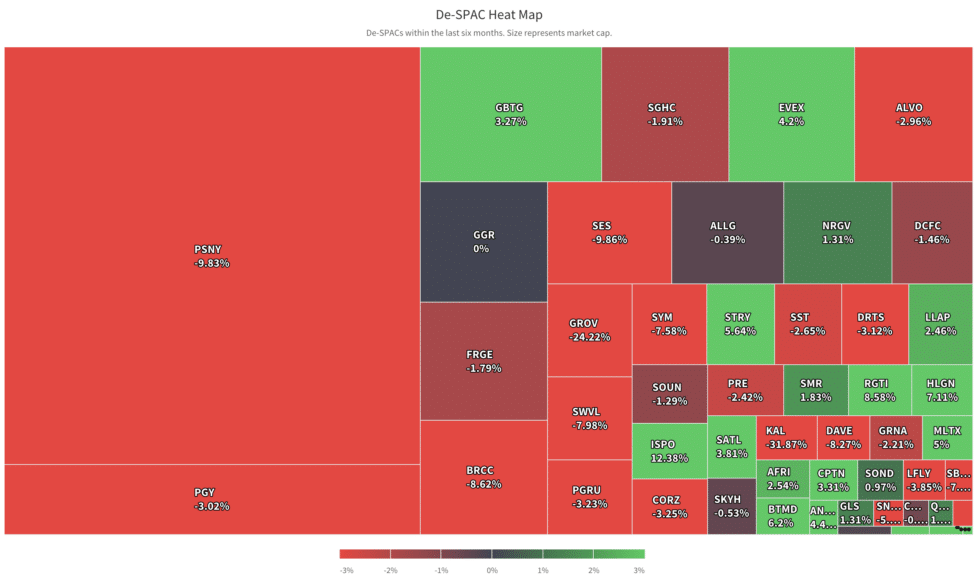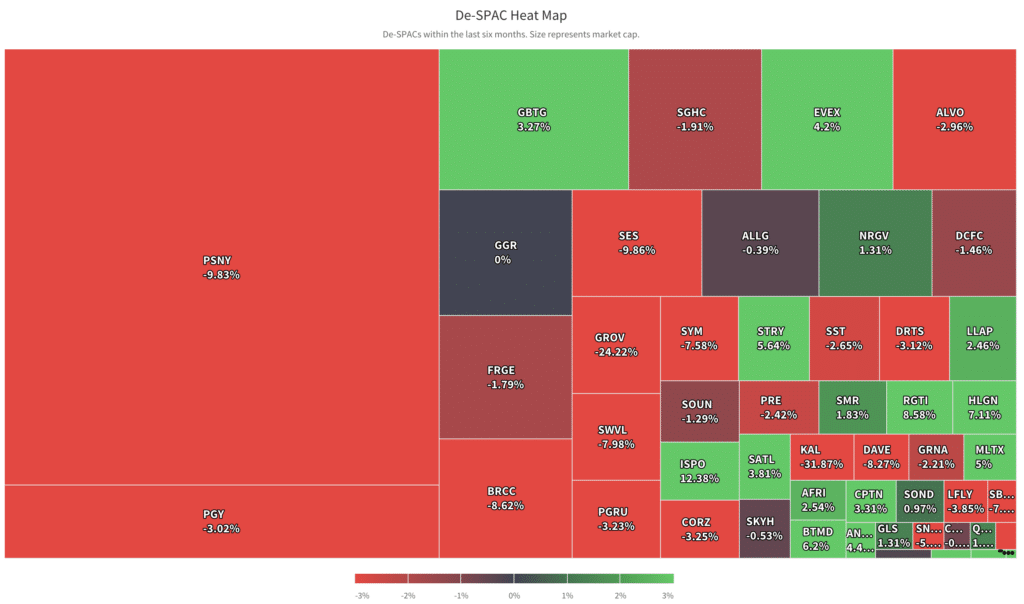 June's deSPACs Feel the Pain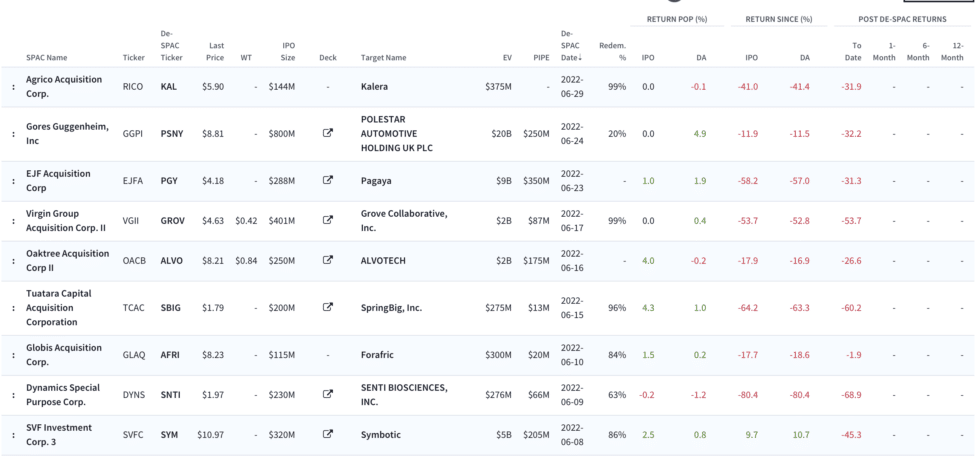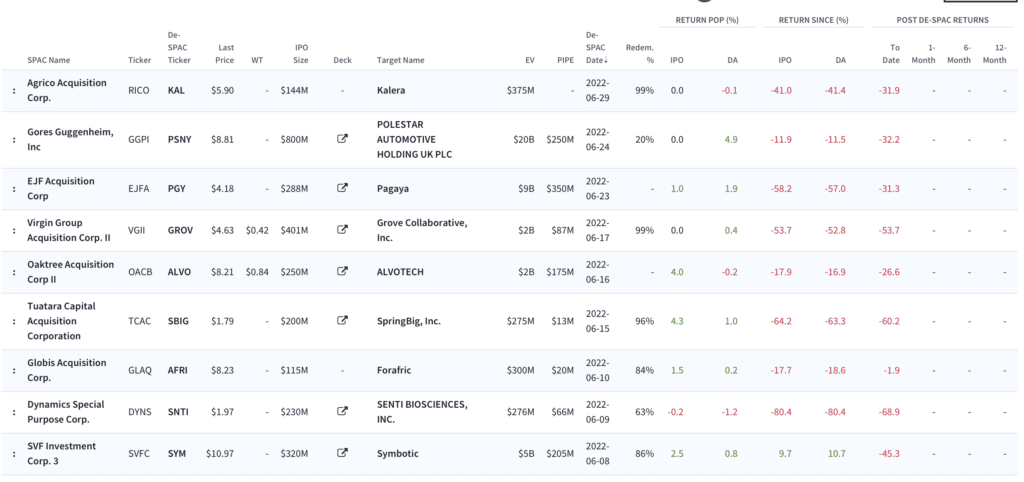 SPAC Calendar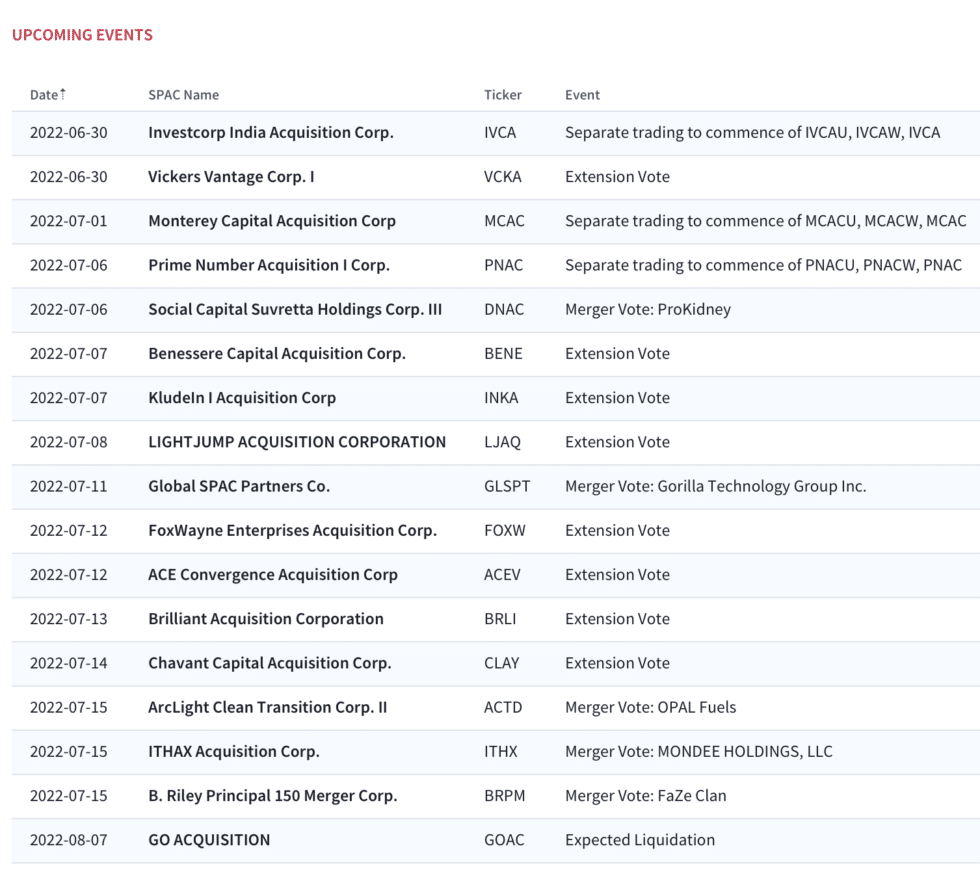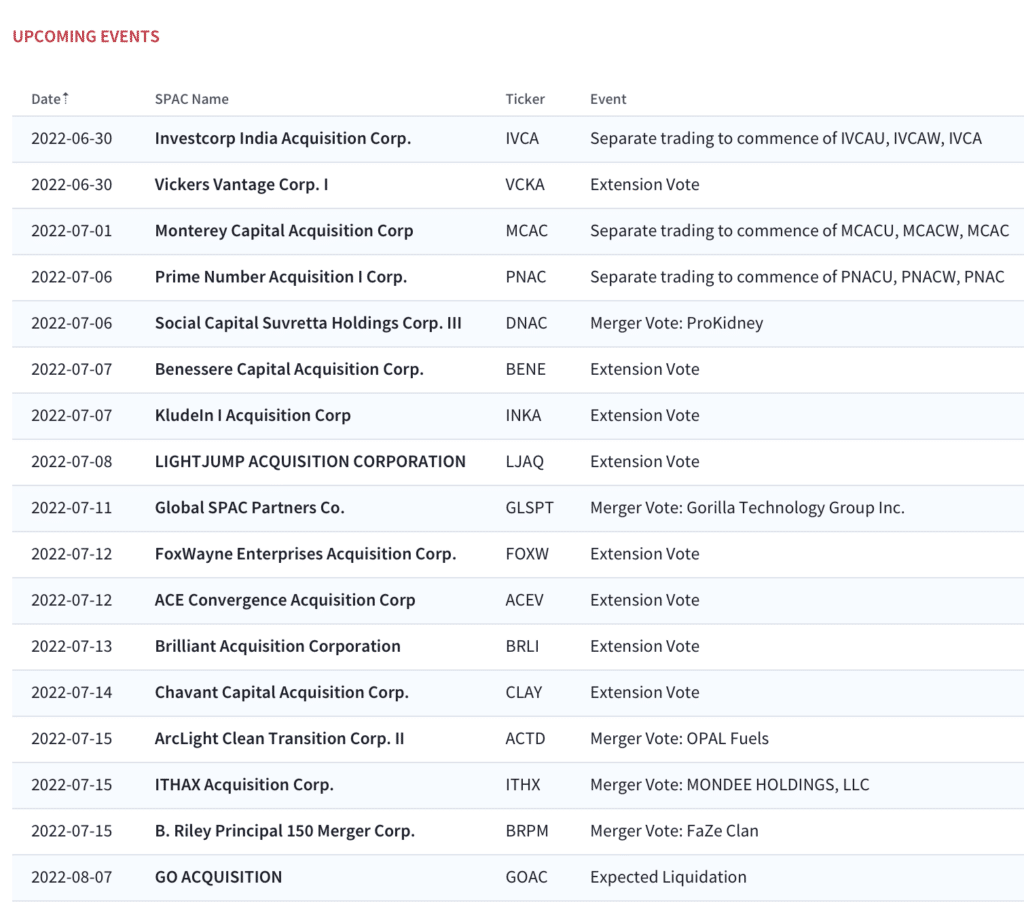 Today's SPAC Stock Movers
Biggest Gainers
9.38% ~ $ 10.61 | NLIT – Northern Lights Acquisition Corp. (Announced)
7.04% ~ $ 24.16 | DWAC – Digital World Acquisition Corp. (Announced)
1.58% ~ $ 10.29 | REVE – Alpine Acquisition Corp. (Announced)
.92% ~ $ 9.84 | GBBK – Global Blockchain Acquisition Corp. (Pre-Deal)
.90% ~ $ 10.04 | HCMA – HCM Acquisition Corp (Pre-Deal)
.80% ~ $ 10.02 | KNSW – KnightSwan Acquisiton Corp (Pre-Deal)
.72% ~ $ 9.81 | GLHA – Glass Houses Acquisition Corp. (Pre-Deal)
.70% ~ $ 10.05 | HHGC – HHG Capital Corporation (Pre-Deal)
.61% ~ $ 9.87 | NHIC – NewHold Investment Corp. II (Pre-Deal)
.60% ~ $ 10.07 | RACY – Relativity Acquisition Corp (Pre-Deal)
.51% ~ $ 9.82 | MACA – Moringa Acquisition Corp (Announced)
.51% ~ $ 9.83 | MDH – MDH Acquisition Corp. (Pre-Deal)
.50% ~ $ 9.97 | MBSC – M3-Brigade Acquisition III Corp. (Pre-Deal)
.50% ~ $ 10.00 | PIAI – Prime Impact Acquisition I (Pre-Deal)
.50% ~ $ 10.06 | TRON – Corner Growth Acquisition Corp. 2 (Pre-Deal)
.50% ~ $ 10.13 | MEOA – Minority Equality Opportunities Acquisition Inc. (Pre-Deal)
.46% ~ $ 9.80 | GAQ – Generation Asia I Acquisition Ltd (Pre-Deal)
.45% ~ $ 10.06 | RNER – Mount Rainier Acquisition Corp. (Announced)
.41% ~ $ 9.86 | AGCB – Altimeter Growth Corp. 2 (Pre-Deal)
.41% ~ $ 9.91 | VCXA – 10X Capital Venture Acquisition Corp. II (Announced)
Biggest Losers
-1.03% ~ $ 9.87 | PEPL – PepperLime Health Acquisition Corp (Pre-Deal)
-1.00% ~ $ 9.90 | MEKA – MELI Kaszek Pioneer Corp (Pre-Deal)
-.80% ~ $ 9.86 | BHAC – Crixus BH3 Acquisition Corp. (Pre-Deal)
-.80% ~ $ 9.92 | LGTO – LEGATO MERGER CORP. II (Announced)
-.71% ~ $ 9.77 | LDHA – LDH Growth Corp I (Pre-Deal)
-.69% ~ $ 10.03 | IFIN – InFinT Acquisition Corporation (Pre-Deal)
-.61% ~ $ 9.74 | GGMC – Glenfarne Merger Corp. (Pre-Deal)
-.60% ~ $ 9.86 | AIMA – Aimfinity Investment Corp. I (Pre-Deal)
-.52% ~ $ 9.61 | LOCC – Live Oak Crestview Climate Acquisition Corp. (Pre-Deal)
-.51% ~ $ 9.67 | ACRO – Acropolis Infrastructure Acquisition Corp. (Pre-Deal)
-.51% ~ $ 9.68 | CORS – Corsair Partnering Corporation (Pre-Deal)
-.51% ~ $ 9.71 | GFOR – Graf Acquisition Corp. IV (Pre-Deal)
-.51% ~ $ 9.77 | PTOC – Pine Technology Acquisition Corp. (Pre-Deal)
-.51% ~ $ 9.79 | BOAS – BOA Acquisition Corp. (Announced)
-.50% ~ $ 9.89 | SAGA – Sagaliam Acquisition Corp (Pre-Deal)
-.50% ~ $ 9.92 | DECA – Denali Capital Acquisition Corp. (Pre-Deal)
-.50% ~ $ 9.92 | PORT – Southport Acquisition Corporation (Pre-Deal)
-.46% ~ $ 9.76 | PANA – Panacea Acquisition Corp. II (Pre-Deal)
-.41% ~ $ 9.66 | TPBA – TPB Acquisition Corporation I (Pre-Deal)
-.41% ~ $ 9.76 | RONI – Rice Acquisition Corp. II (Pre-Deal)