AMAO, with just $16M left, announced a post close business DA.
American Acquisition Opportunity Inc. (AMAO) provided some late afternoon fireworks in announcing a $111M EV SPAC deal for Royalty Management Corporation. No PIPE or financing was announced along with the deal and the company expects up to $16M in proceeds in a no redemption scenario. AMAO, has already been heavily redeemed at prior extension votes.
While it's welcoming to see some deal activity, the pace is not near where it needs to be to efficiently clear the 590 SPACs out there searching for deals. And while DeSPAC performance may be down, lest us not forget that the poor performance is also being felt both in the broader stock market but also in traditional IPOs. As Bloomberg pointed out the latest IPO fell over 12% initially in the biggest listing since May.
IPO volume is down across the board. 2020 and 2021 were record years thanks to SPACs
DeSPACs are ticking up in the last few months, and looks like that will be the case moving forward with a slew of merger votes on the horizon. Lots to be looking out for. See below for the latest SPAC calendar, and look out for the end of this week as we'll be releasing our June 2022 SPAC market review.
Elsewhere in SPACs
Agrico Acquisition Corp. (RICO) and Kalera closed their deal and shares will being to trade as KAL tomorrow 6/29. The company has not yet released redemption figures
Northern Lights Acquisition Corp (NLIT) shareholders approved Safe Harbour deal, waiting on details from the companies.
Upcoming SPAC Calendar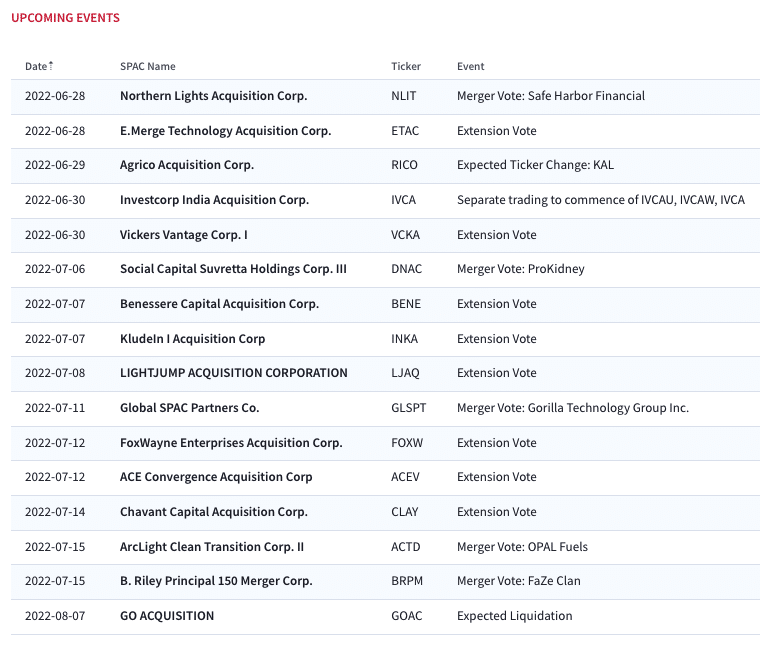 Today's Price Action
Biggest Gainers
3.56% ~ $ 9.59 | NLIT – Northern Lights Acquisition Corp. (Announced)
2.07% ~ $ 9.88 | CORS – Corsair Partnering Corporation (Pre-Deal)
1.00% ~ $ 10.08 | CMCA – Capitalworks Emerging Markets Acquisition Corp (Pre-Deal)
.89% ~ $ 10.06 | WNNR – Andretti Acquisition Corp. (Pre-Deal)
.81% ~ $ 9.95 | PORT – Southport Acquisition Corporation (Pre-Deal)
.81% ~ $ 9.98 | CFFS – CF Acquisition Corp. VII (Pre-Deal)
.71% ~ $ 9.93 | ITHX – ITHAX Acquisition Corp. (Announced)
.56% ~ $ 9.81 | PANA – Panacea Acquisition Corp. II (Pre-Deal)
.56% ~ $ 9.93 | GIAC – Gesher I Acquisition Corp. (Announced)
.51% ~ $ 9.80 | AAQC – Accelerate Acquisition Corp. (Pre-Deal)
.51% ~ $ 9.84 | LDHA – LDH Growth Corp I (Pre-Deal)
.51% ~ $ 9.85 | FTPA – FTAC Parnassus Acquisition Corp. (Pre-Deal)
.51% ~ $ 9.95 | AFAR – Aura Fat Projects Acquisition Corp (Pre-Deal)
.47% ~ $ 9.66 | LOCC – Live Oak Crestview Climate Acquisition Corp. (Pre-Deal)
.45% ~ $ 10.05 | TRON – Corner Growth Acquisition Corp. 2 (Pre-Deal)
.42% ~ $ 9.89 | FLAC – Frazier Lifesciences Acquisition Corporation (Pre-Deal)
.41% ~ $ 9.70 | HWEL – Healthwell Acquisition Corp. I (Pre-Deal)
.41% ~ $ 9.80 | MBAC – M3-Brigade Acquisition II Corp (Pre-Deal)
.41% ~ $ 9.82 | KAII – Kismet Acquisition Two Corp. (Pre-Deal)
.41% ~ $ 9.82 | PTOC – Pine Technology Acquisition Corp. (Pre-Deal)
Biggest Losers
-3.14% ~ $ 24.37 | DWAC – Digital World Acquisition Corp. (Announced)
-1.41% ~ $ 9.83 | YOTA – Yotta Acquisition Corp (Pre-Deal)
-1.13% ~ $ 10.06 | PCX – Parsec Capital Acquisitions Corp. (Pre-Deal)
-1.06% ~ $ 10.24 | VCKA – Vickers Vantage Corp. I (Announced)
-.81% ~ $ 9.77 | IPVI – InterPrivate IV InfraTech Partners Inc. (Pre-Deal)
-.70% ~ $ 9.91 | GLLI – Globalink Investment Inc. (Pre-Deal)
-.66% ~ $ 9.76 | GAQ – Generation Asia I Acquisition Ltd (Pre-Deal)
-.65% ~ $ 10.00 | DHAC – Digital Health Acquisition Corp. (Announced)
-.60% ~ $ 9.91 | SMAP – Sportsmap Tech Acquisition Corp. (Pre-Deal)
-.60% ~ $ 9.91 | ITAQ – Industrial Tech Acquisitions II, Inc. (Pre-Deal)
-.59% ~ $ 10.06 | PLAO – Patria Acquisition Corp. (Pre-Deal)
-.52% ~ $ 9.65 | CPAA – Conyers Park III Acquisition Corp. (Pre-Deal)
-.51% ~ $ 9.80 | TWNI – Tailwind International Acquisition Corp. (Pre-Deal)
-.46% ~ $ 9.76 | PSAG – Property Solutions Acquisition Corp. II (Pre-Deal)
-.41% ~ $ 9.66 | TPBA – TPB Acquisition Corporation I (Pre-Deal)
-.41% ~ $ 9.77 | MACA – Moringa Acquisition Corp (Announced)
-.41% ~ $ 9.81 | ATEK – Athena Technology Acquisition Corp. II (Pre-Deal)
-.40% ~ $ 9.94 | KNSW – KnightSwan Acquisiton Corp (Pre-Deal)
-.39% ~ $ 10.26 | ESSC – East Stone Acquisition Corporation (Announced)
-.39% ~ $ 10.34 | THCA – Tuscan Holdings Corp. II (Announced)