Signs of life in SPACland, with 4 deals and an IPO announced this week. Emerging Markets Horizon (HORI) cuts Russia ties. Ending the week with a deal cancellation. And all the day's news in SPACs.
————————————————-
Free Investor Resources from Boardroom Alpha
—————————————————-
** Podcast: Know Who Drives Return
** Daily SPAC Newsletter
** Full SPAC Listing
Signs of life in SPACland, with four deals this week:
AHPA – Ligand (LGND) OmniAb business
We also saw a deSPAC — Forge Global (FRGE), which experienced a familiar squeeze owing to low float / high redemptions. In its fourth day of trading today, FRGE rocketed 50% to close at $18.70.
And an IPO this week: RF Acquisition Corp. (RFAC).
Russia Sanctions trickling over into SPACland
Emerging Markets Horizon Corp. (HORI) announces it will no longer seek a target in Russia. Bernard Abdelmalak, the CFO and a member of the board of directors of the Company, as well as an employee of VTB Bank (Russian / state-owned), resigned from his positions at the Company, effective March 23, 2022.
Deal Cancellation: Highland Transcend Partners I Corp. (HTPA) and Packable
Highland Transcend Partners I Corp. (HTPA) calls off its merger with e-commerce marketplace enablement platform Packable, ahead of its scheduled 3/29 vote.
DeSPAC Heat Map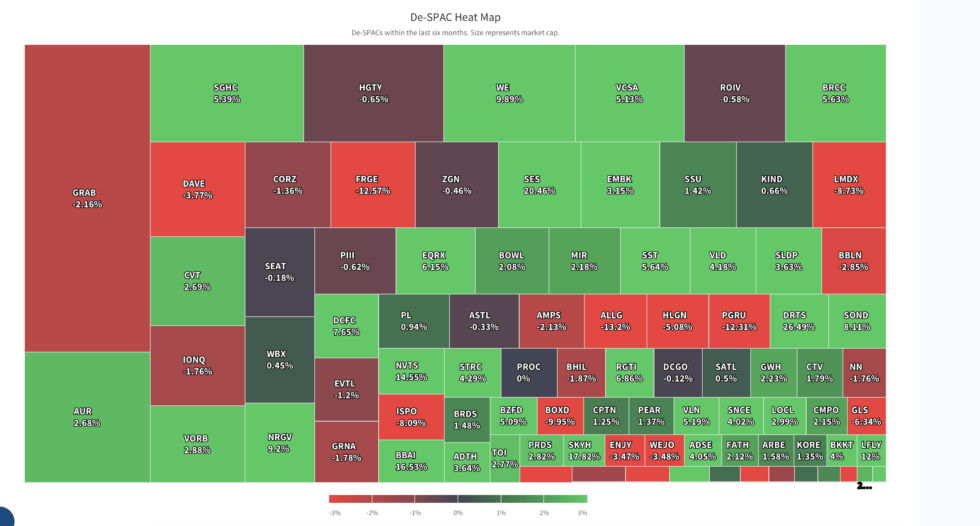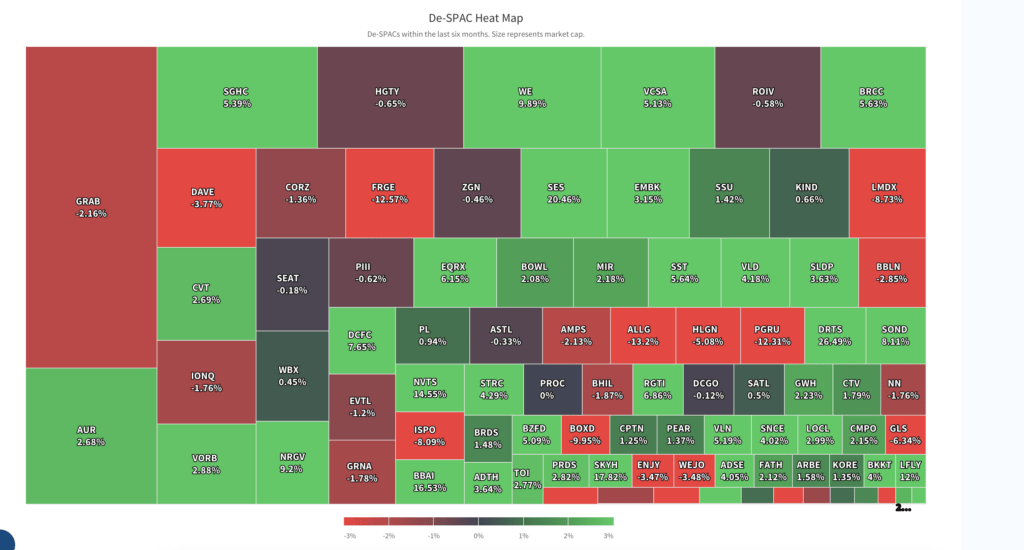 Elsewhere in SPACs
Still waiting on redemption figures from Tailwind Two (TWNT) which will merge with satellite provider Terran Orbital (approved Tuesday). Terran Orbital changes its ticker change on Monday to "LLAP."
AMAO: Still waiting. American Acquisition Opportunity Inc. (AMAO) had a liquidation date and extension vote on 3/22 of this week and have yet to report the results from the meeting.
SPAC Calendar
SPAC Deal Votes
Mar 29 | HTPA –> Packable
Mar 31 | HLXA –> MoonLake Immunotherapeutics AG
SPAC Extension Votes
More from Boardroom Alpha
For ongoing tracking, analytics, and data on SPACs checkout Boardroom Alpha's SPAC Data and Analytics service.