Satellogic, founded in 2010 by Emiliano Kargieman and Gerardo Richarte, is a vertically integrated geospatial company. The company operates a 17-satellite imagery constellation.
Their mission is touted as "Democratizing access to critical geospatial data" which they do via their satellite images and analytics.
Satellogic went public via CF Acquisition Corp V in a deal that closed in January-2022. The deal valued SATL at an enterprise value of $850M, and the stock currently carries a market cap ~$550M given the decline in the stock price.  
Satellite imagery has historically mostly been used by governments or very large corporations given its high cost. Today several Earth Observation (EO) companies like Satellogic are aiming to use more cost-efficient satellites for use in a wide variety of commercial applications including agriculture, water supply, and immigration targeting a $140B TAM.
SATL is currently working on creating a live, daily catalog of every square meter of Earth to use for government, commercial and sustainability purposes. Each of Satellogic's satellites in orbit has a daily capture capacity of 300,000 kilometers (km) squared. The goal is to be able to remap every square foot of the earth on a daily basis, which Emiliano touts as doable by 2025.
Several of these EO companies (SATL, BKSY, and PL) capitalized on the SPAC boom to accelerate their funding and hit the public markets. It's early days for EO and thus revenues today are small, but if all goes well could exhibit high growth in the future. There is definitely risk.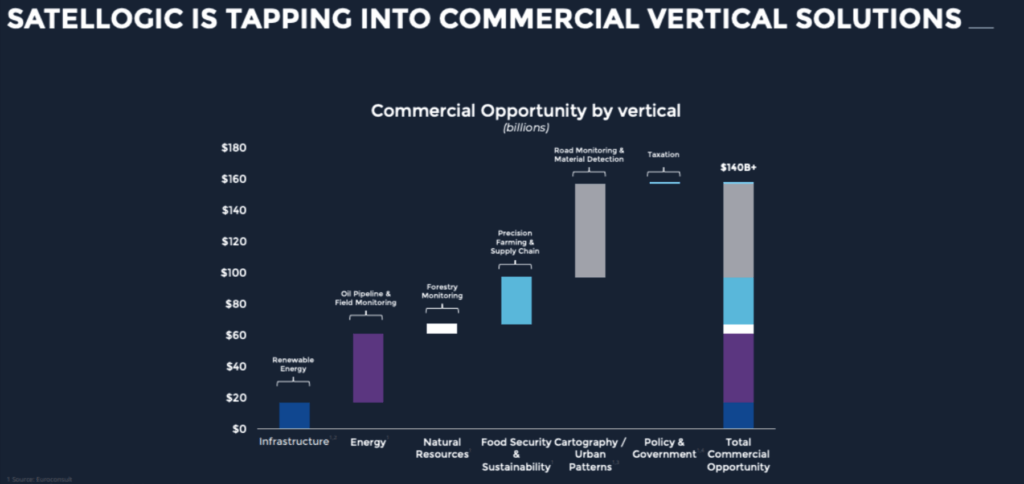 November 2021 Analyst Day Presentation
Fleet Targets
17 satellites currently in orbit
Originally projected launching 300 satellites by 2025 but has since revised down to 202 satellites in orbit by 2025
Aiming for daily world remaps by 2025
Financial Targets
The company projects rapidly accelerating growth over the next few years, not unlike its satellite peers that went thru similar SPAC transactions. In accordance with the reduction in satellite projections, the company revised down its projected revenues and EBITDA for 2025 to $840M and $297M respectively, while they don't expect to be cash flow positive on the same time period.
Recent Update
In February, Satellogic announced that it had entered into a $5M share repurchase program. Kargieman confirmed what was in the press release that the company believes its stock to be undervalued and thus decided to enter the program.
Concurrent with the share repurchase announcement Satellogic announced it had completed the previously announced $150M investment from Steven Mnuchin's Liberty Strategic Capital. The $150M was put into place ahead of deSPAC in (likely) anticipation of high SPAC redemptions. Liberty's latest investment was struck at 20M shares for $7.50 a share.
Lastly, the company announced that retired General Joseph F. Dunford Jr. to its board of directors.
Competitive Landscape
Maxar (MAXR) is the historical leader in hi-res and its high-cost satellites have been around for years, and given high cost is mostly focused on govt/defense.
Planet Labs (PL) has the first mover advantage in running low-cost satellites intended for widespread commercial use, touts a huge data catalogue and has the ability to do daily earth scans.
BlackSky (BKSY), also a newer company, is focused on one-to-one high resolution at lower cost.
Satellogic (SATL) mostly competes with Planet, though touts itself as a cheaper option with a lower cost basis.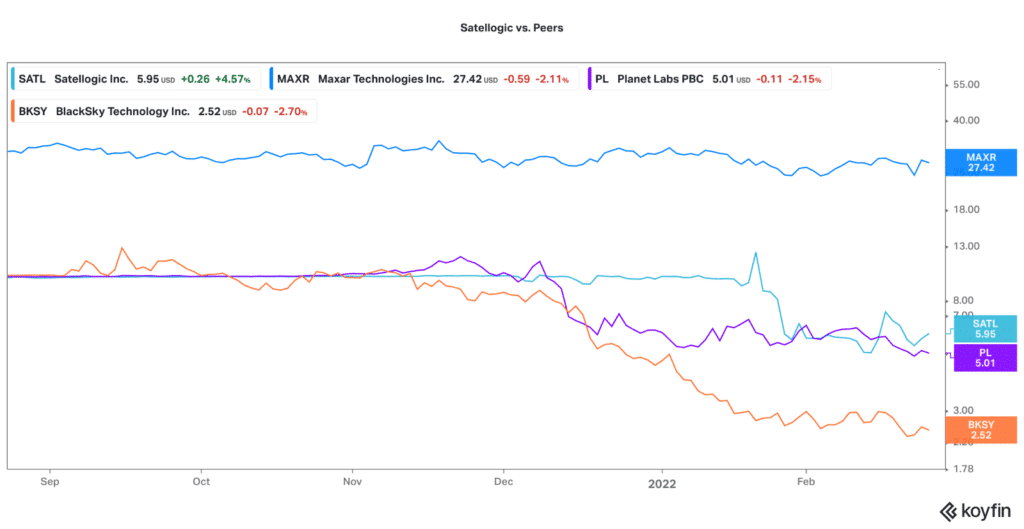 Takeaways & Risks
Capex intensive business that burns a lot of cash
Commercial applications including agriculture and city planning are in its nascent stages
First mover advantage has gone to competitors like Planet Labs
Strong partnerships with companies including Palantir (PLTR) and AWS (AMZN)
Large commercial TAM remains relatively untapped