GGPI shares hovering around NAV ahead of June 22nd vote. And the rest of the day's news in SPACs.
————————————————-
Free Investor Resources from Boardroom Alpha
—————————————————-
** Podcast: Know Who Drives Return
** Daily SPAC Newsletter
** Full SPAC Listing
GGPI / Polestar starts shipments for Hertz Contract
Swedish electric vehicle manufacturer Polestar has begun delivering new Polestar 2 electric cars to Hertz (HTZ) as part of the agreement announced in April 2022. Polestar will supply the global car rental giant with 65,000 cars over the next five years. Gores Guggenheim (GGPI) shares been hovering around their $10 NAV since hitting a 52-week high of $16.41. Merger vote June 22nd.
GLAQ Delays Vote, Adds FPA to Forafric Deal
Globis Acquisition Corp. (GLAQ) meeting was adjourned and the company entered into an FPA to purchase 1,500,000 shares non redeemed at $10.80 in 3 months. GLAQ is expected to merge with African agribusiness Forafric.
Forge Global Announces Warrant Redemption
March deSPAC Forge Global (FRGE) announced it will be calling its outstanding warrants and forward purchase warrants for shares in an effort to streamline its capital structure. FRGE shares closed at $10.52, down 27% today.
SPKB / Eleusis Deal Terminated
Silver Spike Acquisition Corp. II  (SPKB) terminates merger with Eleusis, a clinical-stage psychedelics life science company, as a result of "unfavorable market conditions."
SPAC Daily Movers

SPAC Calendar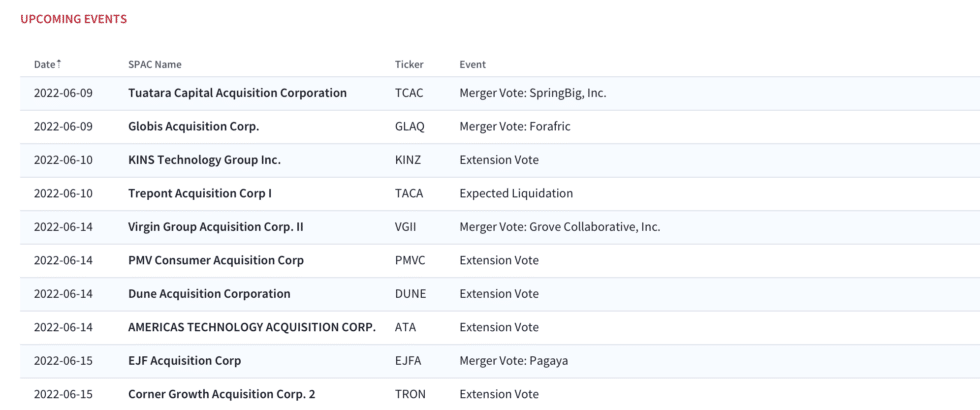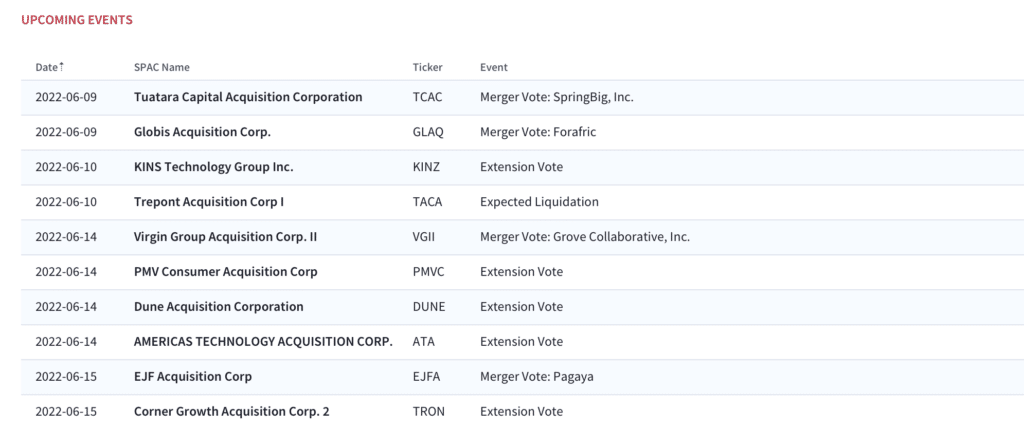 More from Boardroom Alpha
For ongoing tracking, analytics, and data on SPACs checkout Boardroom Alpha's SPAC Data and Analytics service.