SV / NuScale set merger vote date. A look at next week's merger and extension votes. And the rest of the day's news in SPACs.
————————————————-
Free Investor Resources from Boardroom Alpha
—————————————————-
** Podcast: Know Who Drives Return
** Daily SPAC Newsletter
** Full SPAC Listing
Today ends a busy week in SPACland, with two deSPACs and three DAs. Even some deal speculation is back, with onlyFans taking center stage. While regulatory pressures may slow the pace of new issues, this week proves that deals are still getting done. It's also refreshing to see deSPACs trade with less volatility out of the gate.
deSPACs this week:
MoonLake Immunotherapeutics (MLTX)
Mergers this week:
Spring Valley Acquisition Corp. (SV) / Sets NuScale Merger Date
Spring Valley Acquisition Corp. (SV) Sets 4.28 date for merger approval on NuScale Power. NuScale makes advanced nuclear small modular reactor (SMR) technology. Upon closing, NuScale will trade on the NYSE as "SMR. "
Elsewhere in SPACs
On tap for next week is Global SPAC Partners Co. (GLSPT) extension vote. Other upcoming extension votes: GRCY, MACU, BCAC.
Upcoming Merger and Extension Votes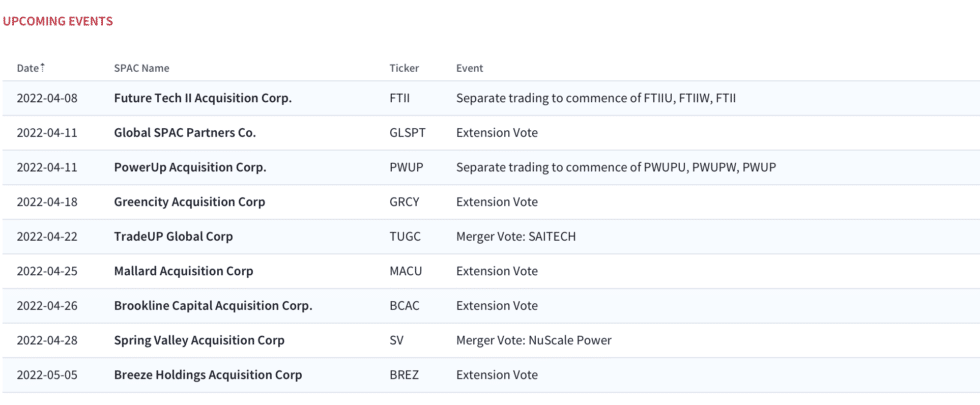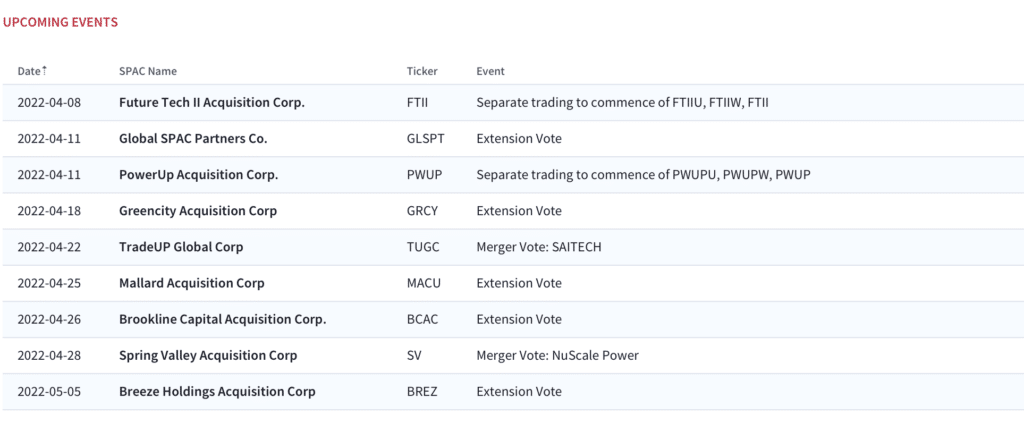 More from Boardroom Alpha
For ongoing tracking, analytics, and data on SPACs checkout Boardroom Alpha's SPAC Data and Analytics service.