Biote gets approval. Lots of extension votes ahead. And the rest of the day's news in SPACs.
————————————————-
Free Investor Resources from Boardroom Alpha
—————————————————-
** Podcast: Know Who Drives Return
** Daily SPAC Newsletter
** Full SPAC Listing
MSP Recovery down 53% today
Medicare and Medicaid secondary payer reimbursement recovery leader MSP Recovery (MSPR) deSPAC'd today from Lionheart Acquisition Corporation II (LCAP). MSPR shares declined 53% to close at $5.06. The company, led by Miami attorney John Ruiz (who owns a 65% stake), operates a platform which allows customers to recover any claims where the law places primary payment responsibility on another payer. MSP Recovery generates revenue via fees, which are charged to clients following successful recovery.
HYAC / BTMD gets approval
Haymaker Acquisition Corp. III (HYAC) approved its merger with Biote. Biote trains practitioners how to identify and treat early indicators of hormone-related aging conditions. The company will trade as BTMD on 5/27. Redemptions were not disclosed in the press release.
SPAC extension votes
Elsewhere in SPACs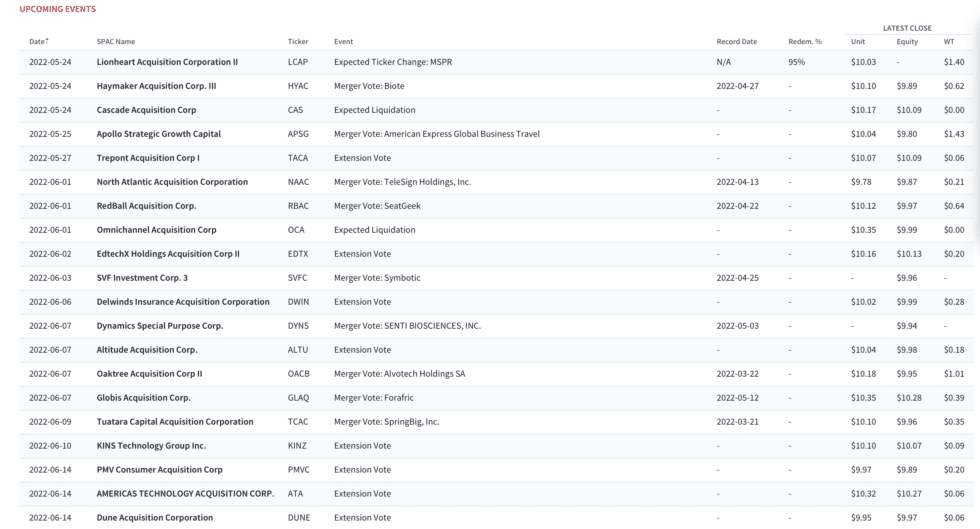 More from Boardroom Alpha
For ongoing tracking, analytics, and data on SPACs checkout Boardroom Alpha's SPAC Data and Analytics service.