Apple (AAPL) CEO Tim Cook joined the billionaire club a decade after succeeding Steve Jobs as the chief executive of the world's most valuable tech company. In 2021, Cook received almost $100 million in compensation ($98.73 million, to be exact)—according to Apple's annual proxy filing with the SEC. For those crunching the numbers, that's a 500% increase from his 2020 pay.
Cook's influence is undeniable: AAPL stock versus the S&P500 since Cook took the reigns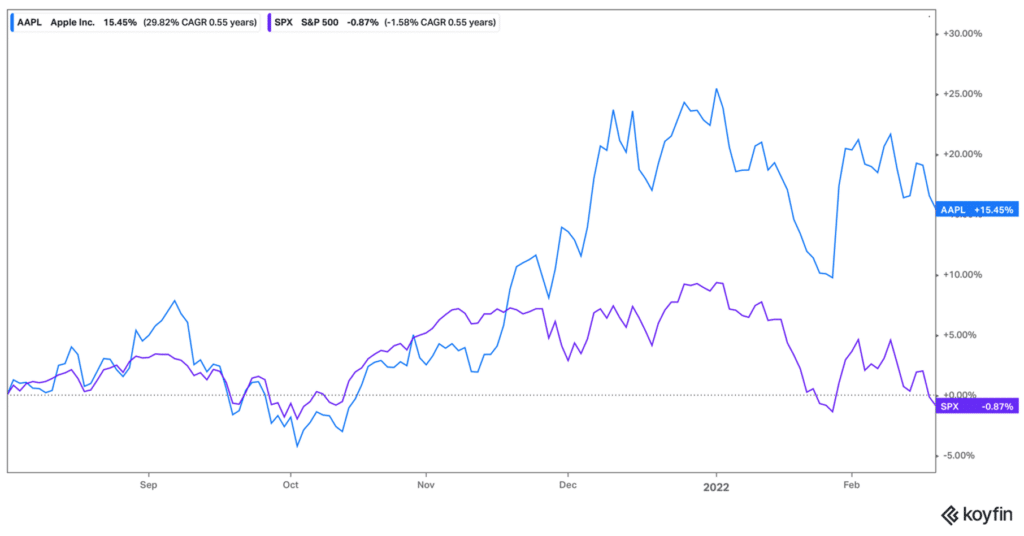 How much is too much? Shareholder advisory firm Institutional Shareholder Services (ISS) sent a letter to its clients recommending that Apple investors reject the pay package, questioning the "design and magnitude" of Cook's pay, which equates to 1,400 times what an average Apple employee earned. ISS also noted that the package does little to help with retention, since much of it is stock that will be earned in retirement no matter what. Notably, another advisory firm, Glass Lewis, approved the comp package. In 2015 ISS also expressed concerns about Apple executive pay, while Glass Lewis supported it.
Cook's biggest earning last year was ~5 million vested AAPL shares. Cook takes a base salary of $3 million, which is unchanged for 2021. He also received $12 million in bonuses for hitting Apple's financial and environmental goals. The bulk of Cook's compensation last year came from an equity plan valued at $82.3 million awarded at the beginning of the fiscal year. The award was put in place a decade ago when Cook took over as CEO on the condition that he stays on the job for ten years.
Cook's equity plan consists of two parts: one is performance-based and the other vests in three annual installments from 2023 through 2025. The non-performance-based portion will vest even if Cook retires before 2025, although the board's compensation committee has the power to stop it.
Cook also received $1.39 million in "other compensation" in 2021, including personal security expenses, air travel, a vacation cash-out of $23,077 and a $17,400 company contribution to his 401(k) plan.
In August 2021, Cook vested about 5 million Apple shares–worth ~$754 million at the time–shares granted in 2011 when he was promoted to CEO.
Other executive comp. Other top executives, including CFO Luca Maestri, COO Jeff Williams and general counsel and secretary Kate Adams, each brought in just under $27 million in pay during the 2021 fiscal year. Deirdre O'Brien, Apple's senior VP retail and people, received just over $27 million during the same year.


AAPL's comp methodology. Apple says the board's compensation committee determined Cook's stock awards by considering Apple's size, performance, and the CEO's responsibilities. Apple measures performance as the company's profitability relative to a basket of 28 primary and secondary peer companies, including Alphabet (GOOG, GOOGL), Microsoft (MSFT), Amazon (AMZN), and Facebook (FB) parent Meta.
With AAPL winning right now, shareholders are likely to ignore ISS's recommendation. It's undeniable that Apple is on an incredible winning streak right now. Cook's hefty pay raise coincided with a historic year for the company, despite the continued economic impact of COVID-19. In F2021 (Sep 2020), the tech giant generated $365.8 billion in sales– a record for the company– and $108.9 billion in operating income (+64% YoY), becoming the most profitable business. Key product highlights included the release of the iPhone 13, new MacBook Pros with Apple's M1 chips, refreshed AirPods and a new generation of the Apple Watch. On the content side, Apple won seven Emmy awards in 2021– three of which went to its breakout Apple TV+ hit Ted Lasso.
AAPL stock rocketed 80% in 2021 and continues to move higher in 2022. Apple's market cap, currently $2.6 trillion, briefly touched $3 trillion in January before stock price retreated—higher than any other company.
AAPL shareholders need Cook right now. In the battle for the Internet, AAPL is winning. Although shareholders will be able to vote on Apple's executive compensation plans at the shareholder meeting on March 4, Apple's board can ignore the recommendation. Cook's performance also stands in stark contrast to Zuckerberg's at Facebook/Meta. Clearly the two tech leaders have opposing views on Internet privacy. And for anyone questioning what our digital future looks like, there's a subtle hint to be found in FB stock. The metaverse giant has seen its stock collapse 36% since February, as the company appears to be in the midst of an identity crisis while suffering from reduced profitability and shrinking user base.
A tale of two tech foes: AAPL versus FB