Revenues and earnings won't matter. RIVN must prove it can start churning deliveries.
RIVN reports Q4 earnings today aftermarket. Consensus calls for $(2.05) on sales of $64 million. These numbers don't matter. The only metric investors will be watching for is production and delivery guidance for Q1 and full-year.
It's been a long way down. Rivian's IPO in November raised nearly $12 billion–making it the largest IPO in the U.S. since Facebook (FB) in 2014. The stock was up more than 21% from its initial opening price to the close of trading on Nov. 12, 2021, three trading days after the IPO. RIVN shares are now down ~80% from their all-time high of almost $180 in late November (shares have been weak into the print, and trade at ~$40 as of this writing).
Like LCID, expect RIVN to guide down. Having now witnessed the post-earnings selloff at EV upstarts Lucid Group (LCID) and Stellantis (STLA), it's clear that supply chain issues are affecting both production and profitability for startup EV makers.In 2021, RIVN produced 1,015 vehicles and delivered 920. Consensus 2022 estimate of 40,000 vehicles looks too high in light of the above.
RIVN: Long way down: Down 80% from peak and 60% YTD
Price hike wasn't handled well. Rivian came under fire for announcing a price hike, citing supply challenges and higher costs. However, the price increase also removed low end options. Many customers who previously gave a deposit had to cancel their pre-orders—a public relations disaster.
Red flag: overboarding. From a governance standpoint, two board members are already overboarded: Jay T Flatley is a director at three other companies: Zymergen (ZY), Denali Therapeutics (DNLI), and Coherent (COHR). Pamela Thomas-Graham is a director at four other companies: Bumble (BMBL), Compass (COMP), Peloton (PTON) and Anthemis Digital Acquisitions I (ADAL).
RIVN Board Diversity Snapshot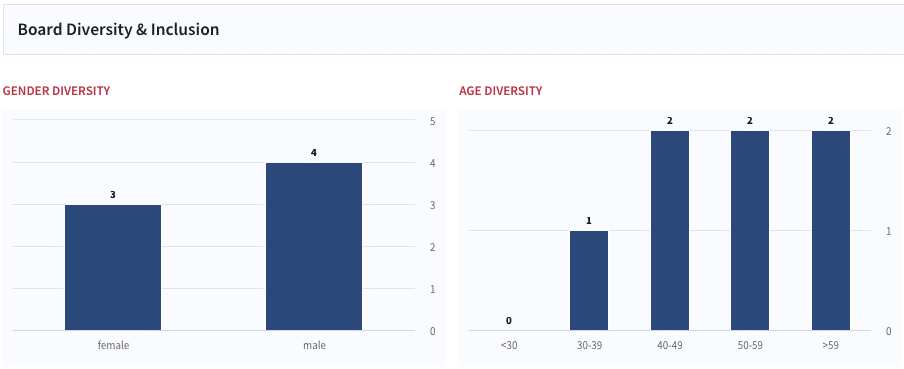 No compelling reason to rush in here
Short interest creeping up. 9% of the float is short. Short interest (~35M shares) has crept up from month-ago levels.
Market cap ~ 50% cash. At some point, RIVN becomes a value play, which sounds funny in a hypergrowth market. RIVN has ~$17 billion in cash. At ~$35B market cap, ~49% of RIVN's market cap is cash.
Buckle up, it's going to be exciting. Despite the pullback, we don't see any fundamental catalysts for RIVN stock. Given the squeeze setup into the print, re choose not to spin the roulette wheel ahead of the quarter.It's impossible to claim any real insight on what production could look like next quarter or for 2022. Ultimately, we still think there is more downside than upside. If 2022 has taught us anything, it's that Rivian, like the rest of the EV startup group (LCID, STLA etc.) should have delayed production until it could better manage its supply chain. Credit where credit's due: Elon warned us all about "production hell" in 2019.