HotelPlanner / Reservations.com / Astrea (ASAX) Deal Overview
HotelPlanner and Reservations.com are going public in a three-way merger with Astrea Acquisition Corp (ASAX) in a $567M EV deal that was announced in August 2021.  
HotelPlanner is different from many of the traditional, more recognized online travel agents (OTAs) in that Hotelplanner's primary focus is group booking, i.e. large room blocks of 9+ rooms, of which they are the leader in the space. In addition, Hotelplanner partners with the OTAs / other affiliates, and touts its proprietary AI-engine as unique and best in class.
"Closed User Group" discount rates are Hotelplanner's biggest differentiator. The company negotiates discounted rates with its 50k hotel network for all types of group events including weddings, conferences meetings, and keeps those rates unpublished. This allows for higher-margin and fewer cancellations. HotelPlanner partners with OTAs and affiliates (e.g. The Knot) to drive this offering.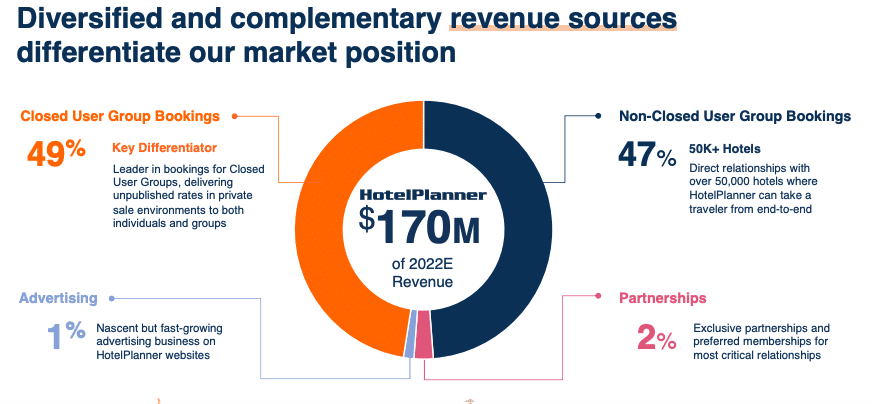 HotePlanner utilizes so called "gig-based travel agents" to provide local, personal customer service and assistance to customers looking to book their hotels. Only needing "WiFi and a headset" the gig agents allow for a scalable and flexible complimentary customer service experience for customers. The company feels local city experts are more effective than an outsourced (often overseas) call center.
HotelPlanner forecasts revenue to grow from $128M in 2021 out to $273M in 2024E, and expects EBITDA margin to grow from 5% to 19% over the same time period. In addition, the company says it's tracking well above its 2019 (pre-COVID) revenue and profitability markers. Growth to be driven in part by synergies stemming from Reservations.com integration, both cost and revenue synergies ($13M and $11M respectively for 2022).
Competitive Landscape + Valuation
HotelPlanner competes with many of the traditional OTAs including Expedia (EXPE), Trivago (TVGO), and Booking.com (BKNG). However, they also partner with the OTAs given HotelPlanner's main focus on group booking, which isn't necessarily the same for the traditional players, i.e. individuals or families booking trips and < 9 rooms for the trip.
HotelPlanner's revenue declined just 23% in 2020 (mid pandemic) which was less than the >50% for many of their competitors and other players in the travel and booking space. The company contends that had their gig program have been rolled out, the decline would have been smaller.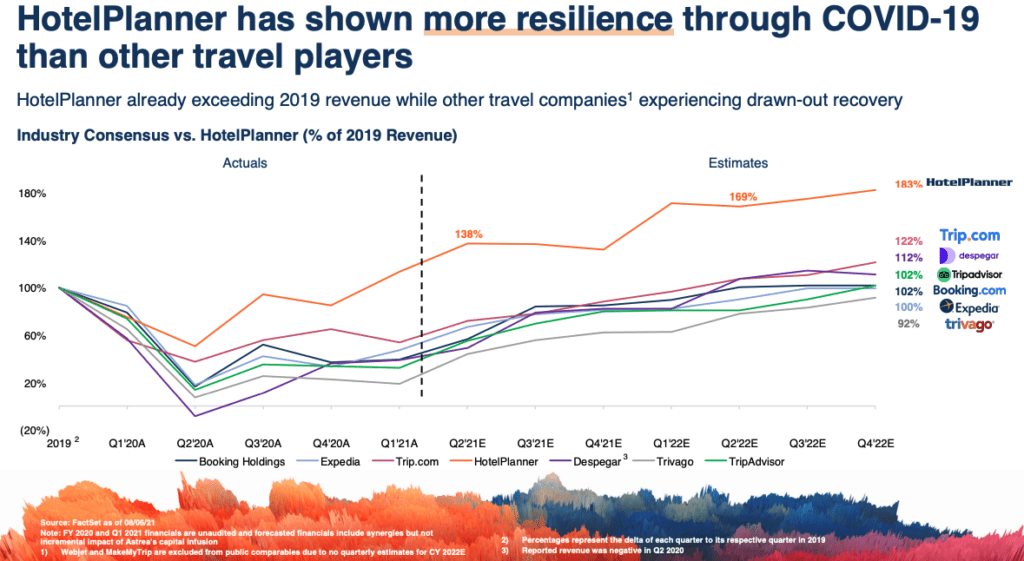 The transaction values HotelPlanner at $567M EV which equates to 4.45x 2021E revenue and 3.34x 2022E revenue. That puts them at a 2022 premium to EXPE (3.1x) Despegar (2.5x) and Trivago (2.1x) but a discount to the comparable median and BKNG (8.7x) and TRIP (5.9x).
Deal Details
Hentschel mentions that the company had several SPAC offers, including some at a $200-300M higher valuation, but chose to go with Astrea Acquisition given some of management's previous SPAC history and provide a more attractive entry point for investors.
HotelPlanner intends to use the cash infusion from the deal will be used towards search engine marketing spend and growing the engineering department. ASAX has ~$172.6M in its trust account, but notably the deal financing does not include a PIPE. Therefore, if SPAC market dynamics stay the way they currently are, namely discounted SPACs and high redemptions, ASAX's $9.89 closing price would certainly put this deal at risk of high redemptions.
The merger agreement has a minimum cash requirement of $100M, so there is a possibility that would have to be waived or the company seek incremental financing in between now and deal close, which is expected some time next year (company would not provide an estimate).
Both HotelPlanner.com and Reservations.com are essentially bootstrapped from founding and the 4 founders are set to own ~70% of the PF combined company.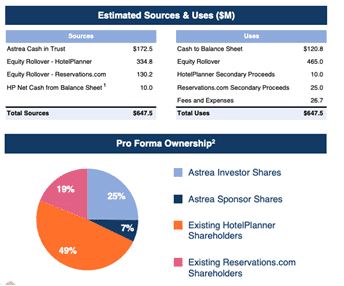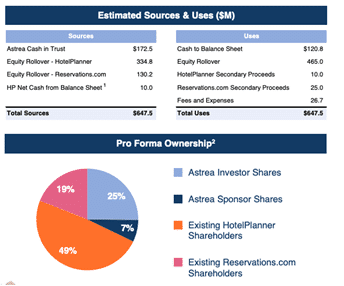 About the SPAC Sponsor
The SPAC behind the HotelPlanner deal is Astrea Acquisition Corporation (ASAX). ASAX raised $172.5M in a February IPO, offering unit holders 1/2 of a warrant, and didn't specify a target area of focus.
Led by CEO Felipe Gonzalez (PM of London-based Strongrock Capital) and CFO Jose Luis Cordovda (PM at Axis Capital Mgmt), this is the first SPAC specifically sponsored by this team.
However, Cordova was previous the CFO of Opes Acquisition Corp (OPES) who de-spac'ed into BurgerFi (BFI) in December 2020. BFI had been performing very well but shares have lagged significantly in months most recently closing <$7 at $6.63.
About Tim Hentschel
Tim is a third generation hotelier who's worked in the hospitality industry since he was 12 and graduated from the renowned Cornell hotel program. Studying in the late 90s/early 2000s Tim always had an eye for how technology could help solve pain points in travel and booking, which serves as the ethos and mission of HotelPlanner.