BBY founder Richard Schulze buys stock in the wake of broader retail inventory concerns
BBY founder buys stock. Richard Schulze, Best Buy (BBY) founder and director, paid $19.9 million on May 25 for 250,000 BBY shares, at an average price of $79.60/share. Schulze made the purchase through a trust that now owns 20.5 million BBY shares. The last time Schulze bought stock was in October 2008–$39 million for 1.76 million shares, at an average price of $22.18/share. At that time. Schulze was still chairman, a position he maintained until 2012. Schulze also served as Best Buy's chief executive from 1983 to 2002.
Richard Schulze: BBY investment summary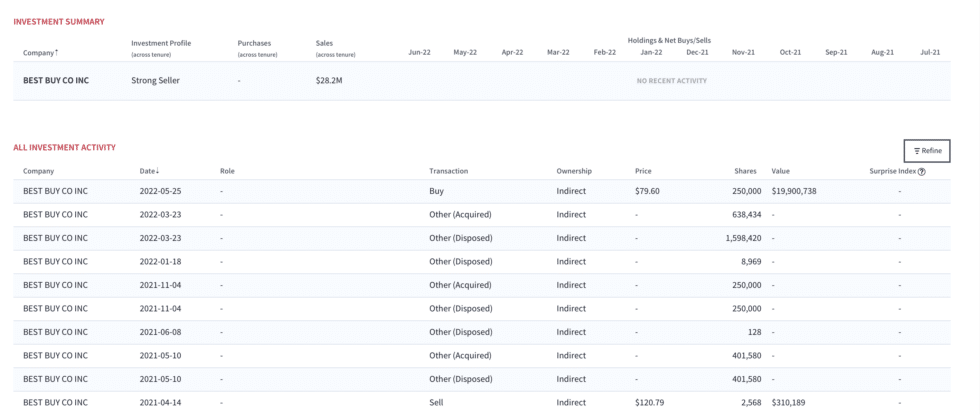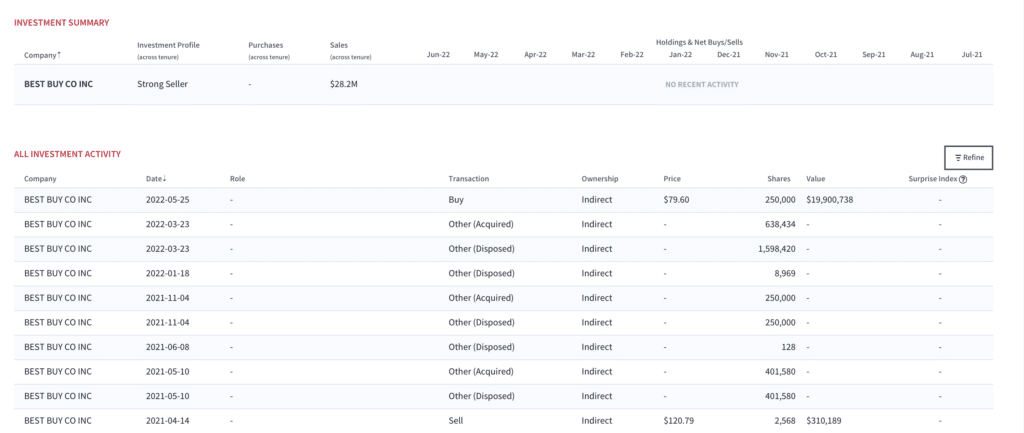 BBY: Insider trading snapshot


Retail demand has worsened since Q1 earnings reports. BBY shares have declined 26% in the past 12 months, versus a 4% decline for the S&P 500 over the same period. In the company's most recently reported Q1, quarterly revenue declined, but still beat consensus expectations. Same-store sales were -8% YoY, slightly better than consensus of -8.6%. However, BBY lowered its 2022 outlook, citing softer demand. "That trend has continued into the beginning of Q2 and it does not appear that it will abate in the near term," said Best Buy CEO Corie Barry on the earnings call. For 2022, revenue is expected between $48.3B to $49.9B, below prior guide of $49.3B to $50.8B. Same-store sales are expected to decline between 3% and 6%– a much steeper decline than the company's prior guide (1% to 4% decrease). EPS is expected at $8.40 to $9.00, versus $8.85 to $9.15 previously.
BBY market snapshot


Bloated inventories imply continued risk to retail estimates. Yesterday, Target (TGT) lowered its profitability target– only 3 weeks after already lowering guidance on its Q1 earnings call. Target is cancelling orders from suppliers for home goods and clothing while aggressively discounting in an effort to clear out excess inventory. Several retailers– including Macy's (M), Kohl's (KSS) and Walmart (WMT) have already cited rising inventories on their quarterly earnings results last month. Our read-through is that there is continued risk to retail revenue and EPS estimates as consumer demand continues to soften. Retailers first struggled to have enough inventory, then struggled to have the right inventory, and now they must struggle with too much inventory. We think this will take several quarters to work itself out. In the meantime, we expect continued inventory bloat to trickle over to other names in the sector.
Not all consumer discretionary stocks are alike. We would learn toward names that are more insulted from discounting by big box retailers. Dollar Tree (DLTR) and Dollar General (DG) are up 15% and flat YTD, respectively, versus a 14% decline for the S&P 500 over the same period. Discount retailers tend to offer lower-margin and lower-priced merchandise, which appears to be more resilient in an inflationary environment.
DG and DTLR: Relative performance