Team Slootman has SNOW revenues racing. But no, we don't think it deserves a SaaS valuation.
Key points ahead of the quarter
SNOW reports FQ42022 earnings today aftermarket. This is a great name to watch as a proxy for cloud computing giants Amazon (AMZN), Google (GOOG, GOOGL), and Microsoft (MSFT). Consensus calls for $0.03 on revenue of $372.7 million. SNOW took home the crown for the largest IPO ever by a software company back in September 2020, raising $3.4 billion.
A digital transformation story. SNOW is a pivotal player in the movement toward cloud computing services as part of so-called digital transformation projects– which provide business insights from crunching massive volumes of data. Cloud computing giants have their own data analytics and management tools. But they make Snowflake's platform available to their customers because in many ways, they're better at things like data analytics and warehousing– letting companies compile, view, analyze and share massive amounts of data in an easy way. Snowflake's data analytics tools became available on Amazon Web Services in 2015, Microsoft's Azure in 2018 and on Google's cloud platform in 2020.
SNOW shifts data warehousing into the cloud. Nearly two-fifths of Fortune 500 companies use Snowflake's software in the cloud as they move away from on-premise data warehousing products from Teradata (TDC), Oracle (ORCL) and IBM (IBM). One high profile Snowflake customer is pharma giant Pfizer (PFE), which uses Snowflake tools to forecast product sales and to gain insights into vaccine distribution.
SNOW and AMZN are "frenemies." While Snowflake is multi-cloud/agnostic, the company derives ~85% of its revenues from data analytics functions deployed on Amazon Web Services, which is also Snowflake's biggest rival with AWS Redshift. The bigger question is what this dynamic looks like going forward.
Eating GOOG's lunch. Last year, SNOW announced support for digital advertising standard Unified ID 2.0. Advertising is one of Snowflake's largest verticals. The move comes as Google phases out internet cookies for targeted advertising.
The cult of Slootman. Two former Oracle engineers — Benoit Dageville and Thierry Cruanes — along with Marcin Zukowski, former CEO of Vectorwise, started Snowflake in 2012. The company holds patents in database architecture and data warehouses. Snowflake brought Frank Slootman on board as CEO in May 2019. Slootman was formerly CEO of ServiceNow (NOW) in early 2017. Former ServiceNow (NOW) Chief Financial Officer Mike Scarpelli in 2019 also joined Snowflake as CFO.
Snowflake (SNOW) Diversity


Credit where credit is due: $1 billion run rate and sustainable double-digit growth. If any company is a "hypergrowth" story, its SNOW, owing to its sustainable double-digit growth trajectory. SNOW is nearing an annual revenue run-rate of $1 billion. At the company's analyst day in June, Snowflake laid out a path to $10 billion in product revenue by F2029 (CY2028). The $10 billion revenue target equates to a compound annual growth rate of 44%. Management has said it expects to increase the number of customers with over $1 million in product revenue.
Margins are still meh. In June, Snowflake guided to long-term operating margin of 10%-plus, lower than some analysts expected. The company is just turning profitable on a non-GAAP earnings basis.
Not feeling compelled to get in front of this one
Red flag: Insider selling. We never like insider selling when it cuts this close to the quarter. Several insiders sold stock in December. CRO Christopher William Degnan sold 12,778 shares for a total value of ~$4.1 million. Director Mark Garrett sold 9,562 shares for ~ $3.3 million. In the last 12 months, insiders sold almost $1.9 billion worth of stock. Insiders own ~11% of the company's stock.  
Reading the tea leaves: SNOW insider selling activity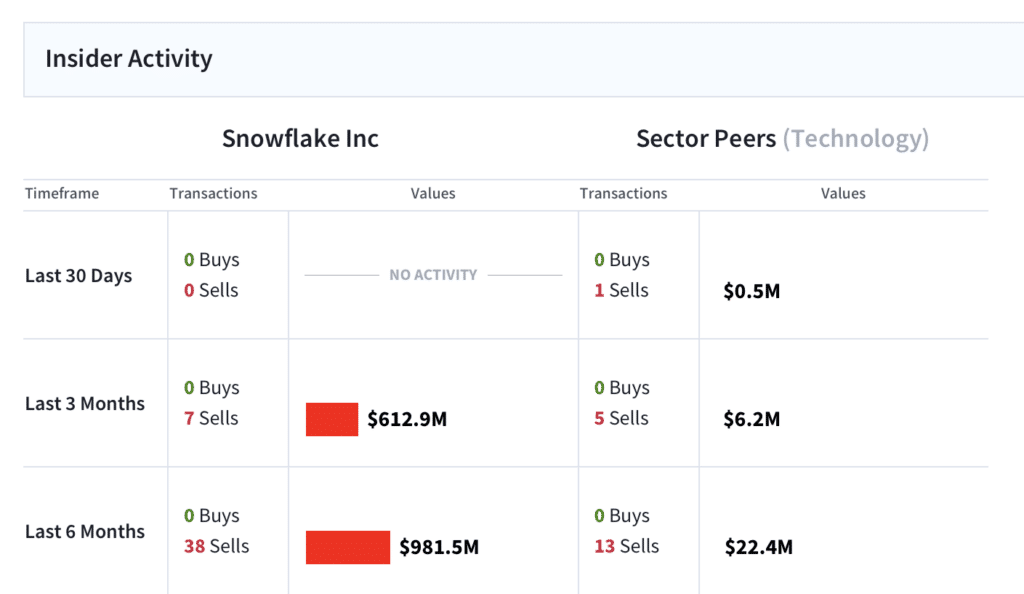 Potential Flags on Governance Risks

Red flag: Classified Board. Not many companies continue to have classified boards (ie staggered election of directors for multiple year terms), but SNOW is one of them. These have rightly fallen out of favor as it is just one of a number of ways to make the company and board more protected from shareholders that push for change.
Red flag: Overboarding. SNOW director Carl Eschenbach, a partner at Sequoia Capital, currently sits on 4 other public company boards: Aurora Innovation (AUR), UiPath (PATH), Workday (WDAY), Zoom Video Communications (ZM), and Palo Alto Networks (PANW).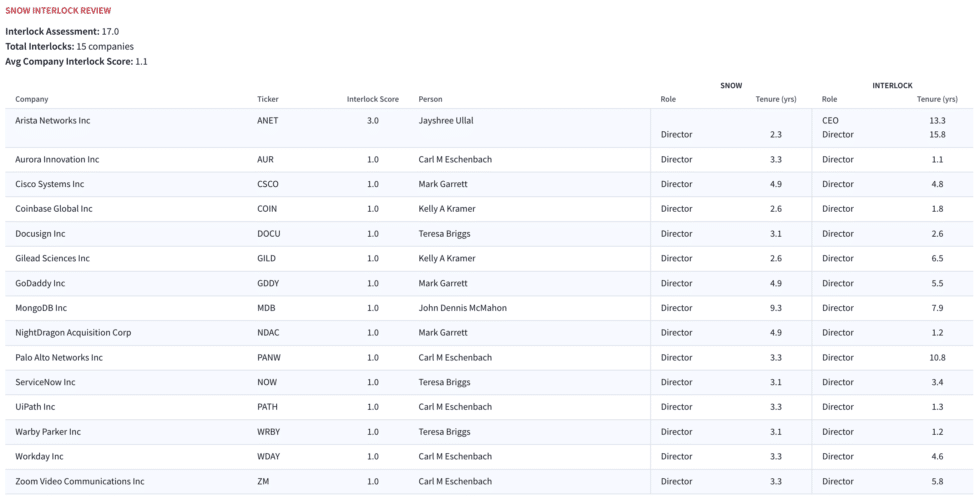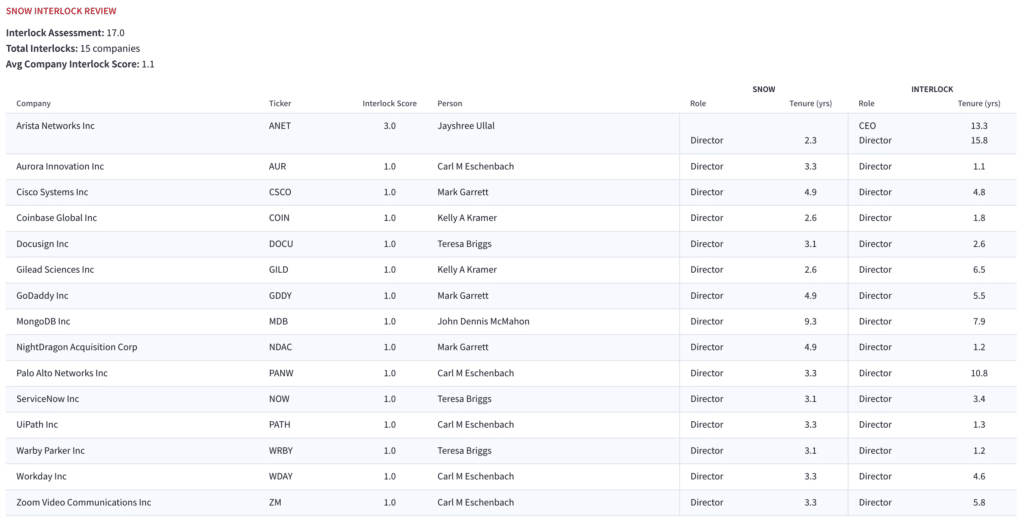 SNOW has a decent moat, but competition is stepping up. Whether Amazon Web Services (AMZN) or Google (GOOG, GOOGL) amp up competition remains a concern for SNOW stock. Competition with privately held Databricks is heating up. Databricks uses artificial intelligence (AI) technology. A February funding round valued Databricks at $28 billion. Note that Snowflake has partnered with C3.ai (AI) to offer artificial intelligence tools to companies. Hewlett Packard Enterprise (HPE), with its GreenLake platform, is another competitor.
Growth and durability are undeniable. But no, we don't think SNOW deserves a SaaS valuation. SNOW stock hit an all-time high of $429 in early December last year. But analyst concerns over its lofty valuation have always surrounded the stock. Shares are down ~21% YTD.
On a relative basis, the market tends to value SNOW in the same camp as SaaS companies like Salesforce.com (CRM). But this comparison is misleading. SNOW isn't a SaaS company. It uses a consumption-based business model based on how much data its customers crunch and store. SaaS companies garner higher multiples owing to the transparency and predictability of the subscription-based, recurring-revenue SaaS business model, which also carries much higher operating margins. CRM has an operating margin of 11%, while SNOW is still running at a loss.
We think growth is largely priced into the stock at these levels. Bottom line is that we expect this name to trade sideways in the near term until investors can get more comfort around the earnings ramp.