VPCB nixes Kredivo merger. And all the day's news in SPACs.
DWAC nosedives amidst scant details
Digital World Acquisition Corp. (DWAC) proves that what goes up, must go down. After a meteoric run to almost $100, up from a $10 IPO price in September 2021, shares have reversed sharply. DWAC shares declined 13% today, closing at $61.99. Created by the year-old Trump Media & Technology Group, Donald Trump's social media platform, Truth Social, launched, in limited form, on the US Apple App store in an aptly-timed President's Day launch. However, a combination of performance hiccups and still no word from Mr. Trump have left momentum investors heading for the exits.
DWAC: Look out below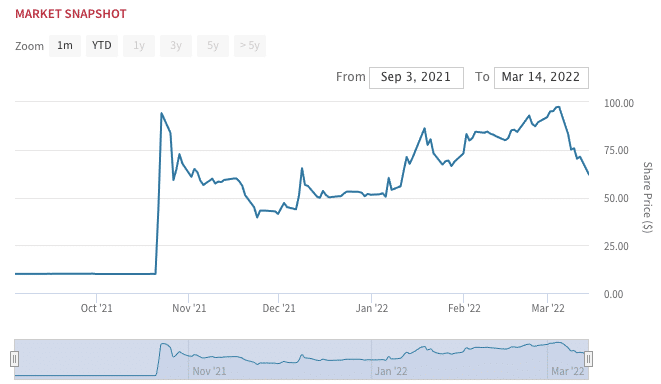 We previously pointed out the onerous PIPE terms and the stock's unjustifiable valuation, which as of today, still hovers at a lofty ~2.2 billion. Note that should DWAC shares continue their downward spiral, the $56 level represents a key potential dilutive event owing to the convert structure. If the average price falls below $56, the conversion price is adjusted 40% lower to as low as $10 per share, which would mean the holders of the preferred stock could be converted into 100 million shares. Check out our detailed DWAC profile here.
VPCB and Kredivo terminate merger
This week's merger terminations got off to an early start. VPC Impact Acquisition (VPCB) and Indonesia-based AI-enabled consumer credit platform FinnAccel (Kredivo) announced termination of their merger. Kredivo is getting a private funding round from VPCB. VPCB is "considering future options, including seeking an alternative business combination." This is the 13th SPAC deal to be cancelled in 2022.
Elsewhere in SPACs
Calendared SPAC deal votes (if they make it that far):
Mar 15 | BTNB –> PropertyGuru Group
Mar 16 | FMAC –> Starry, Inc.
Mar 22 | TWNT –> TERRAN ORBITAL Corp
Mar 29 | HTPA –> Packable
Mar 31 | HLXA –> MoonLake Immunotherapeutics AG
SPAC extension votes:
Mar 18 | VHAQ
Mar 18 | AMAO
Mar 22 | THCA
Today's Price Action
Biggest Gainers
18.87% ~ $ 9.45 | FMAC – FirstMark Horizon Acquisition Corp (Announced)
1.38% ~ $ 9.57 | MOTV – Motive Capital Corp (Announced)
1.03% ~ $ 9.83 | TCOA – Trajectory Alpha Acquisition Corp. (Pre-Deal)
.62% ~ $ 9.67 | NFYS – Enphys Acquisition Corp. (Pre-Deal)
.52% ~ $ 9.75 | SKYA – Skydeck Acquisition Corp. (Pre-Deal)
.51% ~ $ 9.95 | SVNA – 7 Acquisition Corp (Pre-Deal)
.41% ~ $ 9.73 | MITA – Coliseum Acquisition Corp. (Pre-Deal)
.41% ~ $ 9.86 | AACI – Armada Acquisition Corp. I (Announced)
.41% ~ $ 9.88 | SAGA – Sagaliam Acquisition Corp (Pre-Deal)
.38% ~ $ 10.09 | GGGV – G3 VRM Acquisition Corp. (Pre-Deal)
.37% ~ $ 9.75 | KYCH – Keyarch Acquisition Corp (Pre-Deal)
.31% ~ $ 9.65 | CDAQ – Compass Digital Acquisition Corp. (Pre-Deal)
.31% ~ $ 9.69 | CORS – Corsair Partnering Corporation (Pre-Deal)
.31% ~ $ 9.84 | BHAC – Crixus BH3 Acquisition Corp. (Pre-Deal)
.30% ~ $ 9.88 | MTVC – Motive Capital Corp II (Pre-Deal)
.30% ~ $ 9.91 | JUN – Juniper II Corp. (Pre-Deal)
.29% ~ $ 10.21 | TINV – Tiga Acquisition Corp (Pre-Deal)
.25% ~ $ 9.93 | ENTF – Enterprise 4.0 Technology Acquisition Corp (Pre-Deal)
.25% ~ $ 9.94 | TLGY – TLGY Acquisition Corp (Pre-Deal)
.25% ~ $ 9.97 | LGST – Semper Paratus Acquisition Corp (Pre-Deal)
Biggest Losers
-33.50% ~ $ 6.57 | SPAQ – Spartan Acquisition Corp. III (Announced)
-13.14% ~ $ 61.99 | DWAC – Digital World Acquisition Corp. (Announced)
-12.13% ~ $ 8.26 | BTNB – Bridgetown 2 Holdings Limited (Announced)
-2.85% ~ $ 10.58 | GGPI – Gores Guggenheim, Inc (Announced)
-2.39% ~ $ 11.43 | CFVI – CF Acquisition Corp. VI (Announced)
-1.37% ~ $ 10.08 | SV – Spring Valley Acquisition Corp (Announced)
-1.18% ~ $ 10.09 | MEKA – MELI Kaszek Pioneer Corp (Pre-Deal)
-.70% ~ $ 9.86 | HTPA – Highland Transcend Partners I Corp (Announced)
-.60% ~ $ 9.89 | DNAA – Social Capital Suvretta Holdings Corp. I (Announced)
-.60% ~ $ 9.91 | IPOD – Social Capital Hedosophia Holdings Corp IV (Pre-Deal)
-.51% ~ $ 9.75 | ASAX – Astrea Acquisition Corp. (Pre-Deal)
-.51% ~ $ 9.82 | PIPP – Pine Island Acquisition Corp (Pre-Deal)
-.51% ~ $ 9.84 | VGII – Virgin Group Acquisition Corp. II (Announced)
-.50% ~ $ 9.91 | VCXB – 10X Capital Venture Acquisition Corp. III (Pre-Deal)
-.50% ~ $ 9.91 | LMACA – Liberty Media Acquisition Corporation (Pre-Deal)
-.50% ~ $ 10.02 | HUGS – USHG Acquisition Corp. (Announced)
-.41% ~ $ 9.61 | SCRM – Screaming Eagle Acquisition Corp. (Pre-Deal)
-.41% ~ $ 9.62 | LOCC – Live Oak Crestview Climate Acquisition Corp. (Pre-Deal)
-.41% ~ $ 9.75 | PV – Primavera Capital Acquisition Corporation (Pre-Deal)
-.40% ~ $ 9.84 | CPTK – Crown PropTech Acquisitions (Announced)