DWAC shares drop 28% on news of a second SEC subpoena. Important merger vote for Sir Richard Branson today. And the rest of the day's news in SPACs.
————————————————-
Free Investor Resources from Boardroom Alpha
—————————————————-
** Podcast: Know Who Drives Return
** Daily SPAC Newsletter
** Full SPAC Listing
More Trouble for DWAC
Shares of Digital World Acquisition Corp. (DWAC) dropped 28% today on news that it has received another subpoena from the SEC related to its planned acquisition of Trump Media & Technology Group. DWAC says the subpoena seeks additional information on "communications regarding and due diligence of of potential targets other than Trump Media & Technology Group and relationships between Digital World and certain advisors, shareholders, as well as certain forward-looking information about TMTG." DWAC previously disclosed in May a subpoena from the SEC seeking documents and information regarding meetings of the board of directors, the evaluation of potential acquisition targets including TMTG, communications relating to TMTG and payments made to advisors. DWAC shares are down 40% over the past month, versus a 7% decline for the S&P 500 over the same period.
Merger Vote: NLIT / Safe Harbor Financial
Northern Lights Acquisition Corp. (NLIT) sets June 24th vote on Safe Harbor Financial merger. Safe Harbor is a financial services provider to the cannabis industry.
ADER Postpones Vote
26 Capital Acquisition Corp. (ADER) postpones vote on merger with UE Resorts International, citing "illegal occupation and other illegal activities."
Two merger votes this week, and the usual extensions
Merger vote today for Virgin Group Acquisition Corp. II (VGII) and sustainable consumer products company Grove Collaborative and tomorrow for EJF ACquisition Corp. (EJFA) and AI infrastructure player Pagaya Technologies.
SPAC Daily Movers

SPAC Calendar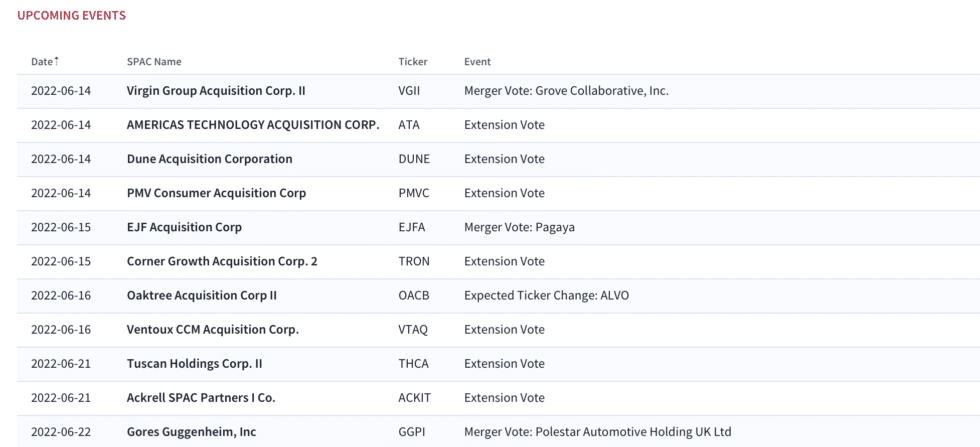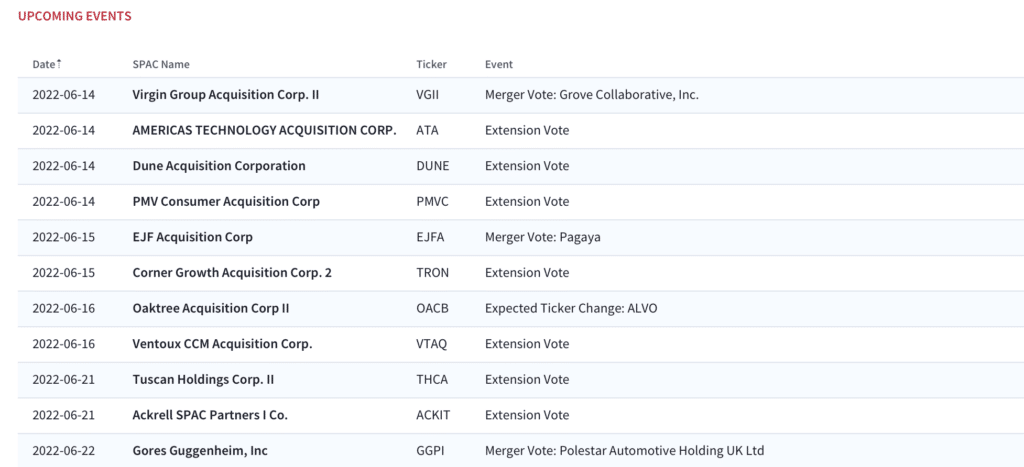 More from Boardroom Alpha
For ongoing tracking, analytics, and data on SPACs checkout Boardroom Alpha's SPAC Data and Analytics service.