Ending the week with a deal announcement. And the rest of the day's news in SPACs.
————————————————-
Free Investor Resources from Boardroom Alpha
—————————————————-
** Podcast: Know Who Drives Return
** Daily SPAC Newsletter
** Full SPAC Listing
SPAC Deal: LMAO + SeaStar Medical
LMF Acquisition Opportunities, Inc.(LMAO) announced a DA with SeaStar Medical, a MedTech company developing extracorporeal therapies to reduce the consequences of excessive inflammation on vital organs. The transaction values SeaStar Medical at an enterprise value of approximately $85 million. Expected completion in the third quarter of 2022.
Spring Valley Acquisition Corp. (SV)/ NuScale Makes Noise Ahead of Next Week's Vote
Spring Valley Acquisition Corp. (SV) / NuScale Power has a press release ahead of next week's vote on 4/28. The company announced a partnership with the U.S. Reactor Forging Consortium (RFC) to prepare NuScale to deploy its small modular reactor (SMR) technology to customers.
Deadline Extension: Better World Acquisition Corp. (BWAC)
Better World Acquisition Corp. (BWAC) sets 5/12 for extension vote, an increase of $0.10 per share depending on redemptions for extension to August. Current NAV ~$10.30, up to $10.40 on high redemptions.
Elsewhere in SPACs
TradeUP Global Corp. (TUGC). 2M shares redeemed in TUGC / SAITECH (SAI) vote. No specifics on time to close.
Upcoming Merger and Extension Votes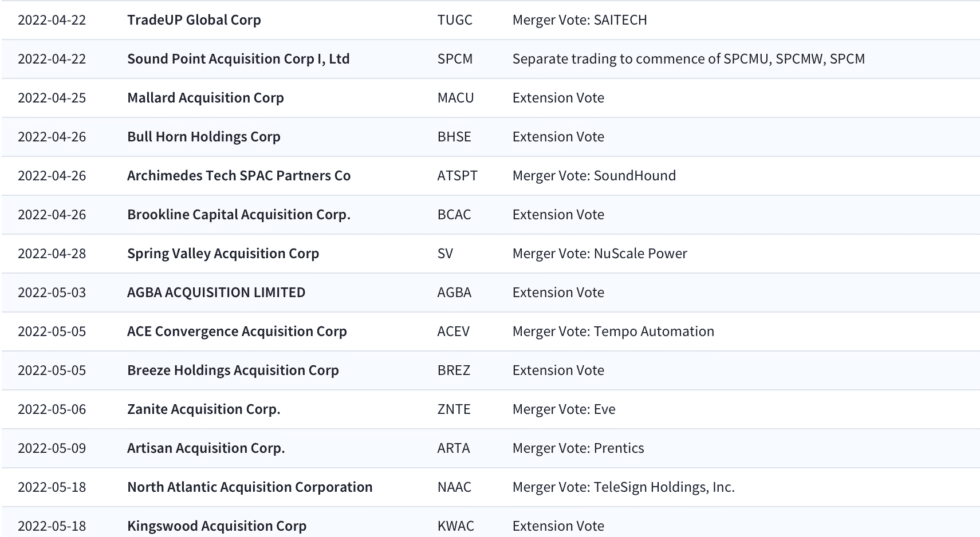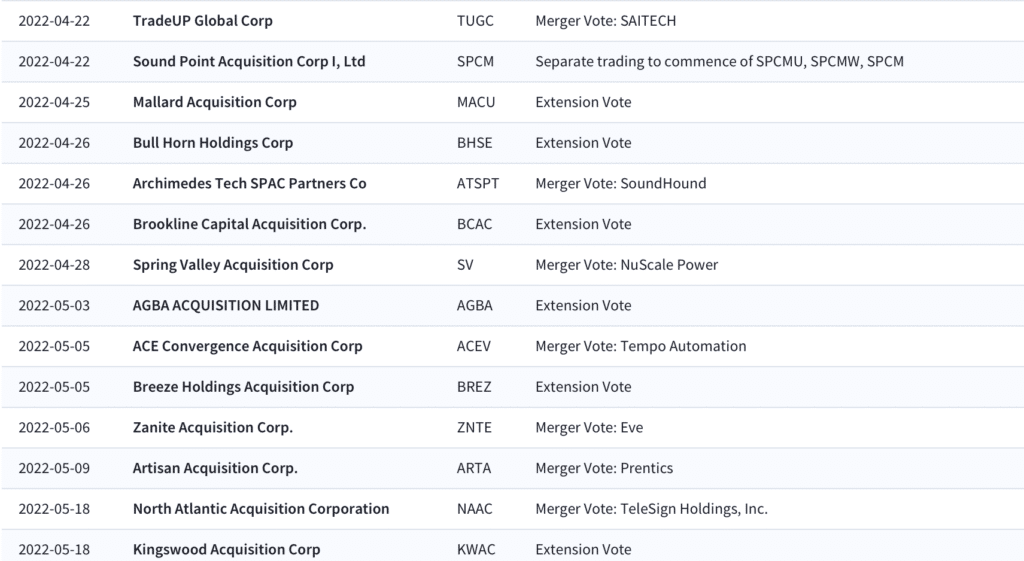 More from Boardroom Alpha
For ongoing tracking, analytics, and data on SPACs checkout Boardroom Alpha's SPAC Data and Analytics service.