With a recent public listing under its belt, the industry's largest ADAS production win, and ties to auto giant Ford, CPTN is off to a good start in a volatile market for LiDAR stocks
We continue to view Autonomous Driving (AD) and related technologies as one of the most important investable emerging growth themes in tech. And now that every carmaker wants to make their cars 'see' better, LiDAR is in the spotlight as a key enabler for automotive safety.
Boardroom Alpha sat down with Dr. Jun Pei, CEO of LiDAR technology specialist Cepton Technologies (NASDAQ:CPTN). Cepton is the newest kid on the LiDAR public listing block, having completed its deSPAC earlier this month via sponsor Growth Capital Acquisition Corp. (GCAC).
Pei, whose background runs deep in optoelectronics, is a self-proclaimed engineer at heart. Prior to co-founding Cepton, Pei founded metrology instrumentation provider AEP Technology. He also led the engineering team at LiDAR competitor Velodyne Lidar (VLDR),where headvanced the company's HDL-64 LiDAR.
In this noisy and competitive market, Pei gives an honest take on what it really takes to succeed in lidar. Most importantly, he points to the company's announced relationships and proven cost at scale.
The Big Picture
LiDAR, which is short for "light detection and ranging," allows computerized systems to develop 3D landscape models and measure variable distances.
While lidar has historically been used for a variety of industrial (engineering and construction) applications, the tech has only recently emerged as an enabling technology for ADAS (Advanced Driver Assistance Systems) and autonomous driving.
The automotive LiDAR market is estimated at $28 billion by 2032. Key drivers include advent of assisted driving and driverless economy and regulatory and customer demand for safer mobility and transportation.
Cepton joins a long list of lidar companies vying for dominance in a crowded sector. 2021 launched several high-profile LiDAR deSPACs, including Luminar Technologies (NASDAQ:LAZR). Innoviz (NASDAQ:INVZ), Velodyne Lidar, Ouster (NYSE:OUST), and Aeva (NYSE:AEVA).
Most LiDAR companies are at least a year away from full-scale volume production. Critics say that both the form factor and price need to come down materially before carmakers adopt the technology at scale.
While several lidar companies have announced relationships with automakers, these are still in pre-production stages.
Stock Performance and Recent News
LiDAR valuations have cooled. After a 1H 2021 surge on the heels of stellar electric vehicle (EV) stock performance, LiDAR stocks experienced a sharp pullback in 2H 2021 as revenues and profitability have largely been pushed out to 2023-2024 timeframe. Stocks have largely languished since the start of the year, consistent with the muted earnings profile of these companies and rising interest rate concerns.
Cepton is the second LiDAR tech company to go public via SPAC IPO this year. The company's listing follows on the heels of Quanergy Systems Inc. (QNGY), which hasn't fared well since its debut. QNGY shares are down almost 60% in the past five trading days. Despite deal downsizing, CPTN's market cap, at $1.1 billion, is almost double its last private valuation of $615 million in a Series-C funding in February 2020.
LiDAR SPAC redemptions running high. Redemptions at CPTN ~90%; QNGY ~ 97%.
A Tale of Two LiDAR deSPACs: CPTN Faring Much Better than QUAN in its Public Debut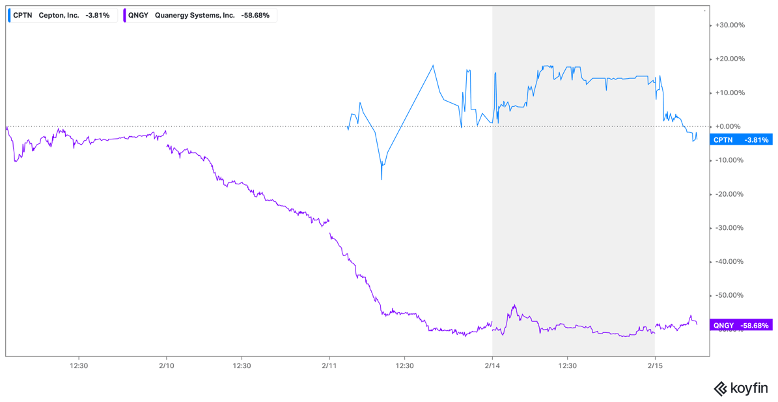 Cepton (CPTON) in Brief
Cepton went public via SPAC earlier this month via sponsor Growth Capital Acquisition Corp. (GCAC). CPTNs largest shareholder is Steven Cohen's Point72, which owns approximately 8.6% of shares outstanding.
While Cepton, like most lidar players, targets ADAS as its largest target addressable market, the company also sees a significant LiDAR opportunity around smart infrastructure (e.g. road/rail, security and industrial applications). Of the $1.2 billion in revenues expected in 2026, 20% are expected from smart infrastructure.
Cepton claims to have won the largest known ADAS LiDAR series production award in the industry to date (based on the number of vehicle models awarded), by a leading global top five automotive OEM. The company is engaged with other top-ten OEMs. Speculation has centered around Ford (F) as the potential customer– given the disclosure by Cepton that the auto customer is Detroit-based, as well as public comments from Ford citing its relationship with Cepton. For its part General Motors (GM) has also entered into the lidar fray, announcing that its Ultra Cruise tech will be based on behind-the-windshield lidar.
Growth projections call for $15 million in revenue this year, ramping to $250 million in 2024 (240,000 sensor units). Like most emerging tech companies, Cepton doesn't project an adjusted profit until 2024, when it anticipates that a considerable portion of its revenue will come from automotive sensors used in ADAS. In the near term (before auto shipments start sometime next year), Cepton anticipates that most of its revenue will come from LiDAR sensors used in Internet of Things (IoT) applications.
CPTN Financial Projections by Market Segment
Board and Governance
Use history as a guide. Given executive ruckus at fellow LiDAR company Velodyne, investors are well-served to take a closer look at governance. VLDR stock declined around 80% last year amidst customer-related controversy relating to a contract with Ford and a very public conflict among senior management. After an investigation into 'inappropriate' behavior with regard to Board and corporate processes, Velodyne founder David Hall was removed as Board chair. Hall's wife, Marta Thoma Hall, subsequently stepped down as chief marketing officer of the company. Hall then called for the resignation of two of the company's directors appointed by the company's SPCA parent, Graf Industrial Corp, whom he blamed for the company's "poor performance." Hall stepped down as CEO of Velodyne in January 2020. But his replacement, Anand Gopalan, lasted just over a year amidst continued turmoil at the company. Gopalan resigned as CEO in July 2021.
Cepton's board is comprised of executives with backgrounds in technology and IoT. Members include CFO Winston Fu (a former general partner at US Venture Partners, and CFO of Active Semi); and Dr. Jun Ye, CEO of bioinformatics software developer Sentieon, Inc. Other members include Mei (May) Wang, CTO, IoT at cybersecurity company Palo Alto Networks (PANW); and George Syllantavos, co-CEO of SPAC parent GCAC.
CPTN Board and Diversity Snapshot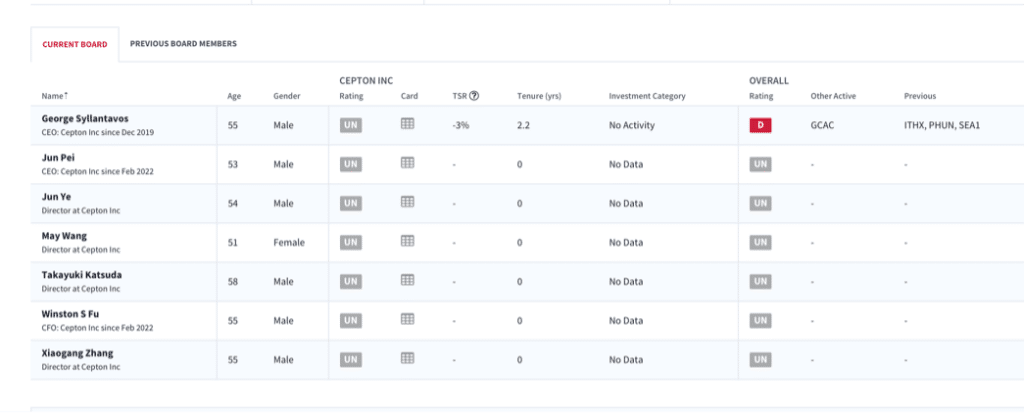 What's Next for Lidar
Despite some high-profile naysayers, including Tesla (NASDAQ:TSLA) CEO Elon Musk, LiDAR technology and sensors appear well-entrenched in the autonomous car market, with almost every major manufacturer in various stages of deploying the technology to enable advanced safety features.
After a boom-bust cycle for lidar stocks, the market is now starting to take a much more discerning view about which companies are going to get products finished from a design perspective, manufacture them on time, on budget, and at scale, and find customers to buy them.
With a dozen or so companies competing for a handful of automotive customers, most lidar companies will fail. We expect the group to consolidate to 2-3 suppliers over time. The recent pullback in valuations sets the stage for potential M&A activity, in our view.
With automakers still actively exploring various architectures, we don't see any clear technology winner yet.
Discounted sector valuations afford patient investors some time to choose a handful of winners in the sector. When evaluating LiDAR stocks, we prefer those with announced and active/operational partnerships, a coherent manufacturing strategy, and OEM and Tier-1 relationships.
CPTN Stock Take Away
CPTN stock: Discounted valuation, active relationships and well-articulated manufacturing story make this a long-term hold for patient investors
We continue to recommend a 'buy-the-basket' approach to investing in LiDAR. With CPTN shares showing support in early trading, we think the stock is a buy here for patient, long-term oriented investors. We like CPTN's differentiated technology story, well-articulated manufacturing strategy and seemingly entrenched Tier1 and OEM relationships.
Macro sentiment continues to be a headwind for LiDAR stocks. Smaller, non-profitable growth stocks are the first to get hit in a risk-off trading environment amidst interest rate sensitivity.
SPAC returns have been generally weak since the start of the year. Defiance Next Gen SPAC Derived ETF (SPAK) is down 14% YTD versus a 7% decline for the S&P 500 over the same period. Tech has been one of the hardest hit deSPAC sub-segments, owing to limited profitability, lack of confidence around aggressive revenue growth projections, and rising interest rate concerns.