CEO Glenn Kelman says Redfin will post an operating profit this year. Headcount reductions are a good start.
Redfin layoffs. Real estate brokerage Redfin (RDFN) is laying off about 470 workers, or 8% of its workforce. Compass (COMP) also announced earlier this week a workforce reduction of around 10%, or 450 workers, as part of a plan to cut costs, along with reducing U.S. hiring and not filling vacant roles. Redfin CEO Glenn Kelman noted that May demand was 17% below expectations and that "mortgage rates increased faster than at any point in history. We could be facing years, not months, of fewer home sales, and Redfin still plans to thrive." Redfin represented 1.18% of all U.S. home sales by value in the first quarter of 2022.
RDFN: Market Snapshot


Mortgage rates have hit 6%. Recent data have demonstrated that home sales are slowing as the combination of higher mortgage rates and rising prices have cooled demand. Over the past six months, the average 30-year mortgage rate has increased from 3.1% to 6.05% as the Federal Reserve works to curb inflation. Mortgage rates are currently at their highest levels since 2008. The over 3% increase also marks the biggest upward move in mortgage rates since 1981. RDFN shares have declined 83% in the past year, versus a 13% decline for the S&P 500 over the same period.
RDFN CEO Glenn Kelman: Performance Scorecard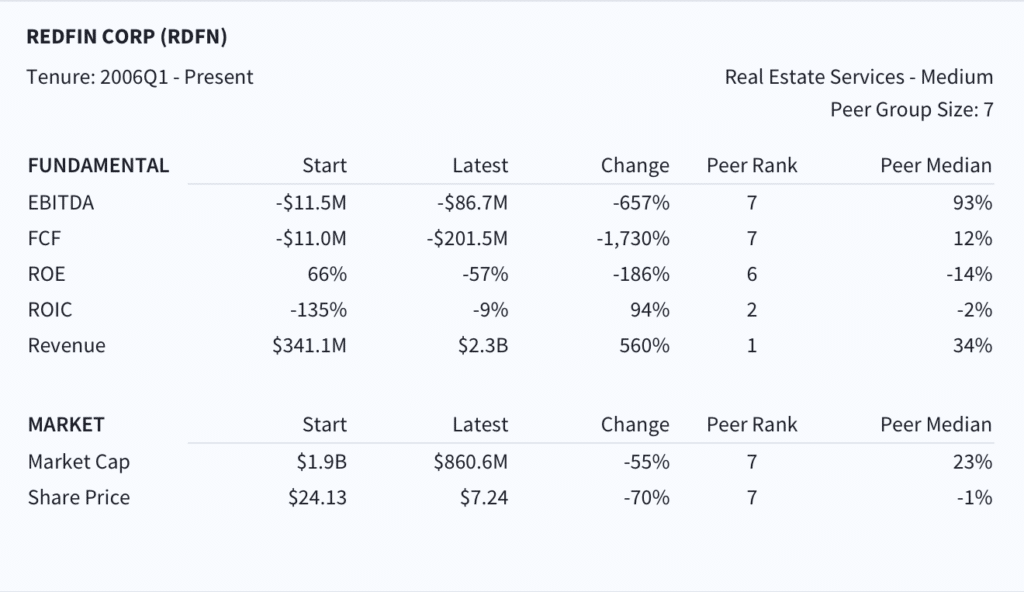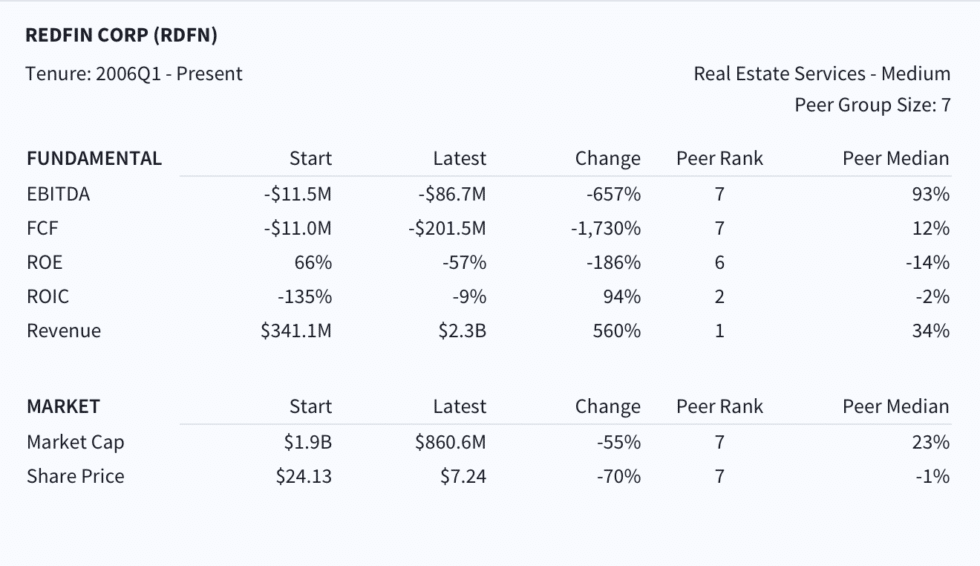 Still not profitable despite expanded business model. In recent years, Redfin has expanded its business model to include mortgage, title, and escrow services as well as iBuying (Redfin will purchase your home outright and resell it). CEO Glenn Kelman indicated during the company's Q1 2022 earnings call that Redfin will post an operating profit this year and bottom line profits in 2024. Unfortunately, the company is still burning cash; FCF was a $(201.5)M in the company's most recently reported Q1. Redfin's brokerage services was $168 million, but cost of revenue was $154M, generating gross margin of 13%, which hasn't been enough to offset the company's elevated investments in technology and marketing. Operating losses were $85M in Q1 2022.
Redfin's iBuying business is risky and a significant operating drag. iBuying revenues were $380M in Q1 2022, or 63% of total revenue. Gross profit margin on these properties was only 5% — troubling in a peak home buying market. There's also significant inventory and operating risk if Redfin can't sell its inventory of homes above the prices it paid. Redfin had $245M worth of properties in its inventory as of the end of Q1. Given the sharp drop in demand, there's a high likelihood of operating losses associated with holding this real estate portfolio over the next several quarters. Notably, Zillow Group (Z) was forced to exit the iBuying business in late 2021 despite a rising home buying market at the time.
RDFN: EBITDA and Free Cash Flow Trends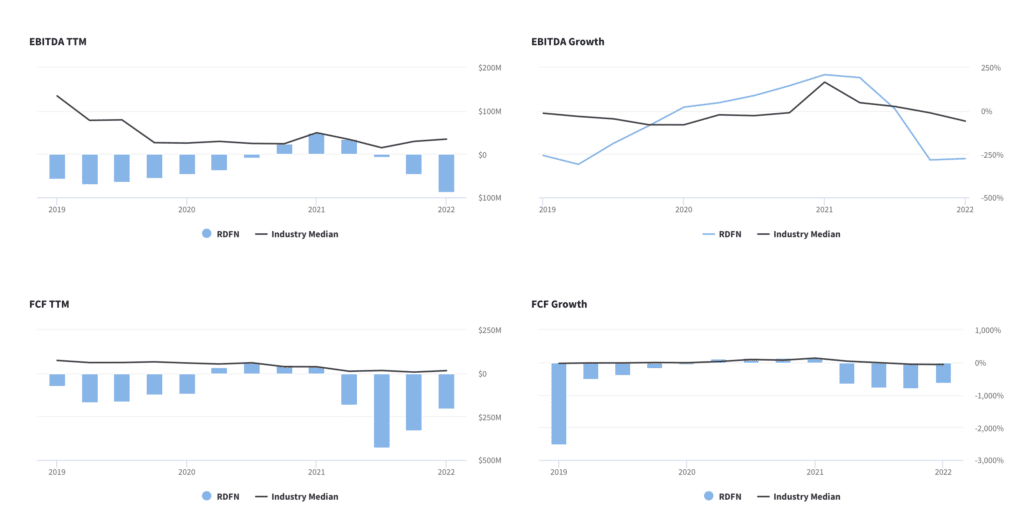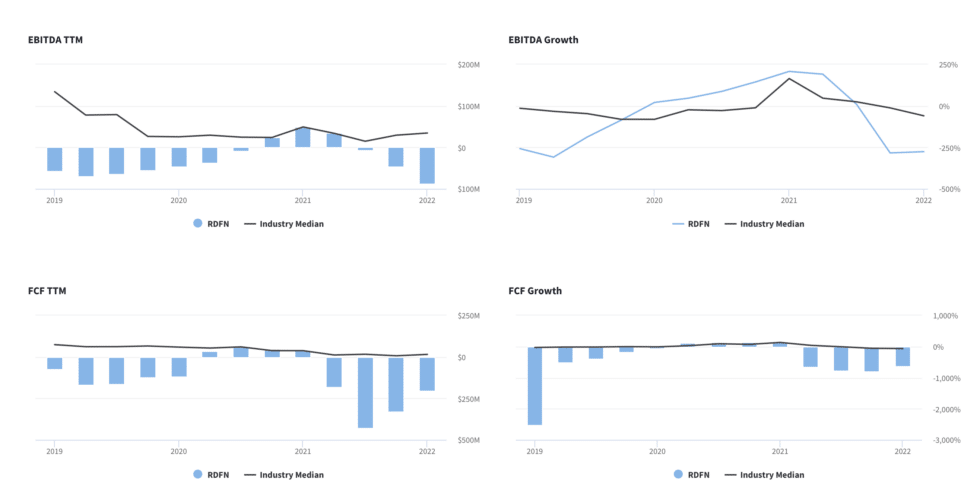 Governance alert: Declassified board by 2025. One positive step toward good governance: Redfin will declassify its board (by 2025). Classified boards are structured so that directors come up for re-election on a staggered schedule, so that the board can't be replaced en masse.
RDFN: Current Board


RDFN: Proposals from June 14, 2022 annual meeting


Heavy insider selling. Insiders sold $27.1M in stock over the past 12 months, well above sector peers. The last time Kelman purchased stock was in 2019. Both Kelman and Redfin CFO Christopher Neilsen sold stock in May.
RDFN: Insider trading summary


Don't think we've seen a bottom here yet. Kelman and the board have work to do in adjusting the business model to find a path to profitability. Headcount reductions are only a start toward getting to positive FCF. RDFN shares trade at ~3x book value. Until there is evidence in stabilizing housing demand and right-size business model, we continue to avoid RDFN shares.