Executive News
Jacobs Solutions Co. (J) responded to a Glass Lewis report defending their drop in board gender diversity as acceptable given the value of keeping its outgoing CEO on the board, and adding an 11th board member
Former Pfizer (PFE) CFO Frank D'Amelio joined the board of Hewlett Packard Enterprise (HPE)
SilverBow Resources, Inc. (SBOW) added two female directors, Jennifer M. Grigsby and Kathleen McAllister, to its previously all male board
IPOS
Skyward Specialty Insurance Group, Inc. (SKWD) and MGO Global Inc. (MGOL) are expected to price IPOs this week
SPACs
Another former DeSPAC merger, albeit this time Wejo Group Ltd. (WEJO) will be merging with a different SPAC, TKB Critical Technologies 1 (USCT). Wejo originally went public in 2021 via Virtuoso Acquisition Corp. at an $800M EV. The new transaction values WEJO from $112M — $412M depending on the ultimate outcome.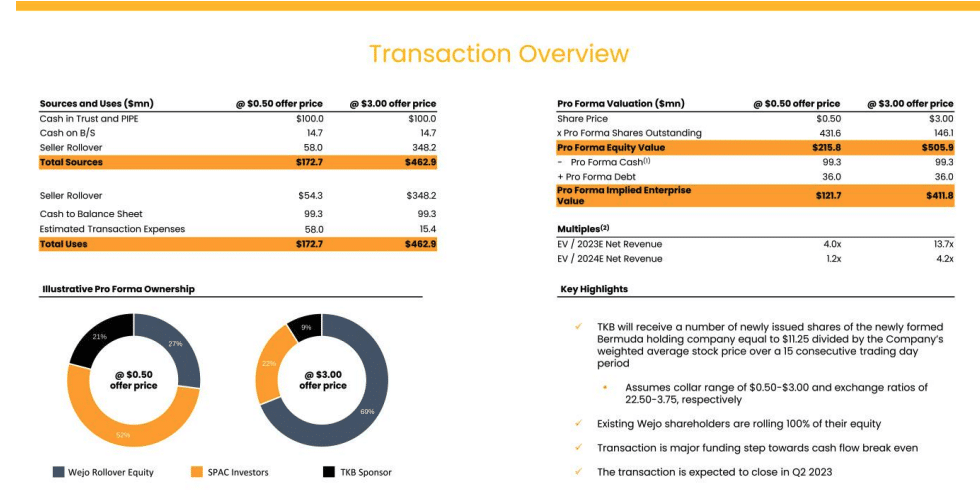 Mercato Partners Acquisition Corporation (MPRA) signed an LOI with "the leading private serial software business acquirer in Latin America" Nuvini
Global Partner Acquisition Corp II (GPAC) reported that 26.7M out of 30.0M public shares have redeemed as part of its extension vote. Shareholders have until Wednesday to reverse.
SPAC Calendar